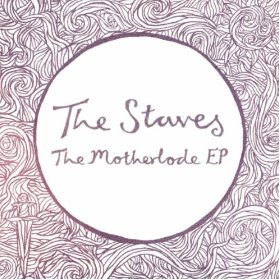 A Conversation With Jessica Stavely-Taylor
Mike Ragogna: Jessica, can you tell us the story behind The Staves' new EP The Motherlode?
Jessica Staveley-Taylor: Well, the story is that this is our second EP. It's just been released here in the States, which we're very excited about. "The Motherlode" is one of the tracks that's going to be on our album when it comes out later this year. We wrote that song a while back, and it's a little bit different from our other songs; it's a bit less introverted and less about ourselves and our own experiences. That song actually tells the story of another character, which is something that we don't normally do when we're writing. There are also two other songs on the EP, "Pay Us No Mind" and "Wisely And Slow."
MR: Can you tell us about the origins of The Staves, it being comprised of you and your sisters? Like, have you always sung together?
JST: As a matter of fact, we'd always sung together, ever since we were very tiny. Our parents would also sing to us. They both played a little bit of piano and guitar. There was always music in the house, that music seeped in from our time at home. We would sing together while we were washing up and we'd just compete for fun. Later, we started performing in some of the local pubs in Watford, our hometown. We got really great reception from the locals, and at the time, we didn't even have a band name. One day, one of our friends wrote down "The Staves" on the chalkboard at the pub where we were performing and that just kind of stuck. From that point on, people referred to us as The Staves. We kind of thought that we would change the name at some point, but we never did. (laughs) It just kind of felt right. So our singing and performing together just happened in a kind of organic way.
MR: The Staves performed at South by Southwest, can you tell us a little bit about that experience? It was terrible wasn't it.
JST: Right. Absolutely terrible, we'll never go again. (laughs) I'm kidding of course, it was incredible. The whole thing was generally just mad, but in a very good way. There were tons of people everywhere, tons of music coming from every orifice of every bar. (laughs) That was something we've always wanted to do, and it was such a wonderful experience. We'd heard so many stories from our friends about how great it was to play there, so it was a lot of fun. We also got to play some really great shows to some incredible crowds. It was brilliant.
MR: It's such a great venue because everyone's there for the music -- either performing or promoting it -- and we get the chance to hear new artists like you and your sisters.
JST: Right! It is a very commercial festival because there is a lot of industry networking that happens there, but it's great that we got to experience the shows where people were really just invested in hearing music, new and otherwise. Those were the really fun shows.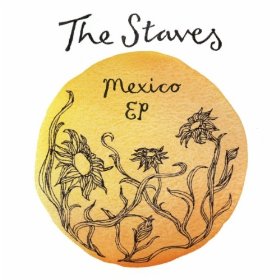 MR: I can imagine. Did you play material from your other EP Mexico?
JST: Yes, that's right.
MR: Do The Staves have a specific process while recording?
JST: Well, the way we recorded this album and subsequent EPs have been recorded in a very live way. We've found that works best for our sound, which is essentially just three harmonies. Most of the songs are driven by just the harmonies, the lyrics, and the acoustic guitar and ukulele. We've found that the best way for us is to just record live. Everything that you hear with us singing with a band is recorded live as well. We've found that it lets us capture a certain energy and a certain mood in a certain moment, that way you can revisit that moment every time you listen to the song. That's also the way that Ethan Johns and Glyn Johns -- who are producing the album -- prefer to work, as well.
MR: You've also shot a music video for "The Motherlode," which was directed by Miles O'Reilly.
JST: Yes, that's correct. Miles is an amazing filmmaker from Dublin. For the video, we flew over to Dublin and spent the day walking around the city and the woods. From there, we went and walked around some amazing mountains, we even got caught in a hailstorm. It was all-in-all a very exciting and cold day in Ireland. (laughs) It was a great day. We've done a couple of short videos with Miles before, and we think he's such a brilliant filmmaker. It felt like it was the right thing to do, this last video with him.
MR: Let's talk about your tour.
JST: Well, the tour is well underway, we'll be in the States very soon playing in Salt Lake City, and in Florida...so many places, my mind is currently drawing a blank. (laughs) That's what happens when you tour too much. You get used to living on a sort of day by day basis, and you can't really think about tomorrow until you get told by somebody what the schedule for tomorrow is. (laughs) We've been traveling quite a lot, and it's really exciting because we get to go to a lot of places that we haven't been before. We are so lucky that we'll get to be touring with Bon Iver, which is just a wonderful band. They're also really, really lovely people. It's lots of fun.
MR: Recently, there was a mention in Vogue about The Staves said your Mexico EP possessed "...a world weariness, reminiscent of Joni Mitchell's Ladies Of The Canyon." How do you feel about such things?
JST: It's very overwhelming hearing people saying such nice things about you, actually. You can never really know how to react. It's all very nice. To be compared to someone the likes of Joni Mitchell is just incredible. Or, "Ridiculous!" as we say. (laughs)
MR: (laughs) Since Joni Mitchell came up, who would you say were some of The Staves' influences growing up?
JST: Well, Joni was definitely one of our huge influences. She's such an incredible lyricist, and has such a fantastic way with melodies. We grew up listening to a lot of our parents' music, which all fell into the '60s generation. There were a lot of, I guess you could call them harmony bands, like The Byrds, Crosby, Stills, & Nash, and The Hollies. But The Beatles were the sort of staple in the Stavely-Taylor household. We also listened to a lot of Bob Dylan, Cat Stevens, and Neil Young. There was some Motown in there as well. Basically, just really great music. We were very lucky to have parents with good taste in music. As I said earlier, I think that kind of seeps into you and sticks with you as you grow up. That can come out in very serious ways as you grow up.
MR: It's really sweet that you and your sisters weren't afraid of embracing your parents' generation's music.
JST: Yeah. I think that's certainly changed from my parent's day when they didn't have anything in common with the music of their parents, so they would rebel by going into their rooms and listening to rock music, whereas with us, it's much less common for someone in our generation to hear music from an earlier generation and say, "What's that racket?" I think nowadays, they like some of our music, and we like what they listened to.
MR: Right. Do you have any advice that you'd like to give to new artists?
JST: Oh, that's a good question. Before I start, I should say that I don't feel qualified really to give the advice. (laughs) But you have to have a good amount of self-belief because you'll always get knocked down. That's why I think it's also important to surround yourself with people you can trust and rely on. It's very easy to be led astray by people, especially when you get into the world of record contracts and managers and things like that. We've been very fortunate to have been surrounded by good people from the start. I think you have to remember that every opportunity, even though it may seem like a good opportunity, is going to be the right opportunity for you if you're not ready for it immediately. Sometimes you have the chance at an opportunity that wouldn't do as much for you as it would for someone a bit further down the line in their career. I think the key is just to play as much as you can and really develop your sound. And, of course, believe in yourself.
MR: Very nicely put. You know, when I ask that question, I don't think anyone has ever mentioned that very important factor in a musician's career -- timing. If you are presented with an opportunity in your career and you're not ready for it musically, it kind of means nothing.
JST: I feel like it sounds like a very negative take on things, because it's very hard to tell yourself that you're not ready for something yet. However, I know there were opportunities that came along for us at certain points in time that we knew we weren't ready for. The people around us really wanted us to do them, but we felt that we weren't ready. We believed that if it was meant to be, those opportunities would come around another time. In the position that we're in now, I think we're very glad that we made those decisions.
MR: Right. I think that should also serve as motivation to young and aspiring artists to keep working so that they are ready when those opportunities present themselves.
JST: Yeah, and I think that's the very tricky side to all of this. It certainly helps when you have a team of people around you to give you advice on those kinds of things. But when you're starting on your own in this business, it can be very difficult to make those decisions.
MR: Can you tell us something about The Staves that we don't know yet?
JST: Well, let's see. We're huge fans of tea, but you could probably guess that because we're English. We're quite big fans of Denny's, the roadside diner in the States. We enjoy visiting there when we're on the road. We're also suckers for really bad reality TV. We watched quite a bit of The Real Housewives of Vancouver during our time in Canada. (laughs) We got a bit hooked on it. I think that's a pretty uncool admission. (laughs)
MR: (laughs) Jessica, thank you so much for coming and spending time with us today. It's been wonderful.
JST: Thank you so much for having me. It's been a pleasure.
Tracks
1. The Motherlode
2. Pay Us No Mind
3. Wisely And Slowly
Transcribed by Evan Martin
HUFFPOST VIDEO EXCLUSIVE: "THE REASON" BY JP
Presented below is an exclusive video, "The Reason," by British artist, JP. But first, a little background. JP was born in Cardiff, his mother's family ran arcades in the local fun fair on the beach at Rest Bay, Porthcawl. His Welsh speaking father, a Royal Air Force man, changed the family's fortune when he designed a slot machine that can be found in amusement arcades to the present day. The first in his family to do so, JP gained a fine art degree from The Chelsea College of Art in London, but in the classic style assumed by British singer-songwriters since The Swinging Sixties, JP's career in fine art was waylaid by his infatuation with popular music. Influenced by the voices of the day -- Jeff Buckley, Van Morrison and David Gray--he began writing songs. His first band, Morocco, gigged around London from 2001 to 2003. Then, in 2004, with members of the then defunct Morocco, he formed Grace, and the band got signed to EMI who released the album Detours in 2006. A year of touring the UK followed, but the band split by 2008 and JP embarked on a solo career.
Then there was a chance meeting with Pretenders' singer Chrissie Hynde. The two songwriters, while on a trip to Cuba, wrote the songs that would be released as Fidelity! to critical acclaim in the States, and would see them tour North America as JP, Chrissie and the Fairground Boys. Recently, JP entered the studio with veteran producer Victor Van Vugt -- most notably of Nick Cave Grinderman fame -- and recorded his first solo album entitled Son of Jack which is due for release in January 2013 on 429 Records.
In the meantime, here's JP's "The Reason"...
JP - "The Reason"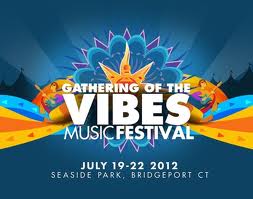 Gathering of the Vibes -- How an East Coast Major Music Festival Can Also Be Called a Family Affair
2012 marks the 17th year for the Gathering of the Vibes music festival. The annual event will take place on the shores of Long Island Sound at Seaside Park in Bridgeport, Connecticut, July 19-22. The 2012 band line up features Primus, Sound Tribe Sector 9, The Avett Brothers, Zappa Plays Zappa, Steel Pulse, Yonder Mountain String Band alongside all the surviving members of The Grateful Dead with their individual side projects such as Bob Weir featuring Bruce Hornsby and the Hornmakers with special guest Branford Marsalis, Phil Lesh & Friends, The Mickey Hart Band and Bill Kreutzmann & 7 Walkers. That makes over 60 bands on three stage over four days. As the Northeast's premier music, arts, camping and family friendly festival, the Gathering of the Vibes draws an intimate 20,000-25,000 fans daily.
The Vibes began in 1996, originally called Deadhead Heaven -- A Gathering of the Tribe, and it took place on the campus of SUNY Purchase in Westchester County, New York, as a celebration of the spirit and music of The Grateful Dead following the 1995 passing of the band's leader and lead guitarist, Jerry Garcia. The inaugural event, was so successful that the following year it was renamed Gathering of the Vibes. Led by former deadhead Ken Hays, who felt the need to fill a void in the community, a onetime idea turns 17 this year. "Following The Grateful Dead for years, in one sense, was a way to reunite with extended family all over the country. After the loss of Jerry, I wanted to figure out a way to continue to get together with people and a community I had come to love over the years," said Gathering of the Vibes founder, Ken Hays.
What started as a humble celebration has evolved into one of the Northeast's most eclectic and well-attended music festivals. Over the years, Gathering of the Vibes has not only featured artists inspired by the Grateful Dead, but the Vibes has showcased artists from a wide range of genres, from rock to bluegrass to reggae to alternative to electronic. The Vibes has helped to bridge the gap between what is often referred to as "jamband" music and other genres. Fans have always seen the musical common ground, but more of the uninitiated have since become initiated. During the last 16 years, Gathering of the Vibes has featured artists such as, Jane's Addiction, Femi Kuti, Elvis Costello, Black Crowes, Jimmy Cliff, Chuck Berry, Buddy Guy, North Mississippi All Stars, Crosby Stills & Nash, Levon Helm, Taj Mahal, Damian Marley & Nas, Allman Brothers Band, Tom Tom Club, The Roots, Harlem Gospel Choir, Neville Brothers, Sharon Jones & The Daps Kings, and more. Many of these artists join a group of mainstay artists who have grown from The Grateful Dead's musical tree, including Furthur, Ratdog, Little Feat, Dark Star Orchestra, moe., Medeski, Martin & Wood, Umphree's McGee, Robert Randolph, Hot Tuna, The Radiators, Gov't Mule and dozens more.
The eclectic and communal nature of Gathering of the Vibes makes it a unique event and destination. The continuing communal aspect, set forth by the fans during the Dead's heyday, is equally as important as the music itself. So its only natural that the Gathering of the Vibes is one of the most family-friendly music festivals out there. Of the 20,000+ annual attendees, 2000+ are children under 12, and for good reason. For 12 of the Vibes' 17 years, Kid's Corner has been a family favorite area specifically designed for children to interact with other kids, listen to live music geared toward children, engage in activities such as face painting, creating life size puppets, music instruction, etc. For the slightly older set, there is a Teen Scene, featuring the School of Rock stage where kids can learn to play instruments and engage in behind the scenes clinics in music production, sound, lighting, and more. With over 15,000 campers, there is also a designated Family Camping area conveniently located near kid activities and away from the regular late night festival revelers.
Fans of the Grateful Dead -- aka Deadheads -- created a unique, communal, all-accepting environment, heavily acknowledged as unlike anything in music history. It would seem only natural that a festival borne in that spirit would take that "family" element to the next level by involving actually families. "We don't approach the idea of kids at a festival from the standpoint of 'Let's make a spot for parents to get some relief from their kids because they can't find a sitter,'" Hays says, "Our approach is that it's for the family, and we want them all to come and take part. We think that attitude really shines through at the Vibes."
The Vibes even take it a step further by designating Sunday as "Family Day at The Vibes," by opening up the festival to local resident families at a reduced rate. Family Day begins with the Children's Puppet Parade and the annual World Peace Ceremony among other family style activities.
For over a decade Gathering of the Vibes has been a pioneer in making the modern day major music festival a family affair. By creating an environment for families and strongly encouraging families to participate, they have created a way for parents and grandparents alike to connect and share the music they love with their kids in a welcoming environment. Hays adds, "Our Sunday Family Day at The Vibes has really become a favorite for a lot of Vibes attendees, including those who don't have kids of their own yet. There is something truly beautiful about the Children's Puppet Parade that really seems to bring people together, enhancing the communal aspect even more.
The Grateful Dead, as a band, may have ended in 1995, but the Gathering of the Vibes gives many parents the opportunity to experience great music and cultural activities that meant a great deal to them at a different time in their lives, with their children. In many instances, long before they were even thinking about having children themselves.
For tickets and information about Gathering of the Vibes, visit http://www.GOVIBES.com