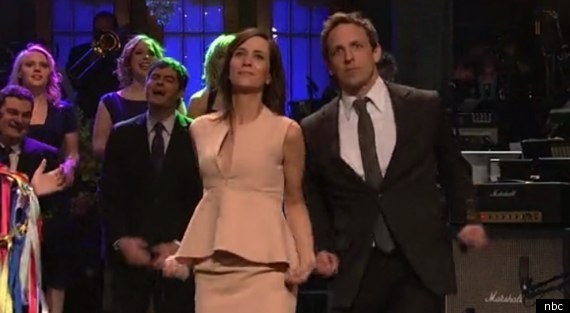 There was no doubt about it: This was Kristen Wiig's night. Of the three cast members rumored to be leaving "Saturday Night Live," I think we can go ahead and remove the word "rumored" off of Wiig and Samberg, who said his goodbye with "Lazy Sunday 2." Jason Sudeikis, on the other hand ... well, he introduced the Foo Fighters? In other words: There were really no hints throughout a show that he had very little to do with concerning his future (unless you want to read into Jagger mentioning that "many of you are moving on" in the final sketch). So if it was his last show, that's a shame. On to what turned out to be a quite emotional final Scorecard of the season...
Sketch of the Night
"She's a Rainbow" (Mick Jagger, Kristen Wiig, Ensemble) A perfect ten. Honestly, that was the most touching, emotional sendoff that I've ever seen "SNL" pull off. It is a little odd that Samberg and especially Sudeikis (considering his lack of involvement this show) weren't more of a focal point of the festivities, too. But it was Wiig's night. And even considering my on-again, off-again relationship with her comedy stylings -- she deserved every second of it. Kristen Wiig carried "SNL" for the past seven seasons and wasn't afraid to try anything. (And wasn't afraid to "try anything" over and over and over. Ahem, Gilly.) She was fearless.
Score: 10
The Good
"Lazy Sunday 2" (Andy Samberg, Chris Parnell) "Sister Act on Broadway" replaces "Chronicles of Narnia" as the entertainment choice of the moment. So, yeah, there was your last digital short. It was fitting, but also a microcosm of how the Digital Shorts had morphed over the last seven years. (Which we covered at length this past Thursday.) What made the original "Lazy Sunday" so great was just how simple it was. Bigger isn't always better. And when "Lazy Sunday 2" morphs into something bigger halfway through, it also morphed into something that lost its charm. Again, a fitting ending.
Score: 8.0
"Karaoke" (Fred Armisen, Mick Jagger, Kristen Wiig, Taran Killam, Vanessa Bayer, Bobby Moynihan) Armisen sings "Start Me Up" at Karokee, miming his best Mick Jagger impression. After, Moynihan does a terrible Mick Jagger, eventually falling asleep at the microphone, prompting the line, "Classic Jagger." I do kind of wish this would have went a little bit further because I think this sketch was really on to something. Maybe it needed one more "classic Jagger" performance after Moynihan, instead of ending on a somber rendition of Jagger singing "(I Can't Get No) Satisfaction."
Score: 7.0
"Dance Festival" (Bill Hader, Fred Armisen, Mick Jagger, Abby Elliott, Kristen Wiig, Bobby Moynihan, Taran Killam) This was certainly the show to watch if you enjoy watching Moynihan dance. And, good grief, I always forget how good of an impression Hader does of Dave Matthews. Basically, it's a dance-off competition for people who like to listen to Phish. On the surface, yes, it's just another "competition show" sketch, but, boy, these dances sure were funny.
(Sadly, this sketch actually did include a Phish song, so it's not online.)
Score: 6.7
"Mick Jagger Monologue" (Mick Jagger) The old standby monologue Q&A -- only, this time, Mick just asks himself the questions. You know, Jagger was actually kind of charming here. I mean, by the time I'm finished writing this paragraph, I'll have forgotten that Jagger's monologue ever existed, but it was certainly a serviceable introduction.
Score: 6.4
"Weekend Update" (Seth Meyers, Bill Hader) There was no doubt that we'd see Stefon tonight -- which is kind of a problem. Yes, I've heard Hader say that he still laughs because John Mulaney will change the script at the last second, but I can't help but think that Hader ... embellishes. Look, I just think that on a night in which Jason Sudeikis was left with almost nothing to do, would it have been so hard to see his Devil character again? Or just let him talk? I mean, Hader is back next season. We still have plenty of time to see Stefon.
Score: 6.0
The Bad
"Cold Open: The Lawrence Welk Show" (Kristen Wiig, Fred Armisen, Jon Hamm, Abby Elliott, Nasim Pedrad, Vanessa Bayer) I remember the first time I saw "The Lawrence Welk Show" thinking, Well, that was ... interesting. I guess. Then they just kept coming. And coming. In the spirit of Kristen Wiig's last show, I'll just leave it at that. (Also: That was Jon Hamm's third "SNL" appearance this season, which, sadly, did not include a hosting gig.)
Score: 5.0
"Politics Nation with Al Sharpton" (Kenan Thompson, Mick Jagger, Jason Sudeikis) I chuckled when Thompson as Sharpton referred to J.P. Morgan as "Jp Morgan," at least. But, really, this went nowhere ... like all of the Al Sharpton sketches go nowhere. Do you know what would have been great? If Kenan could have pulled out another "What's Up With That?" so that we could watch Sudeikis dance around in his red tracksuit one last time.
Score: 3.5
"Secret Word" (Kristen Wiig, Bill Hader, Mick Jagger, Taran Killam, Vanessa Bayer) Of all of Wiig's recurring sketches, we really could have done without "Secret Word." (I mean, why not the "don't make me sing" character instead?) Alas, here Jagger played a closeted movie star and many innuendos were shared. And, then, nothing else happened. Seriously, if they just had to do this sketch one last time, I dunno, maybe do something interesting?
Score: 3.0
The Ugly
"The Californians" (Bill Hader, Kristen Wiig, Fred Armisen, Andy Samberg, Vanessa Bayer, Mick Jagger, Kenan Thompson, Abby Elliott, Steve Martin) I think this second installment of "The Californians" clocked in at just under 45 minutes. The version on Hulu claims to be only 5:52. Sure, I love a good Steve Martin cameo as much as the next guy, but, what was a kind of interesting sketch the first time around (though, I didn't think that one worked either) became just tedious and boring. Sadly, a third installment of "Comedy Show" was left at dress rehearsal, but this aired. Great.
But, regardless, this particular show really wasn't about any of this, was it?
Score: 2.0
Average Score for this Show: 5.76
· Jimmy Fallon 6.17
· Zooey Deschanel 6.08
· Maya Rudolph 6.05
· Jason Segel 6.05
· Will Ferrell 6.03
· Charlie Day 6.00
· Josh Brolin 5.99
· Steve Buscemi 5.95
· Emma Stone 5.85
· Alec Baldwin 5.80
· Mick Jagger 5.76
· Charles Barkley 5.65
· Sofia Vergara 5.58
· Melissa McCarthy 5.45
· Jonah Hill 5.44
· Daniel Radcliffe 5.39
· Eli Manning 5.28
· Channing Tatum 5.27
· Ben Stiller 5.18
· Lindsay Lohan 5.13
· Katy Perry 5.09
· Anna Faris 4.95
You can contact Mike Ryan directly on Twitter.