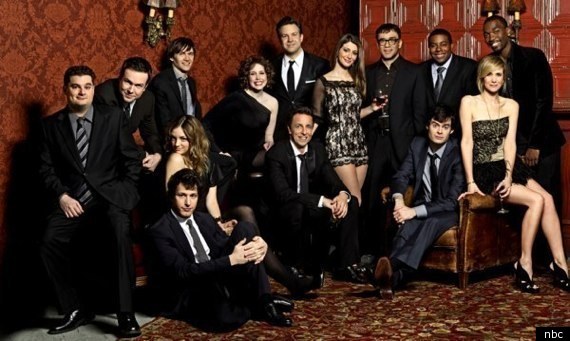 "Saturday Night Live" wrapped up its 37th season this past weekend. Along the way, we were paying attention not just to the quality of the individual sketches in our weekly "SNL" Scorecard, but also to the progress of the cast members in regards to airtime and prominence, which we ranked each week in the Relevancy Poll.
So, here, we tallied the results of all 22 Relevancy Polls to present to you the complete 2011-12 "SNL" Relevancy Poll. And, again, the rankings represent how often an individual cast member appeared on the show, not an opinion of an individual sketch or character. (In other words: These are not my "favorites," this is a barometer of each cast member's airtime and influence that we kept track of all season here.)
As you will see, the lower the score, the better. Each final score is the average weekly poll ranking of each cast member over the course of the final season (if you were ranked "1" every week of the season, your average score would be "1.") -- with two exceptions. Paul Brittain left "SNL" after 12 shows and Kate McKinnon joined "SNL" only to appear in the last five shows of the season. Both of their scores are weighted against the shows they did not appear. (Their actual scores appear in parenthesis.)
And since this is HuffPost TV's official sign-off from "SNL" coverage this season, it seemed like an appropriate time to remember each cast member's most memorable sketch from Season 37.
With that, let's discuss the ups, downs, hits, misses and winners of the 37th season of "Saturday Night Live." We'll work from the lowest-ranked to highest-ranked:

15. Kate McKinnon - Average Ranking: 12.86 (Actual: 9.00)
McKinnon was only added as a featured player for the last five shows of the season. In those five shows, she did a pretty decent job (all things considered) of getting herself into sketches - even earning a No. 1 ranking around these parts in a Relevancy Poll. She plays eccentric characters and she takes risks -- which is reminiscent of another certain cast member who just departed the show. Put it this way: I honestly don't know what else she could have done during this five-show "tryout," if you will, to warrant a return for a full season.

14. Paul Brittain - Average Ranking: 11.27 (Actual: 9.00)
If you just take the average of the shows that the two appeared on, it's interesting that McKinnon and the departed Brittain have the same score. Brittain leaving "SNL" is still clouded with mystery (I have heard a few things, but nothing concrete); but whatever the reasons may be, it's a shame. I realize how hard it is to get on to that show and I realize how difficult it is to then succeed on that show. I really thought Brittain had something going with his two recurring characters -- Lord Wyndemere and "Sex" Ed Vincent -- but, it was not meant to be. I hope whatever Brittain winds up doing, "Lord Wyndemere and "Sex" Ed live on ... somewhere.

13. Nasim Pedrad - Average Ranking: 9.72
I can't imagine that Nasim Pedrad will look at her first year as a full-fledged repertory player as a highlight year in her "SNL" career. Which is a shame because she deserved better. Out of all the female cast members, it seemed like Pedrad was most hurt by Kristen Wiig's return to dominance. (Wiig was not as much of a presence last season, which probably had a little bit to do with her "Bridesmaids" duties.) But she also had one of the best sketches of the season: See what happens behind closed door when one listens to Adele's "Someone Like You":

12. Abby Elliott - Average Ranking: 9.59
What an enigma. To be honest, I've enjoyed Elliott on the show ... when she's actually on the show, which is rare and has always been rare. Adding to her status as an enigma: Elliott tried to leave after this season. At one point, she had a pilot on Fox. Later, she was cut from the pilot. So obviously, Elliott is not eying "SNL" as any sort of long term career plan. Also, that would mean that Lorne Michaels was willing to let her go if that pilot had been picked up with her attached. In other words, I'm confused. But, regardless, her take on Zooey Deschanel was pretty fantastic.

11. Jay Pharoah - Average Ranking: 9.41
For whatever reason, I thought that Jay Pharoah had hit a sort of epiphany when "The Jay Pharoah Show" aired. I mean, not many cast members get to be in self-titled sketches. And as sad as I was to see Paul Brittain leave, I tried to look on the bright side of, Well, at least there's more room for Jay Pharoah. At this point, I just don't know. He's so streaky. If there's an impression needed -- which was really the whole premise of his self-titled show --Pharoah has a big week. No impressions needed? You could find Pharoah during the "good nights." (I'm barely exaggerating.) After the Josh Brolin show I wrote, "Pharoah was everywhere this week. Every so often, Pharoah will take over the show ... but then he'll disappear during the following three shows." And that's exactly what happened. We can only hope that next season we see the return of "The Jay Pharoah Show."

10. Kenan Thompson - Average Ranking: 9.05
It's remarkable that should Kenan return for the 38th season of "SNL" (and I've heard no rumors to the contrary) he will be tied at fifth (with Tim Meadows) for longest tenure. My guess is that it doesn't quite seem that long because two of the people ahead of him on that list -- Seth Meyers and Fred Armisen -- are still on the show, too. So, we have a case in which cast members are staying longer and we have a case in which the cast is somewhat large. So it's not too terribly surprising that show veterans might find themselves with not a lot to do. This season, more often than not, this seemed to be Kenan. I mean, this is a season that only saw "What's Up With That?" happen one time.

9. Vanessa Bayer - Average Ranking: 8.50
By this time next year, Vanessa Bayer will be one of the biggest stars of "Saturday Night Live." Last season, the multiple airings of "The Miley Cyrus Show" boosted her presence a bit, but I do think that not entirety relying on that particular sketch helped her grow on the show. With Wiig gone, she should become the show's dominant female voice. And there's no better example of this than "Tell Him," which is brilliant. (And, of course, it isn't online. So, here's "You Can Do Anything," a talk show featuring YouTube celebrities.)

8. Seth Meyers - Average Ranking: 8.14
Seth Meyers has been on "SNL" a very long time. I'm not saying that's the reason he didn't seem 100 percent engaged during at least half of the 'Weekend Updates" this year -- but, at times, there's certainly been an aura of a loss of interest on Meyers part. And the only reason it's that noticeable is because when Meyers is on, he's electric. For whatever reason, Meyers doesn't want a co-host, but he's really doing himself a disservice. He's so good at ping-ponging lines off of a partner in crime, it's like watching a talent go to waste every week. Meyers, whether he likes it or not, is best when he's the master of ceremonies, not just sitting there at his desk ... alone. Case ... in ... point:

7. Bobby Moynihan - Average Ranking: 7.59
I think Bobby Moynihan knows that he'll never be the "star" of "Saturday Night Live," so to speak. But I do feel that he has finally found his groove. In other words: Moynihan absolutely owns the reaction shot and every sketch he's in is better because he's a part of it. (And if Chris Christie gets himself in the news more often, Moynihan's star will explode.) That's not to say that Moyninah can't carry a sketch. He can. Very well, actually ... when they let him. Like here, with Katy Perry in "One Magical Night."

6. Fred Armisen - Average Ranking: 6.36
It's odd: When you consider that Armisen is the one who portrays the current President of the United States, he should rank a tad higher. The thing is, there were very few Obama sketches this season. And when he was doing an Obama sketch, sometimes Obama sounded a bit like Bill Cosby. I almost get the impression that Obama bores Armisen, but, instead of handing the reins over to Pharoah, he continues to do it out of either (A) Some sort of obligation or (B) Because it's an honor. (Of course, if I were Armisen, I'd keep doing it, too ... Just to prevent the "Oh, he lost his job as Obama" rumors.) Regardless, Armisen is at his best when he's doing weird things, like Nicholas Fehn. Or (a sketch that only I apparently enjoy) "One Man Show."

5. Andy Samberg - Average Ranking: 6.00
Samberg had a resurgence of sorts near the end of this season. So it's a nice time for him to leave the show. After his Lonely Island cohorts left, Samberg seemed ... lost. Before, he could star in a Digital Short, appear on "Update," then be a supporting character in a few other things -- which is a pretty solid show. Well, without the Digital Shorts being quite as regular of an occurrence, he had to star in sketches -- which never seemed to work out quite as well. (Though, I do have a strange affinity for "One Take Tony.") By the end of the season (with the help of those former Lonely Islander Jorma Taccone and Akiva Schaffer) the Digital Short era was brought to a proper close.

4. Taran Killam - Average Ranking: 5.95
What a difference a year makes. I noticed it back in January and went ahead and made a bold proclamation about Killam's very bright "SNL" future (which hopefully didn't freak out Mr. Killam too much). But, you know what? I feel even more strongly about it now. Let's not forget, Taran Killam is still technically a featured player (something that will change this summer) and is already one of the central figures on the show. And no one has improved more since last season than Killam. As Bill Hader told me back in January, "He kind of recalibrated his Brad Pitt impression for that 'Moneyball' short we did with Ben Stiller. He's behaving like Brad Pitt; he's not going for a joke. It was really impressive."
And, of course, he's still got that "Call Your Girlfriend" viral video.

3. Bill Hader - Average Ranking: 5.63
Hader was last year's season champion, but now, he's slipped to No. 3. Again, Wiig dominated this year in a way that she didn't last season. And it didn't help that Hader's political character, Rick Perry, became an afterthought so quickly. Regardless, it doesn't mean that Hader wasn't busy. And he's the highest-ranking cast member who is not either leaving the show, or rumored to be leaving the show. Of course, there's Stefon Zolesky, which is, without a doubt, the most popular character on "SNL" these days. (Note: I'm legitimately devastated that Hader's Rick "Watch It Or I'll Suck Your C---!" Tipenski was cut -- along with the rest of the "Kings of Catchphrase Comedy" -- during the finale.) But, I will try to make the argument that Hader's finest work this season came in the form of Clint Eastwood.

2. Jason Sudeikis - Average Ranking: 4.64
If this truly was Sudeikis' final season, the finale aside, it was stellar. It's strange -- Sudeikis does such a great job of being the everyman -- or, as Adam Sandler used to call Phil Hartman, "the glue" -[ it's easy to forget just how much Sudeikis does. And I'll go ahead and say it: If that was Sudeikis' last episode and if he truly was angry, well, he has the right to be, because he deserved a better sendoff than the one he received. Not to mention the fact that since Sudeikis plays a major political figure from both parties, yeah, he's in all of those sketches, too. Sudeikis' finest moment this season was as the Devil, commenting on the Penn State scandal. There's no easy way to find humor concerning that story -- but Sudeikis did.

1. Kristen Wiig - Average Ranking: 4.32
Well, this is why Kristen Wiig got the special sendoff. The thing is, she's known on "SNL" for her eccentric characters, but I thought her best moment this past week (not counting her sendoff sketch, which is one of the best "SNL" moments that I've ever seen) was in "Karaoke" -- which is anything but an eccentric character. Wiig did not get enough credit for ability to play anyone, really. Her departure will change the show drastically. She was the alpha dog. And, as the alpha dog, she set the tone for the show. Gone was the sharp political commentary that defined the Fey/Poehler years, replaced by more of an absurd, awkward comedy angle. Put it this way: I've never laughed once during Judy Grimes, but, boy, I've always been left in awe.
(On a personal note: I would like to thank every single one of you who, every week, stopped by to read SNL Scorecard and the SNL Relevancy Poll. And an added thank you to those who came over from Movieline, where these lived last season. For me, this is a labor of love in honor of a show that I've adored my entire life. But, waking up early every Sunday morning to jot down 1,000 words or so would be unbearable without your support. So, again, thank you. It's truly appreciated and, hopefully, we'll do it all again next season.)
Mike Ryan is senior writer at Huffington Post Entertainment. Mike Ryan is happy to have his weekends back for a few months. You can contact Mike Ryan directly on Twitter.