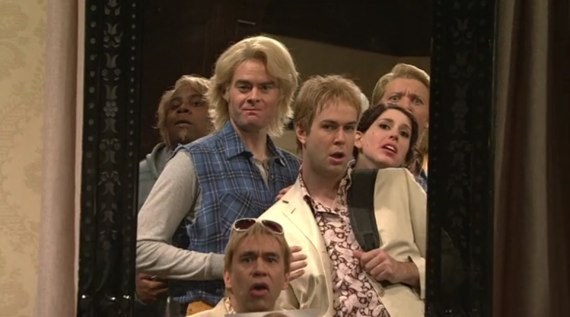 Yeah, the Jeremy Renner-hosted installment of "SNL" certainly wasn't the strongest effort of the season. And no cast member had a truly outstanding effort, though, there were a few strong moments sprinkled throughout the night. Especially "Weekend Update," which featured a exceptionally strong Seth Meyers trading barbs with the governor of New Jersey.

1. Seth Meyers (Last Week: 7) Seth Meyers' strongest show of the season.

2. Jason Sudeikis (Last Week: 2) Now I'm hearing through the grapevine that Sudeikis may stay for the entire season. I hope this is true because he has a definite sense of renewed energy.

3. Taran Killam (Last Week: 1) I mean this in all sincerity: Killam's best performance of the show may have been not breaking character during "Coroner."

4. Fred Armisen (Last Week: 11) Despite my personal opinion on "The Californians," it is getting heavy rotation and always in a prime slot.

5. Chris Christie (Last Week: NA) I feel I had to include him or I might get a nasty phone call.

6. Bill Hader (Last Week: 8)

7. Bobby Moynihan (Last Week: 3) I would like to see Moynihan's Hulk get his own sketch. (Last season, Hulk did appear on a "Weekend Update" segment that was cut at dress rehearsal.)

8. Cecily Strong (Last Week: 5) Right now, as we close in on the halfway point of the season, Cecily Strong has been the most consistent this season at getting quality airtime of the new featured players.

9. Jay Pharoah (Last Week: 9) If nothing else, I know much more about Katt Williams than I did before this weekend started.

10. Kate McKinnon (Last Week: 4) A rare "slower" week for Kate McKinnon.

11. Vanessa Bayer (Last Week: 10)

12. Aidy Bryant (Last Week: 6)

13. Tim Robinson (Last Week: 14) I'm under the impression that Tim Robinson is getting very unlucky lately with cut sketches.

14. Nasim Pedrad (Last Week: 12) Nasim Pedrad is long overdue for a big week. And she deserves it. Of course, here's a cut sketch from dress that features McKinnon, Pedrad, Bryant, Bayer and Robinson (and Hader, but he had a fine week without this sketch).

15. Kenan Thompson (Last Week: 10)


Mike Ryan is senior writer for Huffington Post Entertainment. You can contact him directly on Twitter. Click below for this week's "SNL," Not Ready For Primetime Podcast featuring Mike Ryan and Hitfix's Ryan McGee.