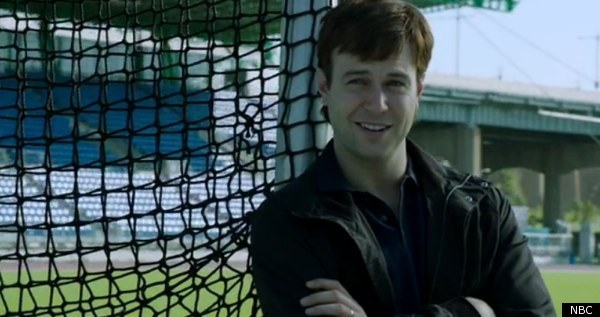 After the 2005-2006 season of "Saturday Night Live," five cast members -- Rachel Dratch, Tina Fey, Finesse Mitchell, Chris Parnell and Horatio Sanz -- left the show for assorted reasons. There were no additions to the cast for the 2006-2007 season. Current "Happy Endings" star Casey Wilson was added as a featured player for the 2007-2008 season, but, after her second season, was let go. This two-year period has a direct effect on this current 2011-2012 season. Most notably: Taran Killam's success.
Between the 32nd season of "Saturday Night Live" and its 35th season, the only cast additions who still remain on the show are Bobby Moynihan, Abby Elliott and Nasim Pedrad, creating a clear tenure disparity between old and new cast members. For example: Seth Meyers is in his 11th season, Kenan Thompson is in his ninth, Jason Sudeikis is in his eighth and Bill Hader, Kristen Wiig and Andy Samberg are now in their seventh seasons. In other words: People are going to start leaving, really soon.
But back to Killam. The point of all of this is that there is a definite dividing line with the "SNL" cast: Meyers, Wiig, Thompson, Sudeikis, Fred Armisen, Samberg and Hader are on one side and Moynihan, Elliott, Pedrad, Killam, Jay Pharoah, Paul Brittain and Vanessa Bayer are on the other. It's a perfect seven-seven split down the middle, which was evident during Killam's YouTube performance of Robyn's "Call Your Girlfriend" (in the room with him were Bayer, Elliott and Moynihan).
So someone has to form the bridge between the two groups. And of the "new guard," so to speak, no one has made his or her mark more than Killam. Basically, it's going to be his show if he wants it -- and it's fairly evident that he does in fact want it.
At 19, Killam joined "MADtv" in 2001, which means, currently, at 29, he has been doing televised sketch comedy as long as Seth Meyers. He's had acting roles that you probably remember from "How I Met Your Mother" (alongside fiancé Cobie Smulders) -- and at least one that, if you did catch it, you don't at all want to remember: the Disney Channel original movie "Stuck in the Suburbs." (Yes, this happened.)
Killam had an inauspicious start on "SNL." On a very crowded Amy Poehler-hosted season premiere in September 2010, he made two appearances: The first was waving with the other new featured players during the monologue and the second was a brief appearance as Jet Blue flight attendant Steven Slater. As fellow featured players Vanessa Bayer and Jay Pharoah made early strides to make each of their cases -- with "The Miley Cyrus Show" and a dead on Denzel Washington impression, respectively -- it wasn't until Emma Stone hosted during the fourth show that Killam got his first big sketch on the air: "Les Juenes de Paris."
Les Jeunes de Paris - SNL Oct. 23rd, 2010 from Duane Baxter on Vimeo.
It takes a certain amount of guts to pitch the idea: "OK, in this sketch we're pretty much just going to be dancing the entire time. Also, it's in French." As Killam told Slate, "It's sort of just our exaggerated portrayal of our American interpretation of French youth culture."
Then, two shows later, Killam co-starred with Jay Pharoah in one of the best sketches of the 2010-2011 season, a parody of "Unstoppable."
By the time Killam's second "Les Juenes de Paris" aired during the Miley Cyrus-hosted episode in March 2011, I decided in that week's "SNL" Scorecard (then, at Movieline), "Taran Killam is slowly becoming the star of 'SNL.'"
The "old guard" -- again, if you will -- of "SNL" still dominates the show, specifically Bill Hader, Kristen Wiig and, to a lesser extent, Andy Samberg. What's remarkable is Killam is the only member of the "new guard" to be able to consistently get his sketches on the air -- boasting, at the moment, four recurring sketches and consistently getting quality airtime as supporting characters. For as good as Brittain and Bayer are, they haven't found much traction beyond "Sex Ed Vincent" and "The Miley Cyrus Show" (save for, perhaps, Bayer's other recurring sketch, "J-Pop America Fun Time Now," which co-stars Killam). Pharoah, as perfect as his impressions are, hasn't been able to do much other than those impressions and full-time cast members Moynihan, Elliott and Pedrad seem to, unfortunately, get lost in the week-to-week shuffle. (Though, no one is better at the quick reaction shot than Moynihan.)
And of the current featured players, no one has upped their game as much as Killam has from his first season to his second. Take, for instance, his Brad Pitt impression:
OK, that was ... interesting. But it's a lot different than the Pitt we see in this season's "Moneyball" parody:
I asked Bill Hader, a guy who knows something about impressions, about Killam's transformation. "Taran is not only funny, but he's a great actor," the veteran explained. "A good example, I think, is how he kind of recalibrated his Brad Pitt impression for that 'Moneyball' short we did with Ben Stiller. He's behaving like Brad Pitt; he's not going for a joke. It was really impressive."
It's inevitable that there will be changes at "SNL" soon: Wiig, Sudeikis and Hader all have aspiring film careers and Sudeikis, particularly, has made it pretty clear that his future on the show is short. To their credit, no one in the cast has has checked out, so when the "old guard" does eventually let loose of its grip on the show, it will be quite the drastic shift considering the aforementioned gap in tenure. It will thrust the younger cast members more into the "Saturday Night Live" spotlight -- which, as always, will either be met with anticipation or disdain at the resurgence or decline of "SNL" (which is never really as true as we're always lead to believe). But only Taran Killam is already very much in that spotlight.
I mean, good grief, he already has himself a viral video.
You can contact Mike Ryan directly on Twitter