After Miley Cyrus' shocking MTV Video Music Awards performance with Robin Thicke, the world was in a state of shock. News organizations rushed to produce headlines detailing the performances of the show, while the internet faithful did their best to rapidly create memes of a shocked face Smith family, Robin Thicke/ Beetlejuice and more having various reactions to the event.
But in all that process, there is one alarming fact that emerges: the week following the MTV Video Music Awards, Miley Cyrus Twerking outpaced the topic of Syria in internet searches. In fact, "Miley Cyrus twerking" was searched 12.2 times more than "Syria" for curious Americans.
Frustrated pastors are giving sermons on the dangerous of Twerking, 30-somethings are Googling every Miley Cyrus search term possible and here we are today, dear readers, discussing the salacious rump-shaker.
And that's the entire point of her marketing scheme.
The inherent problem with modern social media mixing with popular culture is that it provides a perfect medium to extort America's inherent short attention span. Modern culture is fast-paced and smartphone heavy. For entertainment, people love to get a cheap fill of a viral video, provocative headline or an image that tells a 1000-word-story.
As such, entertainment mediums are being restructured to fit the "shock bait" trend that will bring them millions of views. We all know that sex sells, but sex sells even more when it has a Twitter hash-tag attached to it.
Take, for instance, Mr. Robin Thicke's "Blurred Lines" video. The thing featured it all: generic beat, standard crooning and the shock bait, naked women that could only be fully viewed on the Vimeo version. But it also featured something else: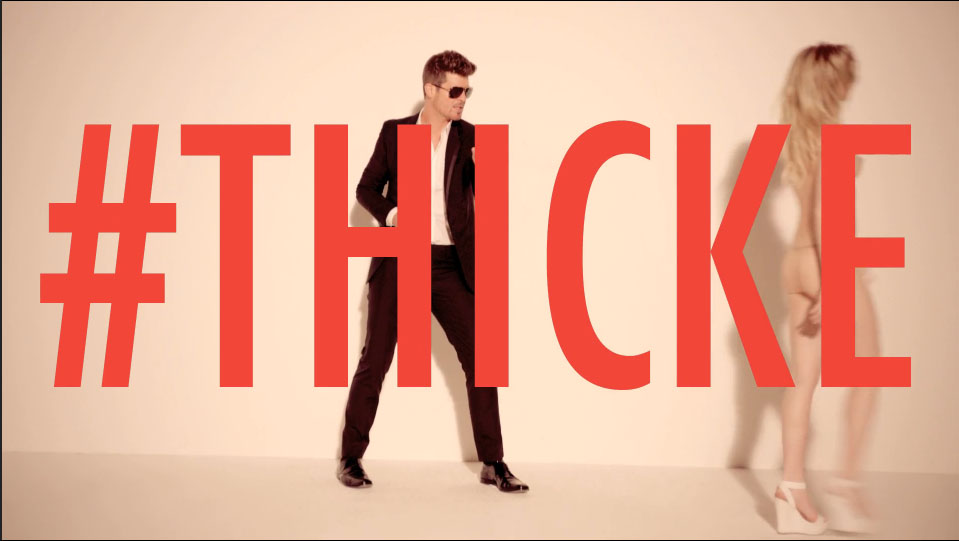 "Blurred Lines," while a catchy tune, is moreso in the business of generating attention for the hashtag #Thicke. If you watch the entire video, you will find the hashtag flashes across the screen dozens of times, especially if a provocative, naked women is strutting across. #Thicke.
The International Business Times delves deep into the subject of Miley Cyrus' backside becoming the preeminent search term on Twitter, with countless variations describing her backside generating millions of views.
Many people would not be happy with MileyAssSmallerThan as a Twitter term trending about themselves, but for Miley Cyrus, it is this type of viral media attention that assures she stays atop her rivals in the music entertainment industry.
Every time someone like Chris Brown may fly off the handle, Lindsay Lohan has an 'oopsies there's my milk sacks in your eyes' moment and the like, it will trend on Facebook and Twitter. Memes will be made, Reddit will report it and mainstream media will pick it up. If it is provocative enough, it will bring the attached celebrity's name and whatever product they are endorsing/peddling to the fore of our culture, and then, they will generate millions of clicks that turn into dollars, we will look at whatever the trainwreck may be and after the entire mess is over, we all go home and talk about something else.
The problem is that marketing departments and people who produce our culture's chief entertainment are catching on to the easy, lazy ability to exploit our social media networks. There is some guy in Hollywood furiously twiddling his hands right now, plotting the next crazy and shocking stunt for Miley Cyrus or another young man or woman like her to pull off. And when they do, it will become such a big deal that the song or movie attached to the antic will be considered for awards.
Sixty-years from now, people will look back on this period of time, wondering why a woman named Lady Gaga parading about naked beneath piles of butcher-cut meat was considered one of the most successful musicians. Others will be shocked and appalled to think their grandparents thought twerking was the most popular dance craze of 2013.
By that time, culture will have self-corrected to balance out (hopefully) the weird anomalies we face in these early pioneer days of social networking. Someway, somehow, celebrities will so oversaturate headlines with their ridiculous antics, a diamond-in-the-rough will have to do something monumental and talented, like reveal the Moonwalk or sing on par with Whitney Houston or Aretha Franklin, to be considered for an award and have success as a prime, talented, entertainment of our time.
But until that time, enjoy the Age of Twerk, because someone is going to have to one-up Miley Cyrus if they want to take back the media headlines for their music project. My money is on Lady Gaga.