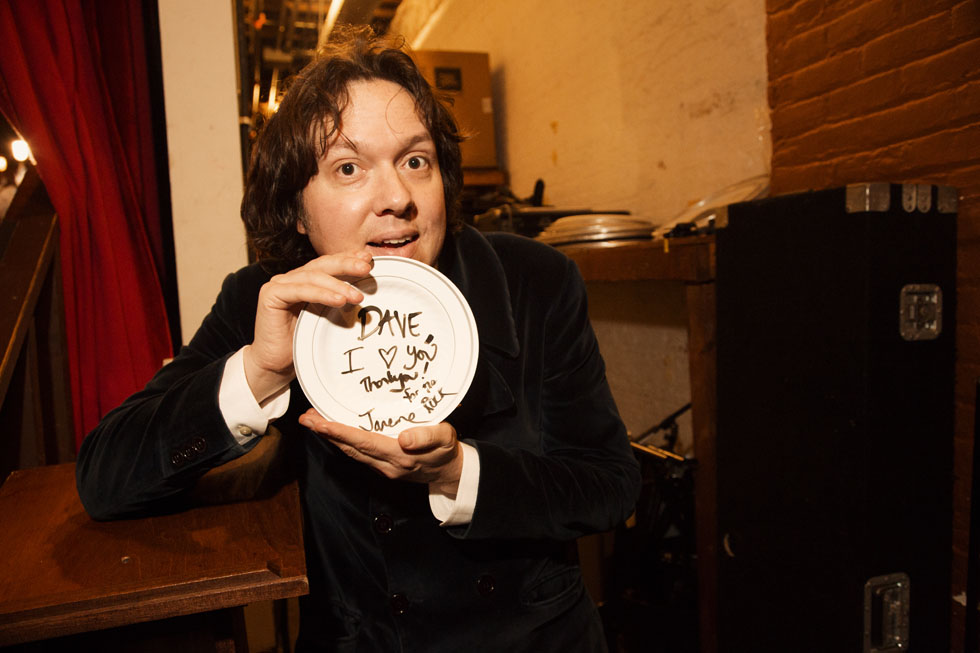 Who:
Dave Hill
Where:
The Bell House, 149 7th Street, Brooklyn, NY
When:
December 10, 2014
What:
Sometimes a comedian has to leave one show to make another one across town, or what have you. They'll often say their goodbyes backstage while the host is onstage and ask another comic to say, "Oh, tell (Host) I said goodbye." And then there's class act, Janeane Garofalo. Here you can see comedian Dave Hill with the goodbye note/autographed plate she left for him while he was onstage performing with his band, Valley Lodge. Adorable.
This holiday edition of "Meet Me In The Bathroom And Tell Me All Your Secrets" included performances by Todd Barry, Maeve Higgins, The Jewbadours, Jim Tews, Chris Distefano, and Bridget Everett. More photos here.
Stolen Moment of the Week is a series featuring the work of photographer Mindy Tucker, who has been documenting the comedy scene in New York for the last seven years. Each week, Tucker picks her favorite image from one of the many stages, green rooms, after parties and private sessions she shoots, and gives you the details behind it.