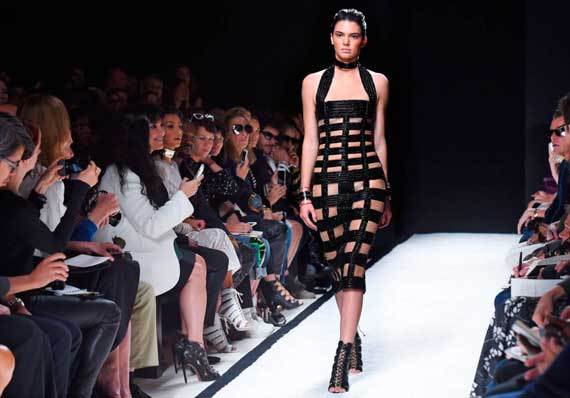 There's no denying it: Kendall Jenner killed it during fashion month. The reality star-turned-serious model scored spots on just about every major runway from New York to Paris, including show-stopping appearances for Chanel, Givenchy, Dolce & Gabbana and Marc Jacobs. Suffice it to say, Kendall is making a name for herself outside of the Kardashian-Jenner clan and rumor has it she's about to land her biggest gig yet!
According to In Touch, the 18-year-old has reportedly been tossed around to walk in the annual Victoria's Secret Fashion Show that's being held in London, in early December. "They [Victoria's Secret] saw all the buzz she got from walking in New York Fashion Week," says a source close to the magazine. "They'd love to lock in a contract with her."
Another indication that the up-and-coming model could be in the running for the plum gig is her appearance in "Angels," a book of photographs from longtime Victoria Secret photographer Russell James. The book, due out on shelves later this month, features nude portraits of Kendall as well as supermodels Lily Aldridge, Candice Swanepoel, Adriana Lima and Alessandra Ambrosio -- all of whom currently don angel wings for Victoria's Secret.
But what does Kendall think of walking in "the sexiest show on Earth?" "It's always been kind of a dream of mine," the model admitted in an interview with E! News back in 2013. "It's something I'd love to do."
As for now, we're told that Victoria's Secret is not currently working with Kendall, although casting for the 2014 Victoria's Secret Fashion Show will begin in early November. Given her top model status, massive popularity both on and off the runway, her clear desire to work with the brand and her close relationship with James, it seems plausible, if not likely, that she may soon be strutting her stuff in her very own set of angel wings.
The 2014 Victoria's Secret Fashion Show will air on Dec. 9 on CBS.
More on Modelinia.com:
Cara Delevingne Turns Fashion Designer for DNKY!