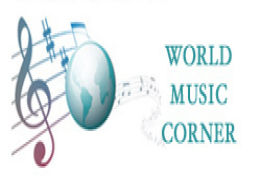 This is HuffPost World's regular feature that highlights interesting musicians and musical trends around the world. Know of a great musician doing ground-breaking work outside the United States? Send us your ideas for bands to profile or up-and-coming musicians to follow. Please fill out this survey form.
by Sam Bathrick
After King Sunny Ade's performance at the Beacon Theatre in 1987, New York Times reporter Jon Pareless, in a fit of post-show glee, described the 17-piece ensemble as "The James Brown band in a triple exposure."
King Sunny is a sovereign in the Nigerian music world and staple in any world music diet. But those who have had the honor of seeing him live on stage tend to recall other-worldly delights. Drumming up support for his latest release, Seven Degrees North (Blue Moon / Mesa), the label aptly dubbed his summer excursion "The Chairman's Diplomatic Tour of a New America."
On brief rest after a fourth of July show with Femi Kuti at the Harbourfront Centre in Toronto, the reigning King of Juju held court with me over a shaky hotel phone line. I asked him what kind of diplomatic challenges a chairman might be facing in New America.
"Over here I have to package it," he said of his stage-sprawling act, which condenses Nigeria's all-night performance experience into a large venue-friendly 40-minute jam. "But it's the same. If you come for one hour or two, we want you to get what you're supposed to get in ten."
What you're supposed to get -- those other-worldly delights -- can be found in the intimate connection he forms with his audience, a point of pride for an artist whose international listeners do not speak the dialect of his poetry.
"I call the audience to respond, to sing along with me, and I tell them the meaning of what I want them to sing," he told me. "We all have a language we can dance to."
Over the years critics have praised King Sunny for resisting the temptation to Europeanize or
Americanize his sound. After Island Records billed him as the "African Bob Marley," he
famously split in the mid-80s when the label proposed revamping his sound to stay relevant in the increasingly profitable World Music niche. Arguably one of the few African musicians who has managed to stay dry in an industry in which a bit of watering down never hurt sales, King Sunny forged his legacy in the blissful shuffle of all-night parties. Thus, his nickname in Nigeria: The Minister of Enjoyment.
This summer, The Minister came to meet a New America, a land drastically transformed since his first excursions here in the late 70s. I asked him if he ever thought then that he would see the election of an American president of African descent.
"Life changes, the world changes," he said laughing. "The whole world is turning round, turning round, turning round..."
The tour was a special treat for his North American fans, who waited quite a few rotations of the earth for the re-release of Seven Degrees North. The album had been off the market since Blue Moon/Mesa's distributor V2 collapsed shortly after the original release in 2000. Strong on Seven Degrees, King Sunny delivers his unique brand of dance-floor medleys, layering his silky tenor musings over pedaled steel guitar and instantly danceable Yoruban percussion. North American Fans hoping for another Juju Music (Island, 1982) will be disappointed, but they shouldn't be. The first taste remains the sweetest, but this one's sweet too.
I asked King Sunny what he thinks about the growing trend in electronic music and synth-sampling in West Africa, for which laying down a bell pattern, drum, or horn line no longer requires a musician's weathered touch. Speaking momentarily for a generation of grandfathers around the world, he confessed to me, "The computer, its something that we're looking at as a wild dog that's going to bite you. You just have to tame it first."
Of course, as in all things music, King Sunny speaks here from experience. As head of the Nigerian Musicians Union, he successfully advocated for legislation establishing intellectual property rights for musicians and prohibiting piracy. Watching his performance at Prospect Park in Brooklyn this summer, one thing became especially clear: there can be no computer simulation of the intangible elements the King and his band conjure up in real time. The Minister of Enjoyment can hang his hat on that.
On that particular balmy Brooklyn evening in Prospect Park, his trademark bird-like posture and masterful conducting were on full display. He took his time with the crowd of 10,000, building musical layers only to pull out the rug on cue, exposing the phonemes of intricate conversational percussion grooves. With talking drummers strapped for movement and the whole band attending to choreographic cues, I remembered why he told me he's not concerned with the digital take-over.
"My band can walk with you. The music we play, we move with you. You cannot move with a computer."
As is characteristic of Nigerian Yoruba social-circle music from which he draws and administers influence, KSA's message remains one of proverbial praise.
"Sometimes I praise God for what he has been doing. Sometimes I praise those who have been working hard for their communities, doing good things for ordinary people."
This type of musical reciprocation can be found in upscale Nigerian social scenes, where praise-singers entertain socialites and businessmen, who in turn "spray" the singers with cash bills. Though Juju incorporates many elements from this built-in patronage model, including the voluble Yoruban bàtá drum, the practice of spraying was noticeably absent from The Chairman's Diplomatic Tour. Recently, a group of Nigerian politicians successfully moved to ban spraying from live music acts on the basis of its overt public extravagance. And since many citizens of New America associate the showering of dollar bills with the arenas of strip clubs and dog fights, perhaps the King and his royal PR team simply chose to avoid a lost in translation moment. It is, he says, the audience's pleasure that matters most.
"I keep on doing what I do and the more you love what I do, I'll keep on doing it because I want to satisfy you. I want to give you my best and I believe my best has yet to come."
Read more Global Music Corner stories here.