Quick: North Africa and the Middle East -- what comes to mind? Is it the Arab Spring? Civil war? Islamists? Does rock and roll factor into your equation at all?
Recently, I had the opportunity to meet a rock and roll band visiting from Algeria called Dar K' Side, or "House of Poems" (HoP). The group -- comprised of Amine Saoura ( lead vocal), Hichem Benamara ( Guitar ), Imad Meghraoui, ( Guitar bass ), Amine Benamara ( Drummer) -- had won a music competition in Algeria. Through a U.S. State Department cultural exchange program, the group are on their first visit to the United States.
After getting the lead singer his first NY slice of pizza (he approved), we toured the famous Rough Trade record shop and music club. Headlining that day were a rock group from Oregon called Mimicking Birds. Myself and the Algerian rockers watched as they sound-checked. The bass drum pounded and echoed throughout the room. The guitars roared through the hall's massive speakers. Sound technicians pushed various buttons on what looked like a super computer. None of that was impressive though. What captured my attention were the smiles on each of the Algerian musicians. These smiles were louder than the music. These guys were inspired.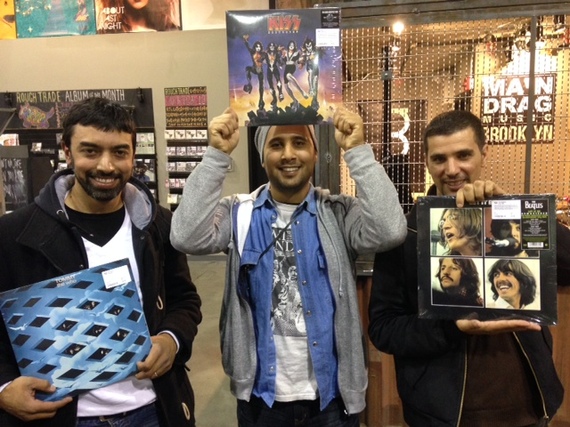 I soon realized that my concept of Algeria and its people is locked into a static narrative of colonialism, civil war and a monolithic perspective of a region. In recent years, you and I have probably heard more of Algeria's neighbors -- Libya and Mali -- than of the actual country and its people. What of Algeria today? After the intimate sound check at Rough Trade, we hit up Bushwick park overlooking Manhattan and engaged in a bit of rock and roll diplomacy.
Me: Did your community and family always support your rock and roll ambitions?
HoP: Our families always supported us. Our first show was all our families, side by side. In Algeria there is no problem with rock and roll. Our rock and roll is clean.
Me: What are your songs about?
HoP: Personal lives, our society and sometimes about politics and love. Everything is abut love!
Me: What social issues does your music touch on?
HoP: We wrote songs about education. For example, when you walk down the street, you say hi and the other person says hi back. After a long civl war, people forget to do this. We wrote about the power of saying salam (arabic greeting for hello) to each other.
Me: Does your music touch on Algeria's history and social challenges?
HoP: What history? We have Europeans and Ottomans and that's it. We are a young country. We have not many things to say about history. It's too soon. It's better to think about the future, not the past. Young people care about where we are going. The thing that a rock band should do in Algeria is to say how you see things. Life is not TV. America is not TV. We want to touch people and talk about reality and look forward. Stop watching TV, free your mind. Maybe if young people do this, one day they we will say, Alhamdulil'allah, we are ok in Algeria.
Me: What is the process of organizing a concert in Algeria?
HoP: Our concerts are mostly in theaters (for plays). We do not have places like Rough Trade. We hope to have the same place like Rough Trade in Algeria.
Me: Is it difficult to get equipment?
HoP: We must get our own equipment. Local governments only support Rai (folk) music, so we do not have any support. We are our own engineers, our own managers, our own everything. It is very hard but we have to do it this way.
Me: The bass player explains that in order to get equipment they buy a ticket to France; buy the equipment there; and then fly back to Algeria. The band must travel between countries to put on a show in their own back yard.
HoP: It is very difficult to be a band in Algeria, because we sacrifice al our money and time for it. Alhamdulil'allah, we are in Brooklyn. Finally we have something with our music. Sometime I speak with myself that we are going to stop. People don't listen to rock in Algeria. From childhood all you hear is Rai Rai Rai Rai, until we are dead! There is a chance, inshallah (God willing), to make our music the right way and to give it to people.
Me: It's never easy to be the first person to do something different. You guys are in a unique and important position. You have to keep going for all those aspiring musicians watching you. What do Algerian musicians need to help them pursue their creative ambitions?
HoP: What they need is training of the mind. We should be able to play our own rock and roll. My music is my rock and roll. I say never take folk music and rock and try to meet them. I am Arab and I love rock and roll but I do not want rock and roll to be 'Arab' music. I love rock and roll but I play my own music. It's mine.
Me: What are looking to get out of your first trip to America?
HoP: We are looking to learn how bands organize shows, what equipment they use, how they practice... what we want from America is help organizing festivals of rock in Algeria with U.S. bands, Algerian bands, Moroccan bands. They (American bands and engineers) can come with their equipment and show us the right way to put on professional rock shows. This is how America can help.
Me: How is the Arab Spring affecting Algeria as a whole?
HoP: We don't care. We had a civil war in the 1990s and we don't want Arab Spring to take us back. We don't mind the Arab Spiring. We have more things to do than just politics. We don't like to be in the same situation as Syria or Libya or Egypt.
* For more info on cultural exchange programs, visit: http://www.eca.state.gov/ivlp