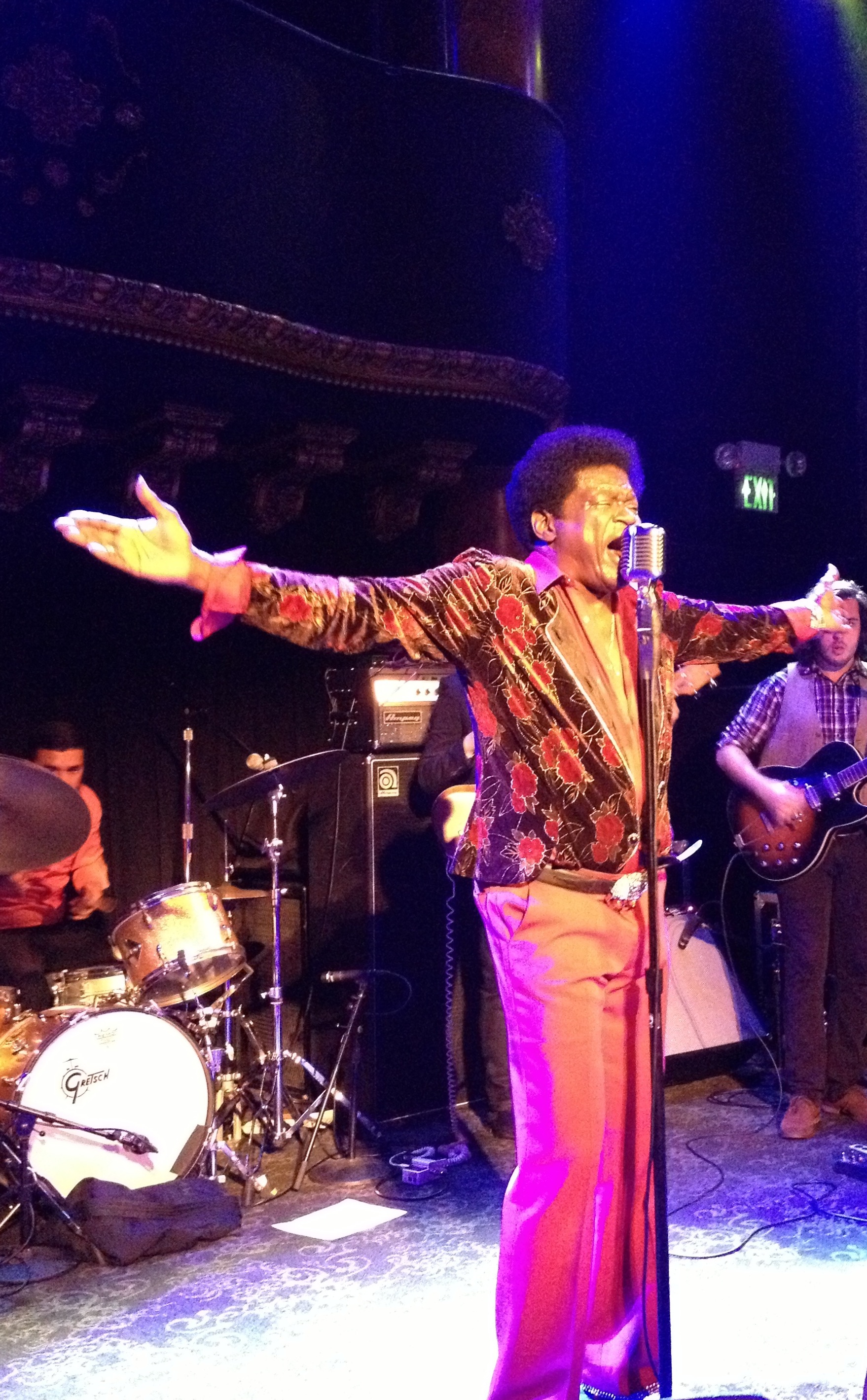 Brooklyn soul singer Charles Bradley has been called the "Screaming Eagle of Soul," and last night I discovered why there could not be a more accurate way to describe this man. Bradley performed at San Francisco's Great American Music Hall Wednesday, to a new generation of funk/soul lovers, inspiring all of us with his stage gyrating, wing flapping, and three separate bedazzled costume changes.
The night began with the soulful Aaradhna providing a perfectly paired opening performance for Bradley, with her Aretha Franklin-esque voice and sassy stage presence. Samoan and Indian by descent, New Zealander by nationality, Aaradhna is an unexpected face for the soul/R&B genre. But when she begins crooning about all the haters out there (dubbing them "Miss Lovely" in one spirited tune) and warning them to stay away from her man, somehow it all makes sense.
Backed by his Extraordinaires, the Menahan Street Band, Bradley belted out tales of love lost and found, struggling to get by in this crazy world, and always being thankful for the gifts we are given in this life, in a captivating 2 hour set. The Extraordinaries delivered the bluesy bass, twangy guitar riffs, and funkiest trumpet and sax I've heard in a long time, that made the whole room literally get down. There were even a few moments of surprise and delight as the Soul Eagle threw the stand of his old-school silver microphone towards the audience, only to snap it back by the cord last minute. Through the glistening sweat dripping down his face, his eyes sparkled with a mischievous "tricked ya!" look.
Bradley's tale of triumph over tribulation is apparent not only in his thoughtful lyrics and deliciously soulful voice, but in his immense and genuine appreciation for his audience. I lost count of how many times he screamed "Saaaan Fraaancisco! I loooove you!!" and intrigued the crowd with a few stories of the seventeen years he spent in our fair city, beginning in 1977. What I wouldn't give to hang out with Charles Bradley in 1977 San Francisco!
As impressive as Bradley's music is on its own, his stage performance is even better. Whether it was the jewel encrusted skull belt buckle, the gold embroidered tank top, or the sparkling, mid-riff baring, floral jacket, his costumes alone are a reason to see this man perform. Even though he does get a little preachy at times, introing one song with "Who's ready to go to church?!" and later, reciting (literally) the Our Father, to close out the show, it's really all just part of the soulfulness and old-school style of this blast from the past performer. $26.00 really couldn't buy you a better show. When Charles Bradley comes to your town you absolutely must go!