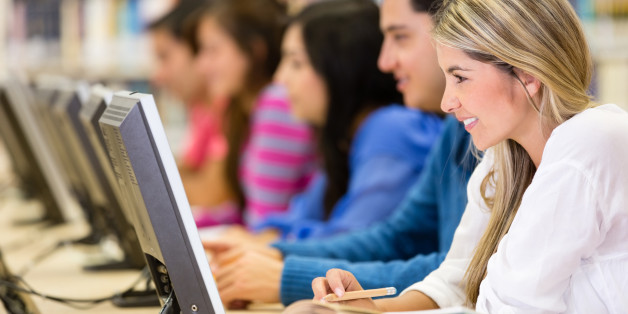 A couple of weeks ago, I heard a wonderful quote from Brain Games Host Alex Silva at the Tribeca Disruptor Awards. He said: "Everything we create creates us back" -- meaning that every time we buy a new computer program from the Apple Store or download and learn an app, we are literally adding new software to our brains. Developing these new technical skills is empowering in a variety of mediums -- which is why it is imperative that we cultivate more women in tech.
According to a recent report by the National Center for Women & Information Technology, women currently make up about a quarter of the computing workforce. There are some excellent organizations in place which are meant to foster the next generation of computer scientists and engineers; two of my personal favorites are Google's Mind the Gap and Black Girls Code. Programs like these are essential to instill a confidence in young girls when it comes to learning a skill that will not only give them a rich, profitable career (which will only increase in demand!), but the rest of us will ultimately benefit from their creativity and innovation.
But what about women over 30, who could really benefit from technology too?
This is a very interesting question that Tiffany Beverlin is addressing. This celebrated housewife turned entrepreneur recently came into the public eye for her unusual (and highly successful!) tech business called DreamsRecycled, which helps divorcees sell the wedding-related items from their failed marriages.
Like so many women of a certain generation, Beverlin spent over a decade as a housewife, raising children. After her divorce, she found herself in a predicament: she was 39 years old and had a 15-year gap in her resume -- which didn't look so good to employers. So she decided to open her tech start-up.
She had absolutely no technical skills, but what she did have was a strong vision and a keen understanding of her demographic.
If you have never undergone a divorce, it's even more debilitating than it looks; not only is it heartbreaking, it's also expensive. DreamsRecycled users can offset some of the costs of their divorces by selling things that will bring back painful memories (like their wedding china or gowns). Beverlin also offers resources and support for those in the midst of the life-altering process. In fact, her ecommerce website currently receives over 150,000 unique monthly visitors and 500,000 impressions, and is attracting numerous sponsors.
"Tech may not seem like the go to starting point for creating your own business if you are a woman over 39," Tiffany says. "Age-wise, our generation missed many of the tech revolutions -- the first iPhone came out in 2007 (making us over 30). Most of us had no computer classes in school. I had no email address until 2001."
Because of her great idea and passion for DreamsRecycled, Tiffany learned about technology (on the job!). Now, she employs women similar to herself -- who may have been stay-at-home moms with very little technical ability. Some of these women didn't even know how to attach a file to an email when they came to work for the company, Tiffany recalls. "I have personally retrained my employees to be proficient in social media and online marketing. I have trained them to do all the basic back end functions needed for my website, including blogs, ecommerce, etc. With a relatively small amount of direction, I daily witness these women soar."
Tiffany started her website for $3,000 and believes that just about anyone can save this kind of money to have an app built or a website built. She encourages women to start their own businesses and learn tech. Here are her top five tips to get started:
1. Decide what your idea is. Does it require an app only or website also? Apps quite often can be an inexpensive way to start your company rolling.
2. Before having your own website designed, investigate pre-made shop fronts. Ecommerce platforms are numerous and as cheap at $30 a month to get started.
3. READ. The Internet is the perfect place to educate yourself. When I started myself, I would read for numerous hours every night, on SEO, Ecommerce, marketing and branding. All the info you actually need can be found online.
4. Don't become overwhelmed by tech talk and coding lingo. Never be afraid to ask someone! Generally, people will be more than happy to help clarify terms and language for a non-tech person.
5. Lastly, make sure you are passionate about your tech product. The Internet industry can require long work days and weekend hours -- especially at first. Be prepared, investigate your competition, determine the credibility of your business plan and don't be deterred if your customer drives your business into a slightly different tech angle than you first anticipated.
If you have a great idea, think of how many lives it can change when you give it the necessary technical support. You're never too old to stop learning, so press on even when it seems daunting. Arming yourself with technical knowledge is the gift that keeps on giving -- not just to you, but to the rest of the world. Let's get to work, ladies!