It's said that a New Yorker can eat out for breakfast, lunch and dinner for 55 years without eating at the same restaurant twice.
And while official empirical evidence to support this claim does not seem to exist, spend one day exploring food in the Big Apple and you will not find it hard to believe.
(Aside: If anyone in the New York area is looking to conduct such a study, consider this my pledge to participate)
Faced with this abundance of restaurant choices, though, a diner may become understandably overwhelmed.
But fear not foodies, because a culinary trend is taking Manhattan by storm and synthesizing eatery selection by fueling the creation of "one food" restaurants.
That's right -- food joints that combine creativity with high quality ingredients to innovate conventional dishes to the next level.
Whether you're a tried and true New Yorker or a passing tourist, here's your meal by meal guide to the "there's a restaurant for that" spots worth visiting.
MORNING EATS:
Chobani Soho (Prince St, Soho)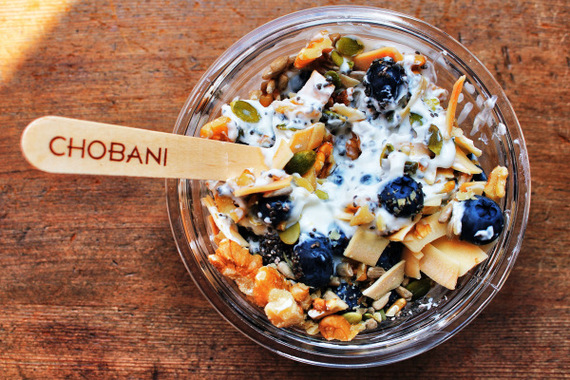 The deal: Remember all those "unique ways to use Greek Yogurt" articles you attached to boards on Pinterest? Well, pin no longer. This one-of-a-kind bar re-imagines this versatile Mediterranean ingredient -- offering a hand crafted menu of both savory and sweet creations in the quaint heart of Soho. Choose your bowl "to stay" and sit by the fire with a glass bowl on a rustic wooden plate -- filled with natural, high quality ingredients any true Greek would be proud of.
What to get: If you're feeling bold, go with the mango + avocado bowl -- with jalapeños, extra virgin olive oil, sea salt, fresh cilantro, lime juice, served with blue corn tortilla chips. Truly an indescribable combination of flavors. For the less adventurous, go with the traditional blueberry + power -- fresh blueberries, chia, pumpkin, and toasted sunflower seeds,walnuts, topped with a light agave nectar.
Oatmeals (West Third Street, Greenwich Village)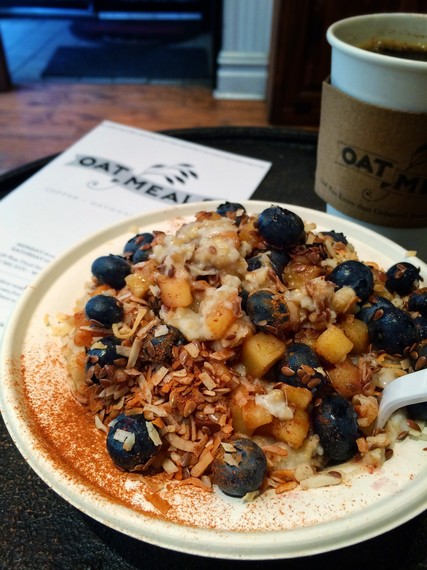 The deal: On a mission to prove this old-fashioned meal as anything but, the world's original oatmeal bar serves up sweet and traditional as well as unique and savory with this ever timeless breakfast ingredient. Not too hot, not too cold, just right.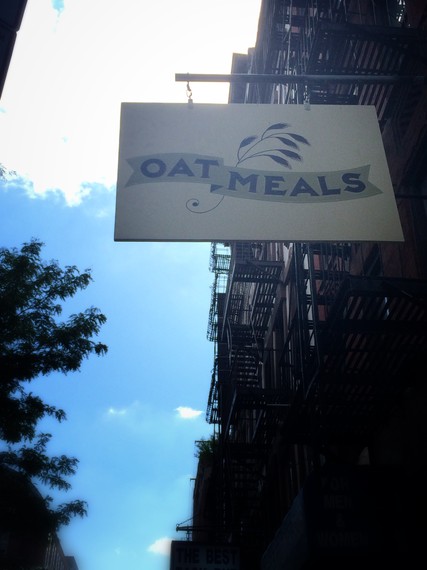 What to get: While they have several notable pre-made bowls like the peanut butter banana and the bacon pumpkin, if you're looking to get creative, build your own bowl. Choose from fresh or dried fruit, nuts and seeds, sweet, savory, dollops and drizzles -- the combinations are endless. Oat of this world.
LUNCH TIME:

Crif Dogs (Williamsburg and East Village)
The deal: Self proclaimed "New York's #1 Wiener" this hole in the wall eatery takes the all-American frank to the next level at both its Brooklyn and Manhattan locations -- the purest result of combining innovative (and cheap!) hot dog creations, hipster PBR and old school arcade video games.
What to get: The traditional Crif (can be made veg) topped any way you like is for the creative diner, but the clear winner is the Tsunami dog, bacon wrapped with teriyaki, avocado and green onions -- the clearest proof that bacon wrapped anything is instantly phenomenal.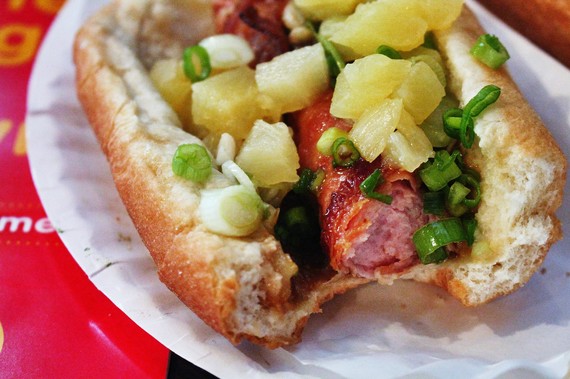 Potatopia (Sixth Avenue, Greenwich Village)
The deal: You say potato? You've come to the right place. This unique, casual spot will change the way you view this classic vegetable by serving up all-natural, quality creations in the form of baked, mashed or fried -- not to mention endless savory toppings as the finishing touch.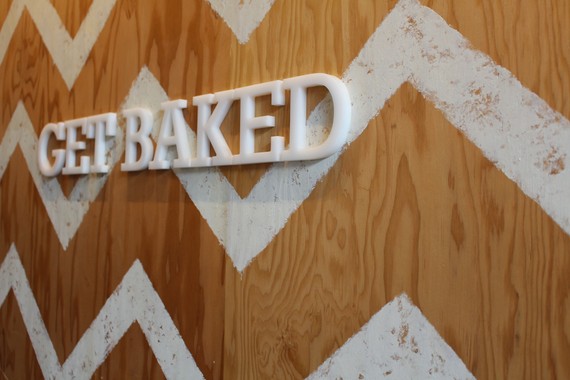 What to get: The curly fries will change your life, but if you're looking for a healthier option, go with a baked sweet potato and build your own potato filled heaven. Add fresh veggies, creamy cheeses, hearty proteins, and of course a signature sauce -- the red pepper aoli is out of this world delicious.
DINNER TIME:

The Meatball Shop (multiple Manhattan locations and Williamsburg)
The deal: Whether they're serving them "naked", a top a pile of pasta, or on a slider, these guys know their balls. Choose from the gourmet everyday balls and sauces or select a special from the ever changing daily menu to form your personal meatball creation -- you can even choose the "kitchen sink" and have your balls served up on a bed of fresh greens.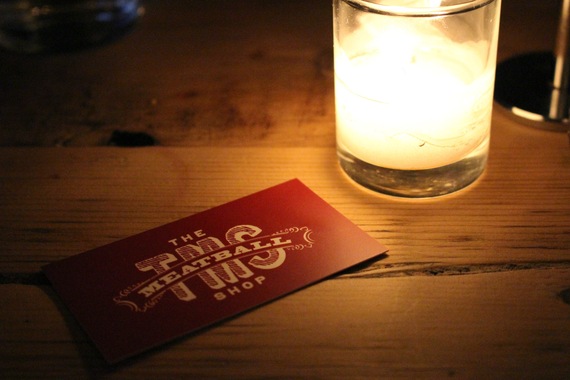 What to get: If you're looking to taste a bit of everything, go with the sliders -- classic beef with marinara, spicy pork with spicy marinara, and chicken with pesto. These bite-sized balls are small but satisfying -- leaving just enough room for a delicious signature handcrafted ice cream sandwich.
Bareburger (multiple Manhattan locations and Brooklyn)
The deal: Maybe you're thinking the idea of a burger restaurant is not exactly innovative, and maybe you're right, but Bareburger's creativity and notability comes exists in the types of delicious all-natural burgers they're serving up. Grass-fed organic meats on artisan breads -- topped with house-made organic chipotle ketchup and fresh greens
What to get: Hands down, no questions asked you must try the bison. Whether you choose one of their pre-made burger creations, or build your own, you will not regret the juicy and delicious uniqueness this meat brings to the table. Get it naked on a bed of fresh lettuce to truly experience the original flavor and burger life as you know it will forever be changed.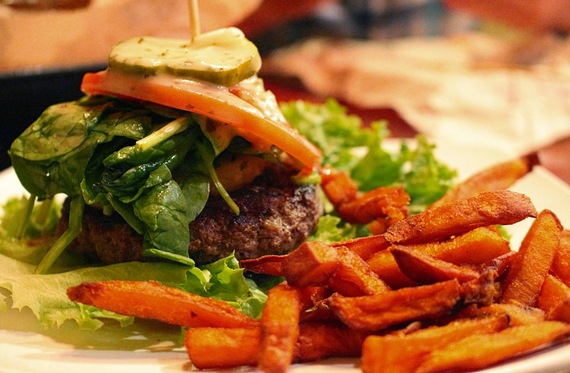 SOMETHING SWEET:
Amorino (Eighth Ave, Chelsea)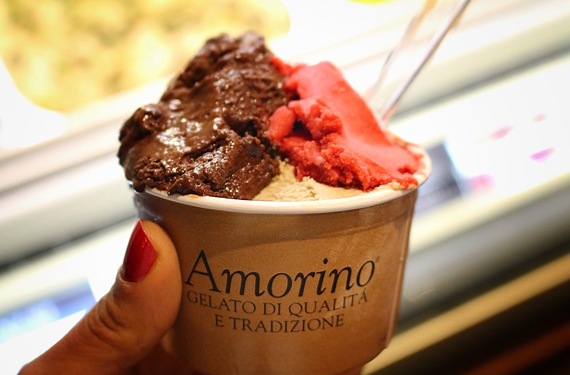 The deal: New York houses hundreds of ice cream and gelato shops, but the authenticity of Amorino is what sets it apart. At their only American location, the tiny New York shop transports customers to Italia with their bona fide gelato creations.
What to get: There is no wrong answer here. No matter the flavor you select, you guaranteed will be blown away by the rich and creamy deliciousness. Particularly though, the dark chocolates' deep and complex flavor are on another level. Not to mention the indulgent Triamisu is straight from the streets of Italy and quite literally out of this world.
One New York day -- sevens restaurants with seven ingredients. And although this "one food restaurant" tour will only be one day of 55 years, it most certainly will be one of the most memorable.