This is the last post in a four part series about the spectacular, awe-inspiring San Juan Islands of Washington State. Please read the first, second and third posts to get the full story.
---
The three major islands of the San Juan archipelagos in Washington State include Orcas, San Juan and finally Lopez. Fondly nicknamed by the locals as "Slopez," we were looking forward to enjoying the slow way of life here. We were also looking forward to enjoying the perfect camp spot for our Airstream. RV parking in the islands is not easy to find so when we discovered the Islander Resort, we were thrilled. Amenities here were nothing short of perfect from the pool with views of the bay to the state-of-the-art work out facility and even live music down at restaurant on the weekends.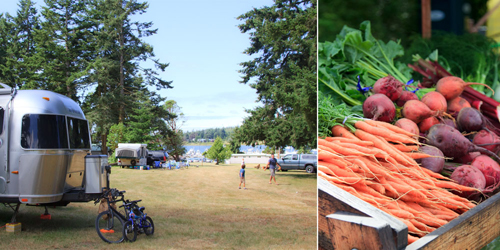 We began our day by heading into the village where the farmer's market was in full swing. From one booth to the next we were greeted with a colorful array of organic fruits and veggies, freshly baked bread and local cheeses. It was then that we decided to pick up a baguette along with some local cheese to take with us on our afternoon hike to Iceberg Point.
Iceberg Point is a place of pure beauty and is truly a hidden gem. Located just off the road in between residential homes, the entrance is easy to miss as we learned. "You need to look for the saw in the air!" a local hollers to us from his porch. It was evident we were not the first ones to become lost here and he knew it.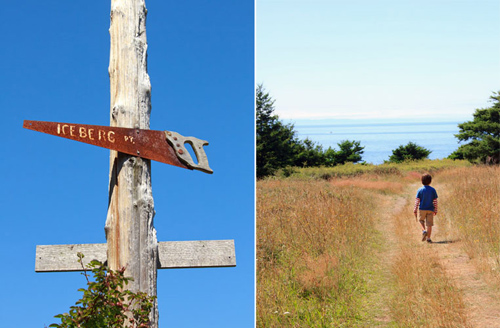 We found that saw in the air and followed its lead. We hiked through a beautiful forest that at once opened up to a sprawling golden meadow with winding trails. The further we walked the deep blue ocean appeared and we were spellbound. Whales were breaching off the coast and the eagles soared above us.
On our return back to camp we made one last stop to pay a visit to Spencer Spit State Park. A mecca for kayakers, beachcombers, fishermen and campers, Spencer Spit is a place where you can easily spend all day. We walked along the spit admiring the many forts that people have built from the smooth sun bleached driftwood. We decide to leave our mark and built our own.
Soon enough we realized that it was time to head back into the village to the Bay Café for dinner. As we arrived, we were immediately taken with the sweeping views of Fisherman's Bay. The sun was shining creating beautiful sparkles off the bay and hubby and I both agreed that it couldn't have been more beautiful. With our perfect dinner of salmon, clams and amazing flatbread our day on Lopez Island came together full circle. It was a perfect ending to a beautiful day.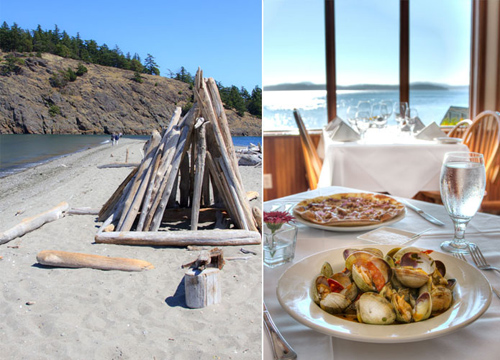 For more travel stories about the San Juan Islands, please visit: "Just 5 More Minutes - Non-Stop Outdoor Adventures and Epicurean Cuisine"