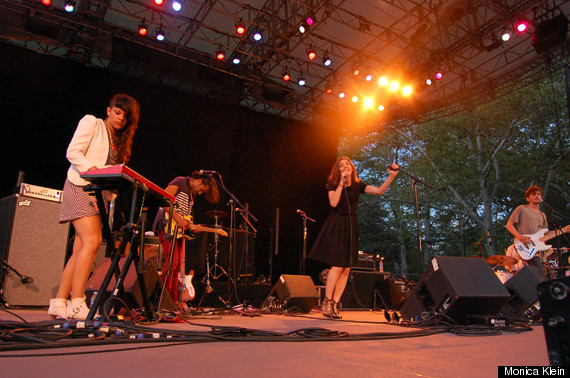 Ambiance often makes the show. Last Sunday night, Chairlift's performance at SummerStage managed to attain the perfect atmosphere at dusk in Central Park. Nevertheless, if the wind had not been consistently blowing through lead singer Caroline Polachek's hair during her entire set, it might have been an entirely different performance. Chairlift's music, a distinctly spacey, synth-laden electro-pop that seems to swell out of Brooklyn nightly, requires a certain environment of blowing winds, spinning girls and flowing dresses that Polachek seemed to perfectly understand.
As Chairlift began their performance, one might have wondered whether this emphasis on ambiance was attempting to make up for an aural void. Two face-painted, floral-wreathed girls emerged on stage with the band, their purpose (more visual than tonal) reminiscent of MIA's bizarrely costumed backup singers. The audience seemed more enraptured by Polachek's spinning tizzies than her vocal cords, as she revolved around the stage in between bursts of lyrics.
Nevertheless, Polachek's vocals have an impressive range; the singer's voice can hit incredible notes without abandoning her harrowing, slightly throaty sound. During the inevitable ipod Nano-commercial hit "Bruises," her voice was left to emit easy melodies, as she sang happy playdough pop lyrics about handstands and frozen strawberries. Yet during the band's new songs, including "Territory" and "Sidewalk Safari," a softer, harmonious edge emerged that showcased Polachek's impressive range.
Although Chairlift is best known for the pop-ier side of their debut album, Does You Inspire You, their new material seemed to have less of the happily harmonized, sunshine-quality that their previous work has offered. One disgruntled audience member complained that "they didn't even play 'Evident Utensil,'" an early Chairlift hit that was released with a trippy, color-filled music video. Aware that they were moving away from the catchy pop sound that made Apple pick them for a rainbow-colored electronics advertisement, Polachek warned the audience, "We're going to play two slow songs now...You guys can handle it, right?"
The audience, a teeming crowd of teenagers that had waited in a two hour line for the free show, was happy to "handle" whatever else they had to until headliners the XX came on, and they complacently bobbed their heads and swayed a bit as the band finished up their set. After all, as the sun cast an orange glow across the venue and Polachek continued to dance around, it wasn't too hard to handle another dose of sweet, snythy songs. One might wonder whether, without the live effect of flower girls and endless twirls, the band will be able to sell that many copies of their upcoming album. Yet even without the windy summertime ambiance, the band's newer material seems to be perfectly capable of standing on its own.
Set List:
1. Territory
2. Sidewalk Safari
3. Bruises
4. Guilty As Charged
5. Cool As A Fire
6. Amanaemonesia
PHOTO GALLERY
BEFORE YOU GO