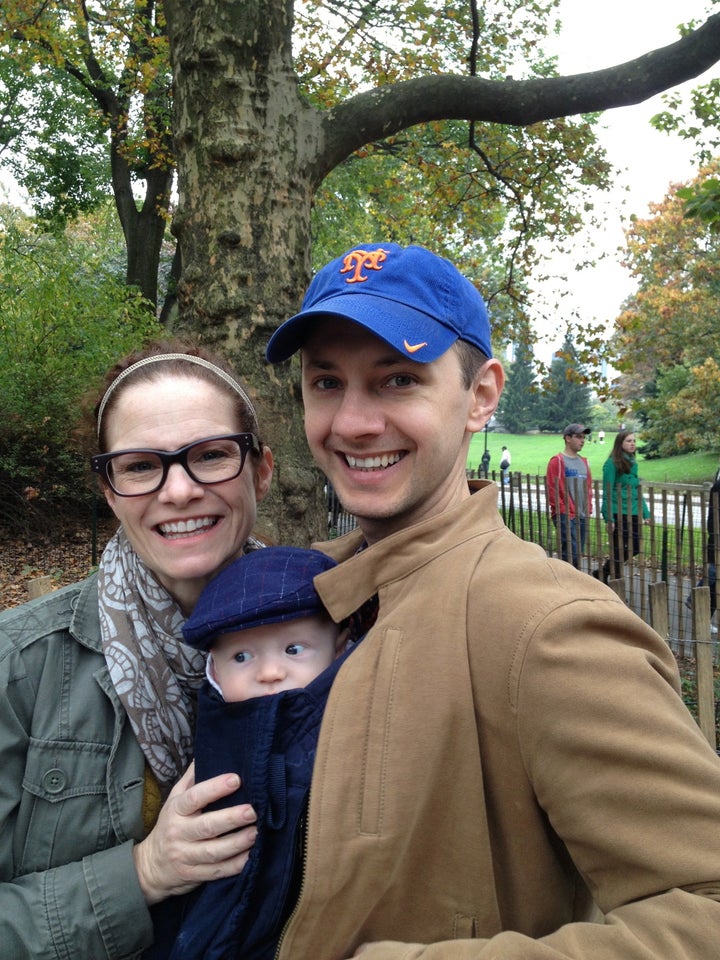 We had a baby and almost forgot who we were.
We uprooted our lives and moved to NYC, excited to write plays and act, to forge a life together in the most creative city in the world.
We produced some great theatre and worked on films; we took classes and joined writers' groups; we saw what was hot, and knew what was not. We walked the dog and nursed hangovers and took out the trash and made friends with people cooler than us.
And later, we had a baby.
We had a baby, and throughout my pregnancy, we said to ourselves and anyone who would listen, "NYC is the BEST place to raise a child! There are so many museums and different languages, and interesting cultures, and sights to see, and lessons to be learned!" We affirmed that a child raised in the city would be more savvy than a child raised anywhere else. Our baby would know the difference between a redneck and a Brooklynite. Our child would be more tolerant of other cultures, would be more willing to eat strange foods with his hands and sit on floor cushions, and would be fearless when pronouncing names with extra consonants and not so many vowels. NYC would help us raise a super cool kid.
And then, we went home for the holidays.
Where people come at you, arms outstretched, begging to hold and care for your child, without charging you $20 an hour. Where Mom lets you sleep in the good bed and there are plenty of coffee pods whenever you want them. Where there is a car available for your use anytime. Where a glass of wine costs $6. Where it's never 19 degrees. Where you can exhale and there is room to think and breathe. And breathe some more.
Driving back to NYC after a week Back Home, we had a lot of time to talk. And before we'd reached the first state line of our trip, we'd decided to pack it in and move South -- and if anyone asked, it was to be closer to family. It was the baby's fault. We needed, so we said, to be near a support system of people who would watch our baby whenever we needed. We needed to stop paying rent and start paying ourselves. We needed a backyard and a swing set and a veggie garden, even though it was sure to wither and die from lack of attention.
We quietly interviewed for Southern Jobs, afraid to tell our NY friends of our secret plan. We met with a builder to help us design our New Southern Dream Home. We put money down on a lot, and came close to reserving a spot at a Charleston, SC Montessori school for our baby.
And then we remembered the parade balloons.
Every year, the giant balloons from the Macy's Thanksgiving Day Parade are inflated outside the Museum of Natural History the day before the parade. Families pack the closed-off streets to get an up-close, down-low look at Sponge Bob and Spider Man and Kung Fu Panda before they fly high down Central Park West in front of network cameras. It's a special thing, a cool thing. And we want our kid to see those balloons.
We also want him to ice skate in Central Park, to go to the Bronx Zoo and to see a Picasso anytime he wants. We want him to go to a Bar Mitzvah and a quinceaᅢᄆera and eat dim sum in Chinatown. We want him to decide for himself whether he's a Mets or Yankees fan, and we want him to develop a healthy preference for the C train over the 1/2/3. We want him to be a good person, a caring person, a kid who gives part of his allowance to the homeless guy he passes on the street every day -- not because we make him, but because he is compelled to. Because he is good, and he is grateful.
So, while we deeply miss our Southern roots, we've decided we want him to be a New Yorker. We're letting go of the panic, and embracing the unique challenges of raising a child in the Greatest City on Earth.
And we won't lose sight of who we are.
We'll be the couple sharing a one-bedroom with a first grader. After all, it's an expensive city.