Stop me if you've heard this one before: a vampire, a werewolf and a ghost walk into an apartment. The premise of Syfy's BBC remake Being Human, back for a second season January 16th, might sound like the beginning of a joke but the show takes itself deadly seriously.
Last season vampire Aidan (Sam Witwer) and werewolf Josh (Sam Huntington) moved into a new apartment in an attempt to live a normal life. The only problem? The apartment's previous murdered tenant Sally (Meaghan Rath) hadn't quite vacated the premises.
As the new roommates settled into their unconventional living arrangement, the show itself began to settle it's identity crisis. The start of Being Human's first season hewed much too slavishly to the British original, without adding much meat to the story. As the show broke free into it's own mythology and storylines, however, it became a much more interesting beast. The evolution continues as the second season delves further into vampire politics, ghost abilities and what it really means to be a werewolf.
"If season one was about putting these people who are at risk into a safe environment, well season two is all about what is that risk about?" said Witwer during a conference call with reporters last week. "These people are in trouble and we're going to see a lot of that trouble this year. We're going to see why they need so badly to have a sanctuary because things get a little bit darker this year."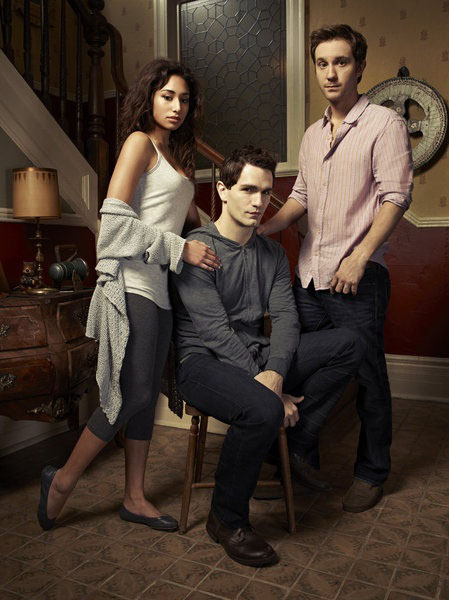 "Temptation is a beast" is the tag line for this season of Being Human and in the first two episodes the show hints that our favorite roommates will have a lot to tempt them to the dark side. Thankfully, they all have each other to lean on. If there's one thing that worked almost immediately in the first season, it was the chemistry between the three leads. Indeed, listening to them joke about how much nicer Witwer is after getting enough sleep (between 42 and 48 percent) and about Rath's kidnaper-kidnappee mentor relationship with Witwer, it's clear how much these people like each other. That affability shines through on screen and makes scenes the roommates share together sparkle with humor and goodwill. The only downside of this natural chemistry is that it makes the audience want the roommates to never leave the apartment.
"We have so much trust and faith in one another and we just know when we're in a scene with one another, it's going to work" said Huntington. "It's going to be fun and it's going to be loose and it's going to be natural."
Be excited, because according to the cast the second season sports an episode where the core group will be in just about every scene together. But don't expect that unity to last. With the show delving into the darkness, the roommates will be more fragmented than ever.
"This season you will see a lot of tension between the three roommates because we all are on our own journey and trying to get ourselves out of these really desperate situations" Rath said. "When we do come together there's a question of can we still relate to each other and how non-judgmental are we actually going to be towards each other? And that generates a lot of tension between us."
Also generating tension is a possible old flame of Aidan's played by Dollhouse's versatile Dichen Lachman, no stranger to kicking some serious booty. Her vampy character Suren pulls Aidan back into a life of vampire politics he had no intention of returning to, with new temptations to return to his old ways.
"She represents a lot of what he wanted, a lot of who he wanted to be," Witwer said. "She's thrown back into the mix and the problem is that Aidan is now a different guy."
Speaking of the vampire Aidan used to be, Witwer teased that we'll learn more about Aidan's old bad boy ways. Seems like he didn't used to be such a nice guy when he hung out with Bishop (Mark Pellegrino).
"In the first season if he's trying to kick the habit in a drug addiction sense, well the first thing he's got to do is stay away from his old drug buddies. And this season he can't," Witwer explained. "We're going to see some of his old character traits that he had over the past 200 years start to resurface. We're going to learn firsthand why everyone seems to be afraid of this guy."
Things are no easier for Sally and Josh. Josh is dealing with some unlikely speed bumps in his relationship with girlfriend Nora (Kristen Hager). Sally, meanwhile, is at loose ends since missing her door to the other side at the end of last season. Expect to see her start getting herself into some dangerous new hobbies. Sally's experimentation with the darker side of haunting does have an upside for Rath though.
"In season two we do get to see Sally in some different outfits," said Rath, referring to changing up her usual casual leggings and sweater uniform.
We might also see Aidan become less of a messy eater. Witwer explained that he's often requested to rein in the blood-on-everything approach to Aidan's vampire dinnertime.
"It's like the vampire equivalent of a Carl's Jr. commercial," Huntington joked.
Still, this season sadly won't be all fun and games for the supernatural besties on Being Human. That's a shame, because the likable cast plays onscreen humor just as charmingly as they do riffing on each other. There are some legitimately funny moments in the first two episodes of the season, most occurring when the cast is interacting. But don't expect the rest of the season to be a barrel of laughs.
"We're really trying to keep our reactions to all this giant supernatural stuff very grounded. And in terms of the dark stuff that comes up, I mean the messed up thing is that at first you'll see our characters react with horror and shame and all this awful stuff," Witwer said. "Then as time goes on you might see them kind of get used to it and that hopefully will be a very sad thing to watch."
Being Human returns to Syfy on Mondays at 9 p.m. EST starting January 16th.
Photo courtesy of Syfy/NBC Universal.