By Jonathan Polgar
I'm a husband and a father, 2 jobs I've looked forward to my whole life. My wife, Jennifer Dorfield is self-possessed and funny and strong. I love being with her, and I love the "us" that we are when we're together. We're a great team.
Six years ago, we brought our son home from the hospital and our lives turned upside down. Fabulously - beautifully - crazily - exhaustively - frustratingly upside down. And then after 2 years of that ride, we had our daughter ...and we did it all again.

And somewhere in there... as the dust cleared... I realized that I'd lost my wife. It wasn't till two years later that we were able, with help from MotherWoman, to understand that she had postpartum depression.
That term is so misleading. What I witnessed was postpartum anxiety, postpartum sleeplessness, postpartum absentness, postpartum mad at me for no clear reason, mixed in with postpartum mad at me for very legitimate reasons - It's hard to tell the difference sometimes. So neither of us ever really understood what was happening to us... I just knew that our team wasn't there anymore.
I cycled through several defenses through this time. Sometimes I'd be the strong guy- soldiering on alone and lonely. Sometimes I was the fixer, trying to make everything ok for her so that she'd feel better...and I'd feel better. And when I'd really cycle down, I'd believe what she was experiencing was all my fault. And I had no idea how to help her.
After I get past the sadness of what my family went through, I'm just so mad that we've evolved into this society that provides so little support for parenting - the most important job we do.
This is where MotherWoman helped me. As well as being a father and a husband, I am also a Physician Assistant - I'm one of the thousands of local healthcare providers who Mother Woman has trained to help women who are struggling, so that other family's teams don't get broken up like mine did.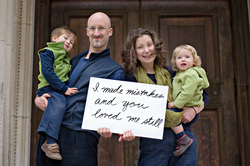 I've also co-created with the Cooley Dickinson Midwifery Center, a support group called "The Other Parent" for parenting partners, both male and female, because I know first-hand how lost we partners can feel.
I am proud to be part of an amazing family; Jenn has taken the Mother Woman Support Group training and now facilitates three MotherWoman groups in Hampshire County.
My mother, Judie Brock has been a midwife in the Valley for 30 years, and she is also a postpartum depression survivor. She is a founding member of the Hampshire County Perinatal Support Coalition (led by MotherWoman), and she has dedicated her life to supporting mothers and families in this crucial time.
I speak as a son, a husband, a father, a health care provider, and as a Man. MotherWoman's mission of uplifting mothers isn't just a "woman's" issue, it affects ALL of us!
MotherWoman helped Jenn and I get our team back and I'm so glad that they are here, to help all families in this amazing and crazy thing we're all doing as parents, partners and members of humanity.
And, Jenn, I'm so glad to have "us" back... I love you.
I support MotherWoman because I want to create a world where every family has a community that understands and supports them.
Jonathan Polgar is a Physician Assistant in family practice. He facilitates a support group for partners in the parenting process through Cooley Dickinson Hospital. He also works with men's circles through the ManKind Project. He lives with his family in Western Massachusetts.