By Kelly Coffey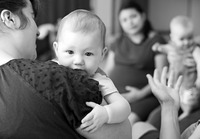 Motherhood: I don't know what my expectations were. The media paints a cute picture, but my life has certainly never been cute, so why would my experience of motherhood? After a few miscarriages, one thing became clear: becoming a mother was no longer a choice; it was something I HAD to do. I WOULD be a mother. There were no other options.
Three years ago I successfully carried my first daughter to term. I even popped her out on her due date. Bam.
And that was as far as I had ever thought through that story.
I looked down and there was this needy, hungry, unpredictable, crying, crapping newborn. She needed me every moment for absolutely everything. I was so exhausted my speech was slurred. My body was tired and puffy. My muscles were gone. I needed my body to recover, and quickly, because I pay the mortgage.
But day and night blended together, and days passed, and then weeks and I was too scared to leave my baby for even a minute, and too sad, angry and scared to enjoy her. Afraid to admit my own incompetence, and afraid I'd be judged for all the things I was surely doing wrong, I did not ask for help.
Somehow I got us out the door and went to a MotherWoman Postpartum Support Group. The baby was six weeks old. I collapsed on the floor while a facilitator outlined the group principles, including non-judgment. When my turn came to speak, I let myself be as I was in that moment—shattered, scattered, and afraid.
I shared how dark and lost I felt. I started crying, and I didn't stop. I complained and I cursed and I let one of the other women take the baby when she started to cry, and I just kept on sharing until I was done, and when I was done I felt like I could actually breath for the first time since I'd become a mother.
When I was done, there was no "But this is the most precious time of your life!" The two facilitators sat quietly for a moment, just breathing with me. The love and consideration they showed me in those few, quiet breaths felt as though they were saving my life.
I knew I needed to pass on the unconditional love I was shown that day. I knew I wanted to share it with women who'd miscarried. I took the MotherWoman facilitator training with that goal in mind, and started a miscarriage support group.
MotherWoman groups did for me what I think I would have spent years trying to do: piece myself back together as both a mother and a woman in a way that was gentle, healthy and loving.
MotherWoman will always have my love, my gratitude and my power behind them in everything that they do to help mothers and families.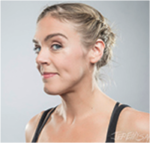 Kelly Coffey is a personal trainer and blogger living in Western Massachusetts. She takes an edgy, humorous approach to wellness, and pleasure is her primary motivational tool. She lives with her man and two adventurous little blissbombs. You can 'Like' her on Facebook, follow her on Twitter, or visit her at strongcoffey.com.
LIKE MotherWoman on Facebook: https://www.facebook.com/MotherWoman
FAN MotherWoman on Huffington Post: http://www.huffingtonpost.com/motherwoman/
FOLLOW MotherWoman on Twitter: www.twitter.com/MotherWoman