This article first appeared and is reprinted with permission from baystateparent.com.
By Christina Cooper
If you were to meet me today, you wouldn't know I was quite recently bonkers. Not that long ago, I was sitting on a pile of sneakers in my hall closet, crying over the phone to the Pampers 1-800 number.
"I... just... can't... do... it... anymore," I whispered between hitching sobs. "They never stop needing me." My twins were tucked in a bassinet just outside the door of the closet, also crying.
"Oh, sweetheart," sympathized the customer service lady, "babies can be so hard. And you have two of them, bless your heart. You give me your address and I'll send you some coupons, OK?"
"OK," I sniffled.
My twins were born six weeks premature and spent 12 days in intensive care at Baystate Hospital. My sleep deprivation began immediately, even though my boy and girl had round-the-clock nursing care. Determined to breastfeed them, I set an alarm to wake me every three hours to pump milk. Once they were home from the hospital, the kids set their own wailing alarms to get fed every two hours. Sometimes every hour. Sometimes Jack would nurse for 45 minutes, sleep for ten, and be ready for his next meal. My body decided vigilant, twitchy insomnia was the new normal. Thus began my two-year struggle with postpartum anxiety and depression.
I spent most days at home under my twin nursing pillow, two babies in a football hold, puzzling out if I was getting better or worse. Today I have cried for eight hours, but I have been awake for 22 hours, so percentage-wise, I am 64 percent sane and 36 percent nuts.
I called my husband constantly at work to see if he could come home early. "I've been awake since 4:00 a.m. last Tuesday. Please, please come home so they can cry at you instead?"
"It's only 9:15," he'd say. "I can't leave yet!"
"OK," I'd say. I'd wait as long as I could and then call again. "How about now?"
"It's only 9:30! Call your mom!"
My postpartum anxiety was like a nasty houseguest that wouldn't leave. Usually it yelled at me. "HEY! YOUR BABIES ARE CRYING AGAIN! YOU ARE A TERRIBLE MOTHER!"
If the babies weren't crying, it would complain about something else. "THERE ARE NOISY BIRDS CHIRPING OUTSIDE! WHY DIDN'T YOU BUY A HOUSE WITHOUT NOISY NEIGHBORHOOD BIRDS? YOU ARE A TERRIBLE MOTHER!"
"Anxiety, shut up. Look, Susannah is smiling; I'm doing a good job taking care of her."
"SHE'S SMILING? YOU HAVE GIVEN HER FALSE HOPE THAT THE WORLD IS KIND AND WHEN SOMEONE TEASES HER AT SCHOOL SHE WILL BE CRUSHED AND DEPRESSED FOR LIFE. YOU ARE A TERRIBLE MOTHER!"
I had to talk to someone other than the voices in my head, but I was new to town and had no friends. I tried calling my doctors first, but they told me all this was baby blues and would pass. (This was before the crucial 2010 Massachusetts legislation requiring all mothers be screened for postpartum mood disorders.) I called my health insurance and reached a young male receptionist. I burst into tears begging him to connect me with a therapist that made house calls to moms over 36 percent crazy. He stammered at me in alarm to use their website. He'll probably never have kids now.
I needed to talk daily, even hourly, to someone trained to be nice no matter what. Did you know there are a lot of 1-800 numbers on all the baby products in your house?
I called the Enfamil hotline. "Why do they need to eat so much?" I moaned at the customer service lady.
"Babies are hard, twins are more than twice as hard. I'll send you some free samples, darling," she soothed me.
"OK," I sniffled.
I called Gerber and Beechnut and Playtex and Avent. I got a lot of coupons and sympathetic murmurings. I found the Parental Stress Hotline number and finally had someone to talk to at 4:00 a.m. about noisy birds. I eventually found numbers for the Hadley-based group MotherWoman and MOMS Club in East Longmeadow, not to mention the number of a psychiatrist who prescribed me wonderful, wonderful drugs. The more I talked, the better I became.
I've since become a trained MotherWoman facilitator and lead support groups for new parents. I'm at least 92 percent sane most days now and my 7-year-old twins are apt to offer new moms their sympathy for how darn hard those first years can be. Fellow moms and dads whose crazy percentage is unacceptably high: Don't stop calling for help. You are not alone. Just keep calling. Someone will listen.

24-HOUR PARENTAL STRESS HOTLINE
1-800-632-8188
POSTPARTUM SUPPORT INTERNATIONAL WARMLINE
1-800-944-4773
MOTHERWOMAN
413-387-0703
BEHAVIORAL HEALTH NETWORK CRISIS LINE
(Springfield) 413-733-6661
PATHWAYS FOR PARENTS
(Ludlow) 413-583-3527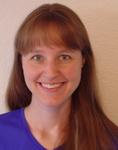 Christina Cooper lives with her husband and seven-year-old twins in East Longmeadow, MA. As a MotherWoman-trained facilitator, she leads parent support groups with the Massachusetts Department of Early Education and Care and writes about the challenges of motherhood for local publications. While no longer vibrating with anxiety and wanting to whack her husband with the baby monitor if he touches her while she's sleeping, she remembers her postpartum anxiety so very vividly. If motherhood makes you vibrate too, she wishes she could invite you over for cookies & milk. We're all in this together.