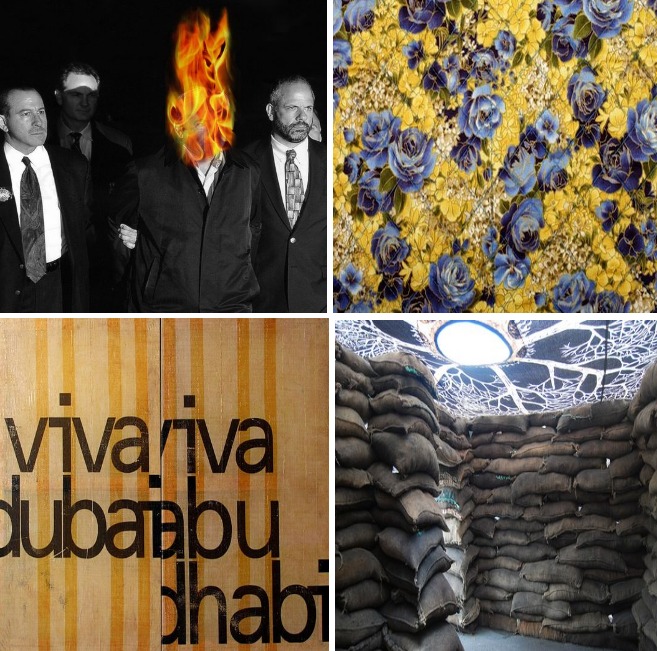 A sampling of some stunning works to be displayed at Art Dubai this year. (Clockwise from top left: "Love Supreme," Edition of 2 by Mohamed El Baz/L'Atelier 21; work from Mohamed Somji's Flowers series; "Viva Dubai Viva Abu Dhabi" by Mahmoud Bakhshi (2009)/Gallery Etemad; "Pseudophobia (Inside View)" by Setu Legi, 2012).
From humble beginnings to international art fair extravaganza, the sixth annual Art Dubai fair returns to its roots this March. 2012's Art Dubai promises to be its strongest edition yet, with a variety of artistic and educational programs, satellite fairs, commissioned projects, and performative tours. Featuring 75 galleries from 32 countries, the event has become a fundamental feature in the MENASA region (Middle East/North Africa/South Asia), expanding to include art from across the globe.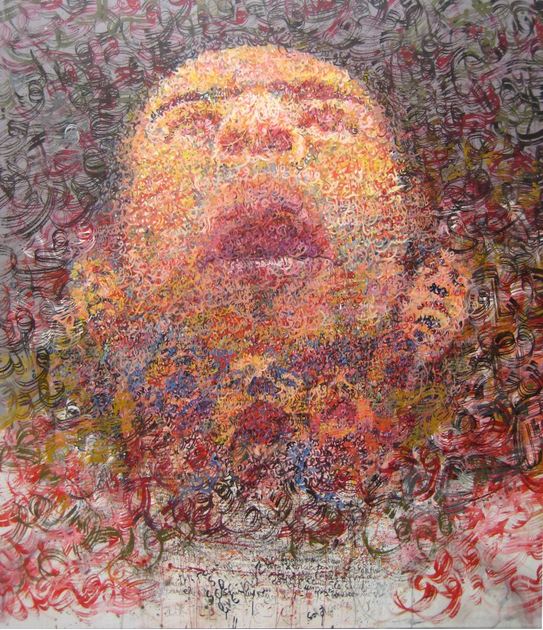 What's on the menu at this Middle Eastern hotspot event? Sikka Art Fair is back for its second turn, highlighting the works of emerging Emirati artists. Also in the spotlight are a slew of artist and curator residencies, the unveiling of the Abraaj Capital Art Prize winners, and the critically acclaimed Global Art Forum. And let's not forget the debuti of Design Days Dubai, a cutting-edge new art fair part of Art Dubai that we explored last week. (Left: "Faces of Your Other 29," (2010) by Zakaria Ramhani/Artspace).
2011's edition welcomed over 20,000 visitors, and fair organizers expect even more at this year's highly anticipated event. Recently, MutualArt spoke with Art Dubai director Antonia Carver, who shared some of the highlights of this year's show, and why she believes the Gulf is fast-becoming a cornerstone of breakthrough artistic production.
Mutualart: Middle Eastern art has often been under-represented in the market. How is Art Dubai attempting to resolve this issue?
Antonia Carver: While Middle Eastern art was chronically under-represented ten years ago, a lot has changed. Art Dubai acts as a hub for the region... Dubai is a commercial art city now, with over 40 galleries, and home to auction houses and the region's biggest fair. We aim to feature the most dynamic galleries, but also support and promote artists, through our residencies, talks and commissioning program. Since Art Dubai began, we've seen international interest in Middle Eastern art deepen and diversify; many of these institutions now have acquisition committees for contemporary Middle Eastern art, and feature artists from the region alongside others, in thematic or solo shows -- this is a major breakthrough. Art Dubai has played a role in this, but it's thanks to the passion and dedication of curators all over the region.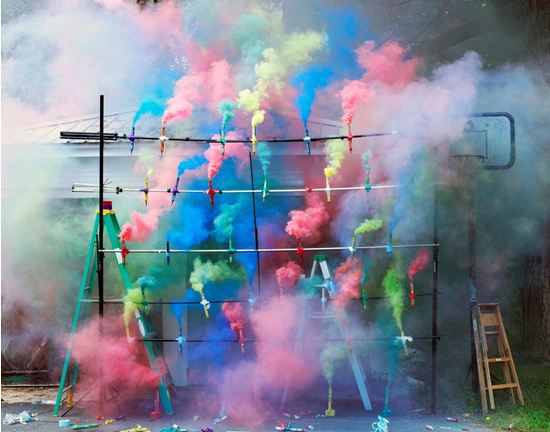 MA: How has modern Middle Eastern art changed over the last decade? Has the Arab Spring had an affect on the art that is produced?
AC: Modern Middle Eastern art has risen in popularity and become highly sought-after. Contemporary artists have also entered the international art world in a very different way than ever before -- but many of the artists have opted to refocus on their own concerns, be they domestic, national, personal, and so on -- rather than pander to a stereotype of what makes an artist "Middle Eastern." Last year we saw artists producing work that reacted to what was happening in Egypt and Tunisia, in particular. But these are seismic shifts in the Arab world, and they will take time for artists to absorb. (Above: "Smoke Bombs II (2011) by Olaf Bruening/Carbon12).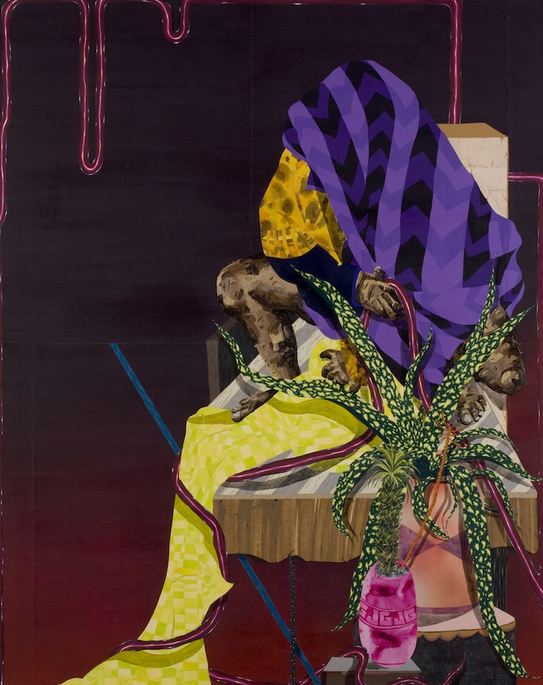 MA: Can you talk a little about the Abraaj Capital Art Prize, and this year's nominees?
AC: The Abraaj Capital Art Prize is now in its fifth year, and is the only prize that's dedicated towards awarding a proposal, an idea, rather than a finished work. It's thus a very artist-centric prize, and is awarded to an artist from the region. This year's winners are the Palestinian photographic artist Taysir Batniji; Beirut/Paris-based filmmakers and installation/photographic artists Joana Hadjithomas & Khalil Joreige; Wael Shawky, who recently won great plaudits for his animated film work, Cabaret Crusades, at the Istanbul Biennial; Pakistani textile artist Risham Syed; and Raed Yassin, who works across different media, and who has a brilliantly witty eye. They've been working with Guest Curator Nat Muller, who is also producing a book on the creation of their art. The winning artists were announced in September, and they worked for seven months on producing these major new works, which are unveiled at Art Dubai. (Above Left: "First One to Trust Last One to Live,' (2011) by Amir H. Fallah/The Third Line).

MA: What exactly is the DXB store? What's the mission of this 'pop-up initiative,' and how does it further the work of contemporary young designers?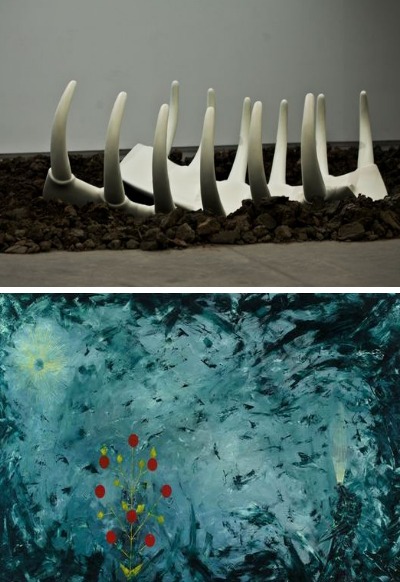 AC: The DXB Store is our answer to the kind of shop and range you find at Tate, MoMA, and so on -- but it only features new products and multiples by designers and artists living in the UAE. We issued an open call a few months ago, and asked a jury to select artists from the hundreds that applied with ideas for new objects. They then create their products, and we create the store, providing them with a platform. After the fair, we'll be holding other pop-up stores alongside other initiatives in the UAE. We launched the concept last year -- many designers sold out, while others were commissioned to make other work, or found themselves a new voice and direction through the experience. The Store also celebrates locally-based craft, design, ideas and entrepreneurship. (Right (Top): "Untitled" (2011) by Adip Dutta/The Experimenter; (Bottom): "Untitled (Storm) (2011) by Kamrooz Aram/Green Art Gallery)
MA: What are some other highlights of this year's Art Dubai?
AC: So many! The Global Art Forum is an absolute highlight, featuring over 50 contributors, and some brilliant discussions and projects -- from an in-depth look at news production, to radio and publishing projects. Many of the galleries are producing solo exhibitions -- such as Chemould Prescott Road's solo show of new work by Shezad Dawood, to Experimenter with Adip Dutta. Marianne Boesky Gallery is bringing seminal work by theArte Povera artist Pier Paolo Calzolari, while the Pace Gallery is bringing drawings in ash by Zhang Huan. Goodman,, from South Africa, is presenting a solo show of work by William Kentridge. The Third Line has fantastic new work by Amir H. Fallah, Hayv Kahraman, and Laleh Khorramian. The Marker section of curated booths features contemporary artists from Indonesia -- really fresh, exciting work that you rarely see on the international stage. (Below: "Streets of the City," Edition of 6 (2009) by William Kentridge and Marguerite Stevens/Good man Gallery).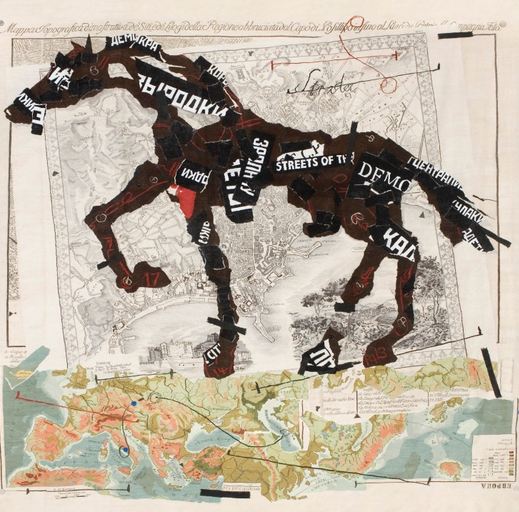 Check out the highly-anticipated Art Dubai, from March 21-24, 2012 at Madinat Jumeirah. What do you hope to see at the 6th edition of this fascinating fare? Share your thoughts below.
All images courtesy of Art Dubai; Written by MutualArt Staff