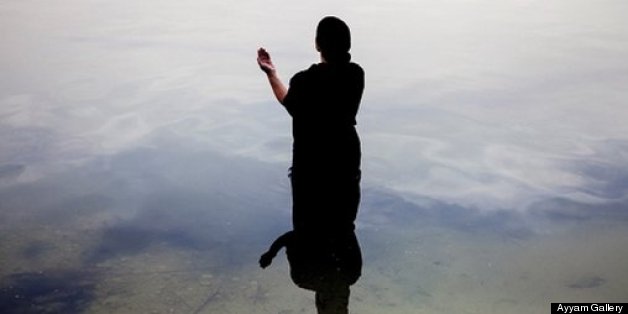 ​​
Sama Alshibi, Silsila, Courtesy of Ayyam Gallery
The 55th Venice Biennale opened its doors on June 1 with the usual fanfare as the who's who of the international art scene arrive for the inauguration and award ceremony. This year's theme, "Il Papazzo Enciclopedia -- The Encyclopedic Palace" aims to provide a space for an imaginary museum that collects the "world's knowledge." This year's Biennale includes 26 artists who are also a part of the global Artist Pension Trust (APT), a program which provides artists with future security through a communal sharing in each other's works. APT, similarly to this edition of the Biennial, is collecting artworks from promising emerging artists worldwide in what is becoming the largest global collection of emerging art, essentially a collection of the current 'world's knowledge' captured through the artworks invested by its member artists. In this article we provide a glimpse of this year's Biennale by examining the role of several artists and a curator who are all part of the Artist Pension Trust.
Jesper Just, a still from 5-channel video installation at the Danish Pavilion
for the 55th La Biennale di Venezia, 2013. Courtesy the artist.
A first-time participant in the Biennale is the Maldives, whose Pavilion is co-curated by Alfredo Cramerotti, also a curator for APT. The Maldives pavilion's theme is "Portable Nation" - implying the islands' uncertain future as sea levels rise threatening to flood the small island nation by 2080. Artists, including Iraqi-Palestinian multi-media artist Sama Alshaibi, show their take on this impeding ecological adversity. Alshaibi will display a video installation focusing on her journey from the waterless deserts of the Middle East to the flourishing paradise of the Maldives. Her installation expresses a story of continuity within the context of a threatened future and a link between the historical Islamic world and nomadic traditions of the region.
When asked about the complexity and diversity of the Venice Biennale, Cramerotti said: "In Venice everything is quite complicated, as you can imagine. On the other hand, the rewards are equally exceptional. Working in Venice is an incredibly challenging task for both artists and curators, but a feat that goes a long way. In 2013 I'm co-curating not only Wales but also the Maldives Pavilion (as CPS Chamber of Public Secrets), two very different set ups and frameworks; and here the fun begins."
New interesting collaborations are also taking place, like the joint exhibition "oO" between Cyprus and Lithuania. The plurinational project aims to to offer a different concept of national presence and contemporary cosmopolitanism in relation to art and society. It takes place in a building that has its own rhythm, character and schedule. The space combines a co-habitation of art and sports for the entire summer. One of the artists participating in "oO" is Gabriel Lester, a visual artist and film director who lives in Amsterdam and Shanghai. Lester has conceived oO's display architecture titled "Cousins" and constructed it from modular walls shipped to Venice from several museums in Europe. Activities will include a festival of calisthenics with 120 girls (ages 4-12) performing in the scenography of "Cousins".
(Image:
Gabriel Lester,
Cousins
, 2013. Photo:
Hans
Dünser. Courtesy Knustraum Dornbirn).
To answer the question "what is the artist's world?" the Biennale also offers room for the artists' interpretation of people's emotions, personal interactions and human behavior in general. Danish artist
Jesper Just
, who represents the Danish pavilion at the Biennale, will develop a new multi-channel video installation in close collaboration with Caruso St. John Architects and Project Projects. His video and film installations mainly focus on subtle feelings between people and he emphasizes stereotypical conceptions related to gender, sexuality, race and power, creating a space for a larger understanding of what's around us. This type of understanding is also displayed in the Japanese Pavilion, where a video installation by artist Koki Tanaka aims to convey a shared uncertainty and collective experience. With his two videos, "a piano played by 5 pianists at once" and "a haircut by 9 hairdressers," Tanaka wants to show how people cooperate and work together on one task, while presenting the difficulties and the beauties of the collaboration.
According to the Biennale's President Paolo Baratta, the exhibition in the Encyclopedic Palace will present works by contemporary artists combined with works from the past, including artworks claimed not to be "works of art", but which are part of the stimuli to imagine and dream beyond reality, to actually dream another reality. With over 150 artists exhibiting in Venice's main pavilion, among the unusual is expected to be Italian artist Roberto Cuoghi. Cuoghi is known for his theatrical works which often suggest that appearances can be deceiving. His reality is one that reveals how our perception of others and everyday events is fraught with expectations. His work will also be on view at the "Contemporary Bestiary Italian Artists from the ACACIA Collection" exhibition where art and nature combine, perhaps with a touch of irony and provocation.
In 1955, Auriti's vision was to design an imaginary museum meant to house the world's knowledge, with discoveries from the wheel to the satellite. However, he never accomplished its plan to have a universal, all embracing knowledge at one place. Thus, the Biennale seems to be the right venue to bring to life Auriti's imagination, while the Artist Pension Trust is attempting to do the same by bringing together the works of thousands of emerging artists from across the globe.
International Art Exhibition, Il Palazzo Enciclopedico, la Biennale di Venezia.
Photo by Francesco Galli. Courtesy la Biennale di Venezia.