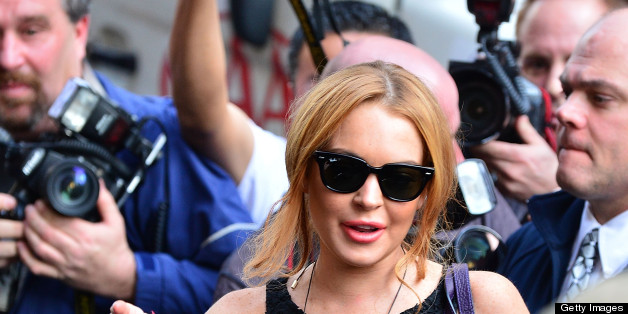 It's been said, "Any press is good press." I don't know if I fully agree with that statement. But I can see where this phrase could prove true and, in some situations, any amount of press could be of benefit to someone. If properly used.
But then I think about Rihanna and Chris Brown and I am sure that they would love to have that whole domestic abuse appearance removed from their lives and public record. And what about Mel Gibson, Naomi Campbell (The Cell Phone Incident), Lindsay Lohan, Britney Spears and Kevin Federline? Some things are just better left private. As much as we want to deny its effect, press can be very detrimental to ones life, career and privacy.
But then you look at Charlie Sheen, Martha Stewart, Kim Kardashian, Paris Hilton, 50 Cent, P Diddy and Bill Clinton's Monica Lewinsky and you see individuals who have more than doubled their value due to the press coverage of the tragedies in their lives. These same disasters would have made me not only drive my car over the bridge, but pop every sleeping pill available on the market to insure I would not wake up during the ordeal. But these famous faces have triumphed financially in light of some of life's most humiliating, embarrassing and tragic moments. And they ended up on top.
What can we credit that to? In my simple explanation, a darn great PR practitioner and a brand strategist. A visionaire. A person who sees ahead of the moment, beyond the tragedy. They probably have a background in psychology of some sort. Or they are at least someone who studied the human psyche or human behavior. They need to be a professional who is able to talk each one of these people off the ledge.
Simply put, it takes more than a great idea or half a brain to be a successful PR professional -- the truly great practitioners are endowed with a gift. The gift to take a garbage situation and spin it honestly, to develop relationships, to strategically negotiate and to truly know and respect the brand they represent. They also need to be thick-skinned with the ability to take a gamble when it's all on the line and put up with the behind-the-scenes duties that go unnoticed. Working in PR is not all glamour and glitz. If it were as easy as writing a simple press release there would be a lot more millionaires, taste makers and influencers in the world.
How does one turn a train wreck of a situation and morph it into a walk in the park? I don't mean your average park but a park of Great Adventure Amusement Park caliber or one with the genius of a Walt Disney money-making machine.
You have to be born with it! You can only be trained to control a situation and shown how to practice PR effectively. It's almost like my favorite Marvel characters, The X Men. Like these special individuals, you have to know you're different, know your special skill set but also know you just have to be harnessed in to know how to use your power for the good and the benefit of the subject, project, or person you are working for and with.
Rahma Himid, PR practitioner and brand strategist, learned this when she was very young. She had a gift, the power to care for others. Growing up with six brothers, she immediately started zeroing in on her ability to provide guidance and moral support to her family members.
Although Tanzanian born, Himid has resided in Dubai nearly all her life and has made her name known in the region. She is respected for the work that she delivers. Her professionalism, her grace and her obvious beauty are most apparent when she enters the room with her cocoa caramel skin, refined features and immaculately polished grooming. Dressed in designers from head to toe, this girl really has it all. And her shoes! I tell you I was coveting the shoes she had on when I met her. She is perfection.
But besides the obvious, for me it was her commitment to women and girls in her homeland of Africa that showcases her true inner beauty. She has the desire to empower women and girls while leaving a legacy that will live past her name and her own work. BGIA, the organization she has chosen as a vehicle to do such great work.
She is the founder and creator of Grace & Garbo Communication Consultancy. This full-service company does more than get someone in front of the camera. The vision of the firm is to make each client a household name. That's a pretty tall order for anyone to do, let alone for someone to do in a country where women are viewed as second-class citizens. But how is this woman able to push the envelope so and leave a positive impression on both her clients and the public? It is through her strategic planning, careful execution strategy and corporate responsibility initiatives that truly make an impact.
Knowing her story and her position, we were a little stressed to keep her waiting when we had the chance to catch up with this diva. We panicked the entire time we were running behind schedule and were nervous to see her reaction for our lateness. But to my surprise, once we arrived and things started rolling and it was MAGNIFICENT!
To learn of her contribution to society, her community and to women globally, it was our honor to have this time with her and give her a platform that would continue to show others how amazing this region of women are doing and how successful they really are.
It is our great honor to continue to show these series of extraordinary women who dare to stand tall (and doing so in such style, I might add, with a nod to Christian Louboutin) and do the right thing by all those in need. Bravo, Rahma.
So now we know. There is power in the press for the good, if you're in the right hands. The hands of someone like Rahma Himid.
For those of us who want to support the cause, please go to: www.graceandgarbo.com.