As a child I feared Mother's Day. It was a constant reminder that my own mother wasn't in my life. When my friends complained about something one of their mothers had done, I would flinch with envy. I spent nights thinking about my own mother. With each year that passed, the memory of her face began to fade. Fortunately 15 years ago we reconnected and since then we've stumbled to create a rocky friendship.
Because my mother had left when I was only a few years old, I subconsciously decided to never have kids. I somehow thought that I was biologically predisposed to leaving my children because she had left. How could I be a parent when I didn't know how to mother? And when friends told me about their so-called biological clock ticking, I wondered if mine was broken because I didn't hear it.
Now my friends laugh at those conversations because in the past three years, I've had two babies and I wouldn't have been able to make it through the bumps of being a new mom if it hadn't been for the support of my girlfriends, new and old, from my baby sister to my former executive producer.
My son was born while I was living overseas. Most of my family and friends were in North America. A few hours after his birth, Eli spent a week in neonatal intensive care. It was just my husband and I at the hospital and because I had my son via an emergency c-section I wasn't able to be with him. I felt incredibly vulnerable and helpless. I felt as if I had done something to cause his illness. I thought it was an affirmation that I wasn't meant to be a mother.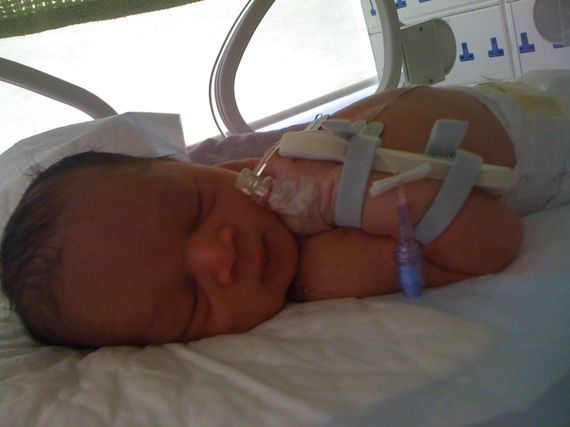 When I was finally able to visit him in the NICU, I wept when I saw all of the tubes and wires attached to his body. I cried because neither of my parents was around. I wanted my mother more than I'd ever wanted her. I felt alone, scared and guilty that I had ruined my child's life before it had even began. Then my phone started to ring and emails and texts came flooding in from around the world. I was shocked by how many messages of love and support I received from old colleagues and casual acquaintances. The doctors were able to save my son's life and since then I've moved back to Canada. My son is now a terrifying toddler who challenges me physically and emotionally.
The care my girlfriends showed me during the hardest time in my life has continued with the birth of my second child. Whether they have children of their own or not, my girlfriends have been there to take care of my son overnight when I was in the hospital giving birth to my daughter or when I went back to work and couldn't find childcare. They've been there to help me with household chores while I was on bed rest and they've been there to teach me how to cook. They've analyzed pictures of my children's rashes and they've forgone a night out with adults to hang out in my noisy baby wonderland. A girlfriend even referred me to apply for her job while she was on maternity leave. The concern and affection my friends have displayed for my children has given me the home I've spent my life searching for. My girlfriends have shown me that I'm not alone and that the past is in the past. They've taught me that you don't have to be blood-related to be family but most importantly that I can choose what type of mother to be and for that I'm forever grateful.