Her kidneys failed. Her brain ached.
Lupus, doctors said. Her excruciating pain all traced to the onset of this cruel disease, one that eventually landed this 21-year-old on the waiting list for a kidney transplant.
Jessica Goldman Foung fought back. Her most powerful tools were the love and support of family and friends, medicines and a new diet.
Within a few years, she went off that waiting list. Then she went off dialysis. Then she went off many of those medicines.
What she never left was her new diet. Quite the opposite. She enjoyed her creations so much that she anchored her new life around it -- and she's spent the last several years encouraging others to do the same.
Branding herself as "Sodium Girl," Foung shares her recipes and more through a popular blog, becoming a wonderful voice in helping readers eat less salt.
While daily recommendations vary, everyone agrees that Americans are consuming way too much sodium -- an average 3,400 milligrams. That's more than double the target of 1,500 that my organization, the American Heart Association, recommends for most people.
Too much sodium on a regular basis can increase blood pressure, and increased blood pressure is a major risk for heart disease and stroke. So cutting down on sodium only makes sense, especially if you can still eat easy, affordable, delicious meals -- like the ones Sodium Girl touts.
Forget the old saying about "never trust a skinny chef." There's far more comfort in getting recipes and culinary advice from someone who followed those tips on her own journey to health and happiness, which is why I'm so excited about turning over this space to Sodium Girl, Jessica Goldman Foung.
---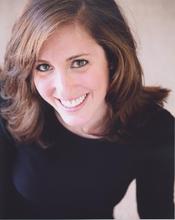 In elementary school, I was voted "Miss Goody Two-Shoes." And my classmates were right. From early on, I liked to play it safe and stick within the lines of what felt comfortable, especially when it came to food. I picked the same items from the same restaurant menus. I cooked the same two recipes, on repeat. I knew what I liked and avoided anything different. And I pushed the exact same number of minutes every time I made microwave macaroni and cheese. I was a creature of habit and simplicity.
But in 2004, all those routines came to a halt when, days after my 21st birthday, I was diagnosed with a severe case of Lupus, which aggressively attacked my brain and my kidneys. After months of chemotherapy, dialysis, and amazing medical care, I survived. My kidneys, however, did not. And I faced a lifetime of dialysis and kidney transplants.
From the beginning though, I was determined to do what I could with my own two hands to give myself the best chance of staying strong, which meant taking on a strict no-salt, low-sodium diet. And this is what might surprise you: When I lost the white stuff, my whole world got a lot more colorful.
At some point, low-sodium diets earned the unfortunate reputation of being bland and boring. Even though people have the chance to improve their health with food (FOOD!), many avoid it because they think salt-free is synonymous with flavor-less. And unlike other special diets -- Paleo, gluten-free, vegetarian -- people perceive low-sodium as something medical rather than culinary.
These misperceptions don't start with food; it begins with attitude. If you only see low-sodium diets as filled with limitations, then yes, you'll only experience loss. But if you decide to break some rules, step beyond the boundaries, then you'll discover an opportunity to eat better, live better and feel better than before.
Which is exactly what I did.
When it came to the list of things I couldn't eat or things I couldn't do, I defied them. I channeled my inner rebel and found ways to get around each challenge. I broke free from what was safe and simple, and became more daring in my use of unfamiliar ingredients and spices. I explored new cooking techniques, which became as easy as microwaving macaroni and cheese. I learned how to eat out and eat with others, finding that my needs didn't keep me from the social side of dining, but brought me further into the fold. And instead hiding and apologizing for my low-sodium creations, I put them center stage.
Which brings me to today and 10 years of hosting dinner parties, countless memorable meals and even mastering the salt-free Bloody Mary. Not to mention a decade free from dialysis and the transplant list. And a life and diet that's more exciting and vibrant than the bland and boring one I had before.
So if you've been told to go on a low-sodium diet, don't fear the restrictions; rebel against them. Break each barrier with creativity and sense of adventure. And with the right attitude, you'll quickly find that in losing a little sodium, you'll gain more than you could have imagined.
Jessica Goldman Foung, founder of www.sodiumgirl.com and author of Sodium Girl's Limitless Low-Sodium Diet. Her second book will be released in fall 2016.