In the final seconds before the start of Super Bowl XLVII, the only thing missing was the ball. Ten-year-old Hunter Paulin had it.
Hunter earned the honor of bringing the game ball to the officials because he was the chosen "Super Kid" through a contest offered by the NFL PLAY 60 Challenge, a program that inspires kids to get 60 minutes of physical activity each day.
Let me tell you just how super this kid is.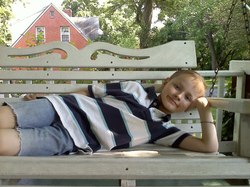 Born with six heart defects -- yes, six -- Hunter had his first open-heart surgery on his fifth day of life. He had three more open-heart surgeries before his 9th birthday. He needs another, perhaps before he turns 12 in November.
The really super part is how Hunter keeps finding ways to embody everything PLAY 60 represents. Not only does he insist on being as active as his body can tolerate, he also continues to encourage others to get moving and watch what they eat.
Just two weeks ago, Hunter and his big brother Brandon visited the office of their Congressman, U.S. Rep. Steny Hoyer, to encourage his support of healthy meals in schools. Earlier this summer, Hunter was the ambassador for a 5k race benefiting his local hospital in the Washington, D.C., area; however, it was shortly before that race when his latest round of heart problems flared up. When his cardiologist said he couldn't run, Hunter negotiated what he could do. They settled on Hunter pushing himself on a foot-powered scooter.
"He didn't place in his age group, but he came in way before I did," said his mother, Wendy Paulin, laughing.
The arrival of the school year and the kickoff of the NFL season on Thursday make this the perfect time to celebrate PLAY 60 and the fun way it is guiding children toward the path to healthy adulthood. It's my privilege to turn this conversation to the man who helped launch the program, NFL Commissioner Roger Goodell.
---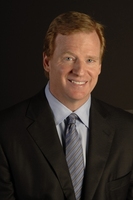 The National Football League's public service commitment to our fans and communities is strong and growing. It includes a most-important year-round effort to keep kids active and healthy through the NFL PLAY 60 campaign.
NFL PLAY 60 encourages kids to be active for at least 60 minutes a day -- a critical element of health and wellness. We want kids to understand the benefits of exercise, whether through organized sport or playing outside with friends. Instilling the importance of physical activity and healthy lifestyles to kids at a young age can be the foundation for a lifetime of good health.
PLAY 60 is accessible to all kids and reaches them where they spend most of their time -- in school. One of our largest programs is Fuel Up to Play 60 with the National Dairy Council. Fuel Up to Play 60 empowers students to take ownership of their nutrition and physical activity.
The NFL is especially fortunate to team with the American Heart Association on the NFL PLAY 60 Challenge, a program that inspires kids to be active with short activity breaks at school and at home. Teachers motivate students to record their physical activity with their class or using an online tracker. We are proud that our programs are now found in more than 73,000 schools and reach 38 million kids per year.
NFL teams fully support PLAY 60. Last year alone, our 32 clubs hosted more than 2,000 PLAY 60 events. NFL players attend PLAY 60 events to give back, engage young people and participate in drills. It's always a thrill for me to watch our players, the best athletes in the world, leading kids through PLAY 60 activities. I'm convinced that some of our players have more fun than the kids!
Young people today spend a lot of time on their computers or smartphones, so we collaborated with the American Heart Association to create the first PLAY 60 app. Launched earlier this year, the PLAY 60 app encourages kids to be active without shutting down their smartphones. To make their avatar run and jump, kids must do the same -- a great way to keep them moving.
The PLAY 60 movement continues to grow. In addition to our school programs and new app, the NFL and our clubs have built more than 200 Youth Fitness Zones, new spaces where kids can be active. It is exciting to see PLAY 60 have such a positive impact, but we have work to do. We want PLAY 60 to leave a lasting legacy for generations to come and we intend to help make that happen.