Nearly 25 years ago, a new cardiology fellow from Duke University thrust himself into his profession in a big way. He attended his first Scientific Sessions, the American Heart Association's annual gathering of professionals fighting heart disease and stroke.
This young doctor absorbed lectures about his specialty, interventional cardiology. He befriended peers and leaders from his field and beyond, from across the country and around the globe. He enjoyed it so much that a few years later he became a presenter, showing off the results of his own research.
As his career progressed -- rising from junior investigator to senior investigator, then up the ranks in academia to his post as Chair of the Department of Medicine at the Stanford University School of Medicine -- Dr. Robert Harrington not only kept coming to Sessions, he became one of the event's organizers.
This is Harrington's 10th straight year on the planning committee, and his second straight in charge. That's a major commitment for someone with such a demanding day job, but Dr. Harrington shrugs it off as "a labor of love."
With this year's Scientific Sessions starting Saturday in Chicago, I'm honored to turn this spot over to Dr. Harrington to explain more about this dynamic event and its role in building healthier lives, free of cardiovascular diseases and stroke.
---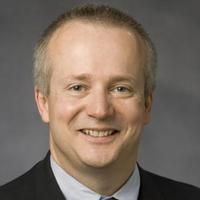 On May 26, 1925 -- less than a year after six cardiologists met in Chicago to sign the papers that launched the American Heart Association -- the AHA held its first major gathering on heart health. About 200 people attended the meeting at a hotel in Atlantic City, New Jersey.
I can't point to any specific advancements that came from that day. But I can say it started something special.
Scientific Sessions is now widely recognized as the premier gathering of cardiovascular scientists and clinicians in the United States. From those humble beginning, this conference has evolved into a five-day event that is expected to draw more than 18,000 attendees from more than 100 countries.
The program is so packed with science that we break it into seven core areas and 26 programming tracks. Suffice to say, there is plenty for everyone to do and see.
As sprawling as this event is, our organizing committee remains focused on a clear goal: delivering the best, newest science and taking on the most compelling issues facing cardiovascular scientists and clinicians today. Let me give you a few examples from this year's agenda:
Global Congress on Big Data
"Big Data" has become a fairly ubiquitous phrase in society, so we're taking a look at its impact on cardiovascular medicine and science -- how we can best harness the opportunities that exist. We have four days of seminars and how-to sessions covering a variety of topics, such as genomics, mobile tech, e-health, the learning health care system and health in the cloud.
Arrhythmia Research Summit
Arrhythmia is an abnormal heart rhythm -- an irregular heartbeat. We're taking a deep dive into the field, offering both a four-day meeting (Sunday through Wednesday) and a one-day event (Wednesday). Leaders in electrophysiology, including former AHA President Gordon Tomaselli, will play key roles in sessions devoted to cutting-edge research and therapeutic innovation.
Late-Breaking Clinical Trials
These are the headline-makers, the latest in medical research. Scientific findings sometimes don't translate well for a consumer audience, but the areas covered by this year's late-breakers certainly do -- coronary artery disease, structural heart disease, lipid lowering, prevention and more.
Case Theaters: Learning at the Movies
We started this in 2012, fittingly enough when Sessions was in Los Angeles, and it's been so popular that we keep expanding it. Basically, real-life cases are taped and then shown to a large audience. Videos can be stopped for discussion points, with a moderator or a panel discussing what's already happened and what could/should happen next. This year's expansion takes us into the catheterization lab, electrophysiology lab and the operating room, interventional cardiology, structural heart disease, coronary heart disease and more.
International Joint Sessions
Because heart disease and stroke are the top two killers worldwide, people come from all over to discuss both universal solutions and treatments that work best for their populations. We embrace this opportunity in two ways -- "best of" sessions that provide a way to get caught up on other domestic and international meetings, and joint sessions hosted by the AHA and esteemed foreign organizations. This year's slate includes the World Heart Federation, the European Society of Cardiology and organizations from Brazil, Chile, China, Egypt, India, Israel, Italy, Japan, Korea and Mexico.
One of my favorite tidbits about Sessions is the breadth of attendees -- from local teens in high school to scientists in their 90s (thus older than the American Heart Association).
Considering my role in academia, it's little wonder that I push the programming for early-career professionals. In fact, the legacy of my tenure on the planning committee may be expanded opportunities for this group of attendees.
One wrinkle added on my watch is "The Poster Professor." This pairs a senior member with early career attendees presenting a poster, like I once did in my formative years. The senior volunteers engaging the presenter in what I call the culture of science, forcing them to handle questions and criticism and giving them a chance to show off a bit. This one-on-one experience can be invaluable for everyone involved.
That leads to the final point about this gathering -- the in-person experience.
About 1.5 million people will attend Sessions virtually, which is great, but not quite the same thing. Going to a meeting like Sessions is about more than gathering data. It's about the personal interactions. That's where ideas come from. You ask a question or probe a data point or you hear someone make a comment and the light bulb goes off for you.
So many great connections are made when you bump into a colleague and say, "I just saw this. Can I ask you about it?'" The payoff for those serendipitous conversations is staggering, and unquantifiable. Science is a team sport. You've got to interact with your teammates to do the best science.
Time spent meeting colleagues and renewing acquaintances is priceless, too. I've hired many people directly and indirectly through contacts forged via Sessions. When I was offered the chance to leave my role as director of the Duke Clinical Research Institute for Stanford, I tapped into that same network for insight and opinions.
As organizers, we often hear that people want more interaction during presentations, too. So we've emphasized going beyond slide-showing and rote lectures, and shifted toward engagement. We've even expanded the networking opportunities -- all the way down to how we've plotted which sessions are held where.
The bottom line is that Scientific Sessions brings together very diverse people into one place every November. We discuss how to better understand cardiovascular health and to take better care of patients, or, better yet, to prevent people from becoming patients. As a longtime attendee, and now one of the organizers, I really believe passionately that this year, once again, we have a great forum and venue to do that.