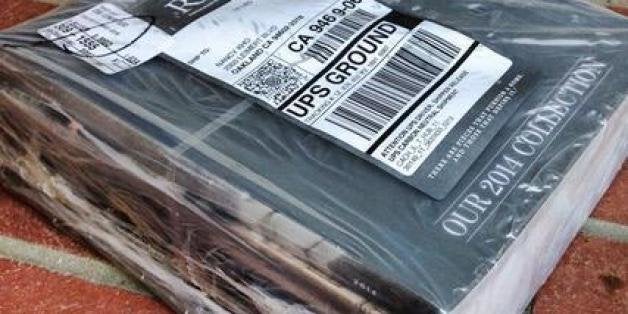 Dear Restoration Hardware:
I wanted to let you know that I mistakenly received an item I did not order from your catalog, and wondered if you could send someone by my house to pick it up. It is a doorstop, sized 8.5 inches by 11 inches by 3.5 inches, weighs 13.6 pounds, and looks to be created entirely from your catalogs.
Although I do not need a doorstop at the present time, I allow that I am impressed with the solidity and heft of the object. When the UPS man threw it on my front porch on Thursday, I jumped and the dog barked like crazy. I tried to remember whether I'd ordered a hod of bricks to be delivered to the house. But no, it was just the doorstop sitting there.
Even though I didn't order it, I had to take a close look because Restoration Hardware used to be one of our favorite places to shop. Your company's founder grew up in my husband's small Upstate New York hometown, and it entertained us no end to see the "Rouse's Point" couch and the "Mooers coffee table." We have spent time in those tiny hamlets and never found them to be particularly design-forward, but the names and the furnishings did evoke a comforting sense of place. However, at some point your company's ownership changed and, it seemed to me, the designs did too. The last time I was in a RH showroom, it looked like you were selling the Snoopy Sopwith Camel collection, all the furniture covered in sheets of metal and dark leather, like they were fashioned from a biplane that had crashed onto an island inhabited only by furniture makers.
So I was curious to see the doorstop's design and, upon closer inspection, I was taken with its sly wit. First there's the catalog count that comprises those three and a half inches of paper: eleven. Kudos for the Spinal Tap reference -- "These go to eleven." A comment on how willfully ignorant people can be when they want to believe something, like a marketing person who says "You know how many catalogs we should send at once? ELEVEN." Hysterical! Second is the whackadoodle catalog categories, like "Small Spaces" and "Objects of Desire." And a catalog with the title of "Leather"? What is this, San Francisco's Folsom Street Fair? That's satire done right.
The kicker (pun intended) is the subtle but unmistakable humor on the label that's stuck to the doorstop's thick outer plastic wrapping: "UPS Carbon Neutral Shipment." Wink, wink. Say no more. Receiving those catalogs one by one over the course of the year wouldn't have set off any alarm bells, but seeing them all together: wow. That really highlights the wasteful nature of print catalogs in the digital age.
Considering that I registered with a service called Catalog Choice a couple of years ago to stop receiving catalogs that were going straight from mailbox to recycling bin, including those from RH, I feel like the doorstop does double duty: it can both prop doors open, and provide a clever social commentary on the nature of corporate social responsibility and consumer powerlessness, setting up a dialectic for further discussion. Hats off to you for designing a doorstop that is also a conversation starter.
At any rate, I knew you'd probably want to hear about the rogue doorstop delivery so you could come reclaim your inventory. I've had friends mention that they also received these this week -- a few of them had to go to their doormen or drive to the main post office to pick up the package in person. So you may want to take a look at your order distribution system, because these unwanted doorstops are showing up everywhere.
My contact information is enclosed if you'd like to let me know when you'll be by to pick it up.
P.S. For one fleeting second it occurred to me that maybe this isn't a doorstop, but an actual delivery of 13.6 pounds of 11 catalogs that you think I'd be interested in spending hours leafing through, even though I rarely buy anything from RH and then only in person, at a store. But that would be madness. Sorry for even entertaining the thought.