In February of this year, the Center for Disease Control published a study determining that more than one third of U.S. adults report getting less than seven hours of sleep a night. The detriment of not catching enough snooze time is linked to a host of health problems we're all aware of. With solutions ranging from Apple's new 'Night Shift' feature to the viral Banana Tea, people everywhere are looking for sleeping hacks everywhere.

However, what we actually sleep is an afterthought by most. We spend a third of our lives sleeping and with over three million people working from home, plenty more time relaxing around the house in the clothes we sleep in. There is not only a trend of luxury leisure attire, but a need.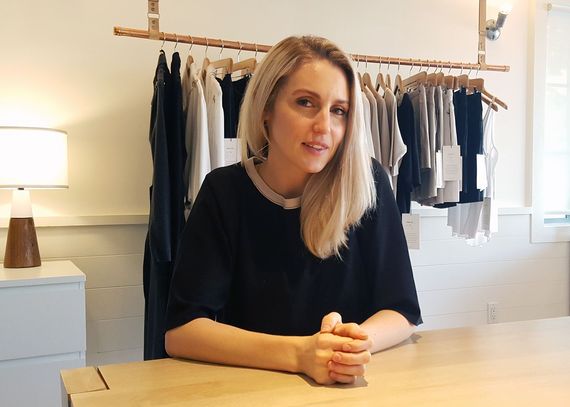 I caught up with Ashley Merrill, CEO and founder of Lunya, a startup focused on building the best clothing items for that underserved, yet significant period of the day. Lunya is making a name for itself with technical fabrics, intelligent designs, and an eye toward comfort.

Like many entrepreneurs, her company was born from a personal experience that needed a solution. She found herself wearing her husband's old frat shirt and boxers to bed, and after considerable research, determined this wasn't all that uncommon.

Creating an Industry out of Sleep
"The landscape is currently painted with frumpy PJ sets, sexy lingerie, and a smattering of afterthought offerings from big box stores that inevitably get too hot or tangle you up in your sleep," says Merrill.

While it's estimated that lingerie stores are a $9 billion dollar industry, that estimate is composed of predominantly lingerie brands with large-format stores selling related clothing, such as shapewear and swimwear.

"There's plenty of demand for this comfort complimentary sleepwear," according to Merrill. "Mommy forums are abounding with long threads about how to look more pulled together around the house. The challenge, and key for Lunya, is helping these people decide to purchase in a category they rarely spend money on."

In our daywear we're confronted with unlimited clothing options that give us the power to communicate who we are; to express ourselves: casual or cool, sexy or modest, etc. We spend $98 on Lululemon workout pants that we sweat in for 50
mins, $100 on a trendy bikini that we only wear on vacation, and $250+ on a special occasion dress for a friend's wedding.

"We are willing to spend so much money on clothes that will only serve a limited use but shy away from investing in clothes for ourselves that we will wear everyday," states Merrill. "From my perspective what could be more important than feeling your best when you are recharging at home or hanging out with those that you love most? It is through that mission we are making best in class products so that each piece truly elevates the everyday."

A Modern Woman's Market
This new market is increasingly important because of a shift in values, taste, and lifestyle. A generation ago, a company like Lunya would have struggled, but today it is taking hold as a result of a cultural shift towards self-love and independence. The 2016 modern woman is a multitasker - she is moving from bed, to work, to her kids soccer game and she values ease and simplicity.

And it's not just startups getting in on the action. High-end brands like Dolce and Gabbana and Kate Spade are hosting parties and creating fashion lines around luxury sleepwear, further removing the stigma of wearing the clothes you sleep in around. With over three million people working from home, a multipurpose piece comes in handy.

"This new market is increasingly important because of a shift in values, taste, and lifestyle. A generation ago a company like Lunya would have struggled, but today it is taking hold as a result of a cultural shift towards self-love and independence," says Merrill.

Lunya's product is designed for this woman, so she can layer on or off pieces at a moment's notice and transition through her life. We're removing the stigma of wearing sleepwear around by making sleepwear no one wants to take off.

Quality is Key
Merrill says Lunya is differentiating themselves from other sleepwear companies by challenging the idea that it must be either sexy or homely, and they're using high-tech materials to improve the experience of wearing these high-end lounge items.

To guarantee the high quality products, there is extensive time and research into the fabrics they use. "High quality content and construction make a big difference when you are dealing with natural fabrics in particular. We dedicate a lot of space on the site to highlighting this with the 'Difference' sections so we can empower our customer with the knowledge they need to appreciate our work," says Ashley.
They are also a direct-to-consumer business, which allows them to invest more in the product and pass on better value to their customers.

However, one of their biggest selling points is being a tech savvy sleepwear band. "Technical design means addressing everything from the types of stitches used where, to creative ways to structure a waistband so it doesn't ride up, pockets for functionality, and so on," the founder says.

Recently, the company announced the launch of their Meneya fabric, which incorporates a technical fiber that uses infrared energy to stimulate cell performance and increase circulation.

They're changing the narrative for sleepwear by giving their on-the-go, sophisticated customer options that are functional, comfortable and chic.


Catch up on the SheMeets Podcast and Subscribe to discover incredible Girlbosses.