The week before Halloween divides the nation: There are those who have had their costume squared away for weeks and those who launch into a last-minute scramble to create ghoulish glamour. My four daughters all fit into the first camp and, naturally, my makeup skills are enlisted before trick or treating begins. This year, Lianna will be dressing as Cleopatra, Angelene as a pink Batgirl, Athina as the goddess Athena and Alexia will be Medusa. As you can imagine, it's a holiday that we all take very seriously.
In the mad rush to pull a guise together, it's important to ensure your makeup doesn't look scarier than your costume. Take a few moments to nail a look. The right blend of shadow, bronzer, liner and lipstick can make or break a costume, and also inject a little fashionable edge. For those in the LA area seeking assistance, pop into my Hollywood store for face painting tips from the pros. If you're still searching for a look, I have some ideas that go beyond Gaga's meat dress or Snooki's teased hair and fluffy slippers. So whether you're heading to West Hollywood or the West Village, or anywhere in between, here are three simple and stylish looks that will transform your basic look into something frightfully glamorous.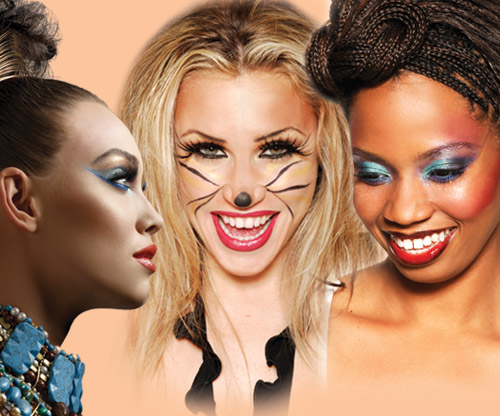 Walk Like An Egyptian: To replicate Queen Nefertiti's look, try channeling her regal beauty. Start by applying a voluminous set of faux lashes. Refer to my tutorial on lashes for step-by-step directions, and then apply a generous coat of black mascara. Blend a shimmering light blue eye shadow over the entire lid, and elongate the shape to the outer corner of the brow. Highlight the brow bone with a gold shadow like my Loose Dust in Star Light. Using an angled eye brush, apply a cobalt blue shade to the lower lash line and extend the line to meet the light blue shade. Be sure to line the top and bottom lash line with a black liquid liner. Finish with a swipe of a red-orange lipstick like my DeVine Goddess Lipstick in Hara. Throw on a statement jewelry piece, a floor-length dress and a gold head piece, and you've got yourself a stand-out costume.

The Last Days of Disco: Getting dolled up as your favorite disco diva requires few things: a sequined mini dress, big hair and ultra-glittery makeup. For a look worthy of Studio 54, start with a liberal application of black mascara to the upper and lower lashes. For glitzy peepers, blend a turquoise shade in the inner corner of the eyes, followed by purple in the outer corner of the lash line. Make sure to blend the two shades. Apply a blue gel liner, like my China Doll Gel Eyeliner in Heaven, along the lower lash line, and use the purple shade underneath that. Then add some disco glitter to the cheekbones. Finish up with a glossy red lipstick and apply liner last to tie your Donna Summer look together.
Cat Power: From Cat Woman to Hello Kitty, you can't go wrong with a little feline charm on Halloween. The makeup look can be distilled to just three makeup essentials: A black eye pencil, a set of strip lashes and a flirty pink lipstick. Start by drawing whiskers on the cheeks with the black pencil--three lines are ample. Draw a circle on the tip of the nose and, if you wish, continue the line up the bridge of the nose. Find a theatrical pair of faux strip lashes and apply to the top lash line. Once the false lashes are on, rim the top and bottom lash line with a kohl pencil. Add bright pink lipstick, cat ears and tail for a purr-fect get-up.