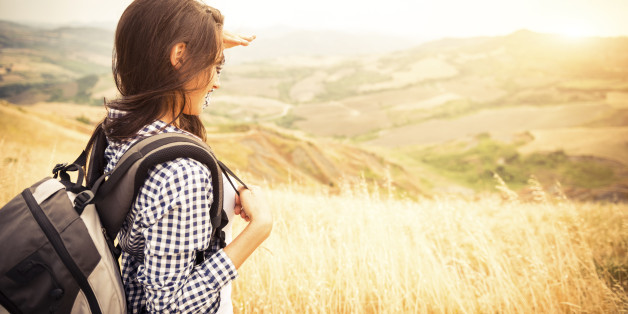 There's good news and bad news.

The good news is I'm way ahead of schedule: I'm 36 and I'm having a mid-life crisis.

Actually, that's the bad news too.

A year ago, I was living in San Francisco and working as a corporate consultant. Then one night, as I was packing my suitcase for a business trip to Switzerland, I got a phone call that had me quit my job and get on a plane home to Australia instead.

I'd been a management consultant for an international professional services firm for eight years in Perth, London, New York and finally San Francisco. In short, that means I had an excel spreadsheet for everything and my life was dedicated to creating the perfect PowerPoint slide. I used phrases like "adding value," "operational readiness," and "capitalizing on synergies" like they actually meant something. I spent a lot of time in airports with the sound of my wheelie case rolling across the tiled floor, staying in hotel rooms with crisp linen sheets and drinking bad lobby coffee with way too many pastries and sweets. I had a good income, business cards and a company identification security pass that could get me in to any office of the company I worked for in 150 different countries.

But I wasn't really happy.

The first time I received feedback in a performance review about my "excellent work ethic," I felt a burst of pride, but also just the tiniest dash (read: tidal wave) of resentment. I was being praised for being the person that would work on weekends and late at night. If a client rang me at 7 a.m. when I was still putting my shoes on, I'd answer the phone. If I needed to sacrifice my personal interests such as my beloved writing group meetings on Tuesday nights, I did that too. I bowed down to the masters, be they my superiors or clients and ran after their every need, trying to pre-empt what it was they wanted.

After a few years, I got tired of being a people pleaser and begging for approval like a pup that is thrown a scrap of beef jerky every now and then.

I began to stand up for what I wanted, refusing any project that threatened to ruin my work-life balance. More and more I was remembering my dreams of being a writer, but it just seemed too risky a move to make. What would I do for an income? How would I maintain my lifestyle and continue to travel? I wanted to stay in America, so what would I do about a visa? How would I avoid becoming a bag lady and living under a bridge with 100 cats?

The way out was given to me in a way I couldn't predict and would never have wanted. It came in the form of the phone call from my sister in Australia.

"Dad passed away in his sleep last night. You need to come home."

In one statement, a swath of assumptions was ripped asunder: My Dad will live to an old age. I will live to an old age. There is time yet to go home to spend time with my parents and pay my dues. I can get around to following my dreams later, after I've made enough money.

None of this was true. There are no guarantees.

My Dad was fit and well when he died and the paramedics said there were no signs of any pain; he'd just peacefully slipped away while he slept. In fact, he was 130 miles in to a 400 mile hiking trail in rural South West Australia. On his last night he had mobile phone reception so he rang my Mum to tell her what a great time he was having and that out on the track he had found a sense of peace he'd never felt before in life. Then he went to sleep and just didn't wake up.

Receiving the news of his death was the biggest shock of my life. I knew right away nothing would ever be the same. I quit my job, moved back to Australia and have drifted about devoid of income or a home of my own, grieving and generally feeling like a scrap of paper in the wind. I like to tell myself I'm living the life of a modern gypsy to make it sound a little more romantic. It doesn't really work.

Sure, I've been traveling around with my life packed in the back of my wagon (i.e. Hyundai hatchback), spending loads of time with my extended family and friends, indulging in creative expression, pursuing my writing aspirations and trying to live from day to day. But when it comes down to it, I'm spiraling in worry about what I'm doing with my one, precious life. I have nowhere to live, no idea even of what town to live in, no income, no community and no husband, boyfriend or even any prospects to speak of.

The clock is ticking, people and it's really, really loud.

It turns out following the writer's path is a lot harder than I thought it would be and the reality is that my adolescent dreams of fame and success are hollow, meaningless and downright unrealistic.

I find myself squarely faced with the catch-cry of the mid-life crisis: "Is this all there is?"

It's becoming increasingly clear that no external circumstances are going to bring happiness and peace to my life. Yes, that includes being a successful writer. (Any publishers out there; I totally take that back. It would indeed make life absolutely perfect).

The pursuit of contentment is taking a cataclysmic shift in my internal landscape. I'm hoping I can be one of those people who accepts each moment for what it is, enjoys the simple pleasures in life and loves humanity instead of things and titles. That is possible, right?
In the meantime, I'll keep doing more of what I'm passionate about, spend time with people I love and trust that the way forward will unfold from that.