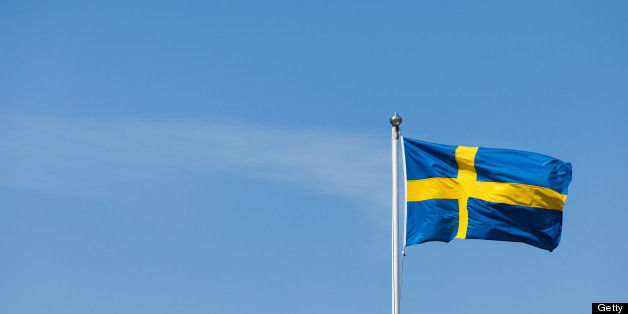 What is modern-day feminism? Using an analogy from The Matrix, Sweden's Minister for Gender Equality explains that we can either live in a world of fantasy or reality when it comes to the gender question. She urges women to put on their "feminist glasses" and make a difference.
Since high school, I've been looking at the world through my feminist glasses. These glasses are a bit like the two pills that the main character in The Matrix, Neo, has to choose between. He is offered a red pill or a blue pill -- the peaceful status quo or the painful realism. In high school, I chose the red pill.

But I later pursued my career with feminist glasses on and it helped me see different perspectives of gender equality. I have been the only woman on a corporate management board but I have also led a company with a 50/50 balance of women and men.
Maria Arnholm rose steadily in the political world to hold senior management and policy roles within her party. She then did something unusual and crossed-over to the private sector as the director of communications for a leading Swedish grocery chain and later served as CEO for a public relations firm. Today she is Sweden's Minister for Gender Equality and Deputy Minister for Education.
Her dynamic professional background in both the public and private sectors has given her another unique dose of realism, glasses or not: most people don't have the time to care about politics, they just want things to function.
When I met Minister Arnholm in her urban offices on the corner of a bustling cobble-stoned walking street, her pragmatic approach toward women's issues was immediately tangible and quite refreshing. This was not about semantics or moral directives, but about results. Throughout our hour-long conversation ranging from how to effectively empower women to reach for the C-suite to education to positive role models and examples of best practices that the United States and Sweden can share, Arnholm helped me put on a new set of "glasses" and view gender equality from a fresh angle. This is the fourth interview in a series on women's leadership highlighting inspiring Swedish women and American female leaders living or working in Sweden.

Why did the Swedish government create this role?
My role has been in place for decades, so it's not new. I do, however, believe that it has been kept because it makes a difference. In the Swedish government, all ministers are responsible for gender equality in their field -- and they are all obliged to incorporate the gender equality perspective in all policy that they work with. In this, my role is to work as a motivator and a facilitator. Gender equality issues get more tangible when one person can represent them and they also become easier to communicate.

What's the most important message to convey to young women today about their futures?

Put on your feminist glasses, get organized and choose a partner who sees you as an equal.
How do you see gender inequality playing out in the education system?
As in many other countries, we have an increasing education gap between boys and girls, and I think that this partly is connected to gender roles. Boys are not supposed to study, it is considered un-cool, whereas girls are expected to be calm and studious. If this trend keeps developing, I think we'll be looking at major issues in the future. When boys feel threatened they take to the streets. Look at social unrest anywhere in the world and you'll see boys - boys who didn't perform well in school, boys without jobs. This is extremely worrisome.

Today a debate in the United States is how and if women can "have it all." What does "having it all" mean to you?
Nobody can have it all in the literal sense. The world is imperfect and this is something that we need to be able to cope with. To me, having it all means to be able to choose a life in balance. In my life it meant that I could work full time and be a good mother to my two sons. But it also meant that my husband and I planned everything together -- who would pick up our sons from the day-care center, who would take care of them if they got ill, et cetera. So having it all included a lot of planning.
What do you think it will take for women to have significantly higher participation on corporate boards and top management than they have today?
The burden to achieve change lies not only on women, but also on men. Men are in the majority of corporate boards and they hold the majority of the top management posts. Women will have higher participation when men dare to choose colleagues of a different sex. This means that women need to have the same opportunities to accept higher posts, but also that men are willing to give up some of their power.

What kind of advice do you give your own children on work-life balance?
Make conscious choices -- lead the life you want to have, don't let other people choose for you.

What's the best lesson you have learned throughout your career?
Everything boils down to human relations. At the end of the day, this is what politics is all about. Gender equality issues, profit maximizing, and leadership -- you cannot be successful without good relations.

What's your greatest challenge in this new role as Minister?

My most important task is to shrink the wage gap between men and women.
How important are role models for women, and who is yours?
I think they are extremely important. My biggest role model is Hillary Clinton, but I also admire many Swedish women who followed their dreams and took the risk to start their own businesses.