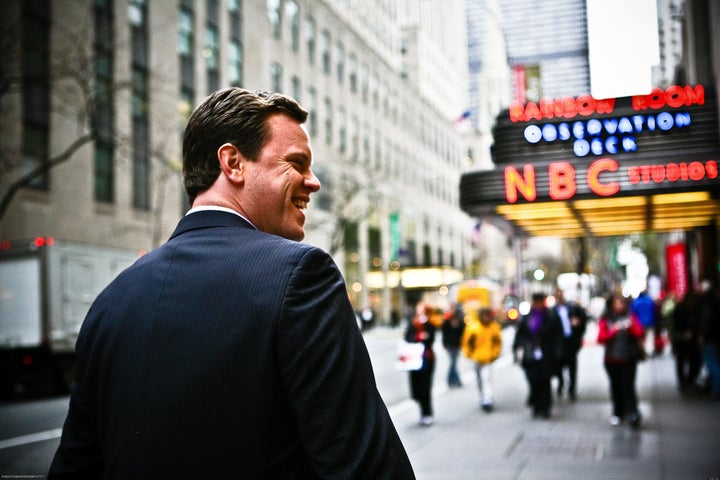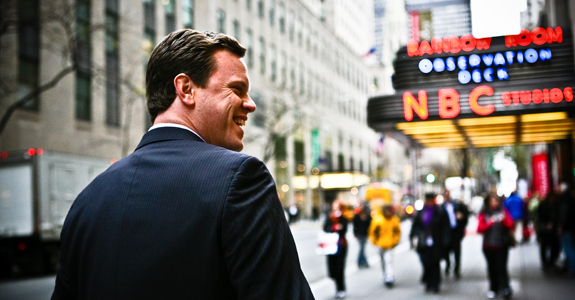 Not many co-anchors can accuse one another of rehab stints and prison time, and remain the source of unvarnished political perspectives on the questions of the day for DC power players and Midwest hockey moms alike.
Viewers of MSNBC's Morning Joe feel as if they're watching a pleasantly dysfunctional family around a breakfast table--with wise-cracking Willie Geist playing the part of the savvy and occasionally unruly little brother to Mika and Joe's old married couple shtick. (Disclosure: Mika is my sister-in-law.)

But Willie Geist has "grown up" into a seriously smart anchor-man and new generation media powerhouse since the show began. With his book, "American Freak Show" hitting the New York Times best-seller list last year, his own 5:30am show "Way too Early with Willie Geist" gaining raves, a satirical video blog called "Zeitgeist" on msnbc.com that gets an average of two million views a month and a wonderful wife and two young children at home, Geist has got it together.
I reached Willie by phone shortly after Morning Joe concluded to ask him about his busy and dynamic life.
Natalia Brzezinski: TV is one of the most competitive and demanding jobs. You have to always be producing fresh content and constantly be "on". How do you do it?
Willie Geist: First of all, "demanding" is relative. We work early and long hours, but there are guys working in coal mines who might have something to say about demanding jobs. That said, you produce three and a half hours of content every day with a big world full of fascinating people and events and with the help of a great staff that wakes up even earlier than you do.
Ten years ago, opinion-infused news shows like Morning Joe didn't exist, not to mention Facebook, Twitter and the blogosphere. Where is this information revolution taking TV?

I got into television in 1998 when I didn't have a computer or even an email address. It's a hell of a different world now. I'm still holding out, by the way, on the no-email thing. I'm pretty sure people are going to start writing letters again once the email fad passes. I'll be positioned well when they do.
For one thing, audiences are more savvy than they've ever been. People know the facts of a story just as well as the people on TV do and they have more platforms to hold the media accountable when they don't get it right. We are a world full of media experts. That's a great thing. The TV shows themselves will become more and more splintered, looking to grab their niche audiences. At Morning Joe, we accept that we may never have American Idol ratings, but we try to put on a show that will appeal to viewers who want smart conversation about the news. You can't afford to be all things to all people -- you just end up being no things to no people. Just do your thing well and the viewers find you. In our case, they have.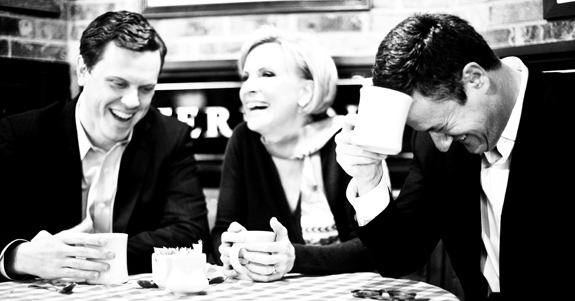 What's the single professional moment that made you say to yourself, 'Wow, I've really made it'?
Well, I certainly haven't "made it" so I wouldn't put it that way. I've got a lot of work to do. There have been some milestones along the way though. The first time I appeared on nightly television was on my friend Tucker Carlson's show -- a show I also produced. Tucker is really the guy who put me on TV. I'll always be grateful for that. Getting my own show was a big one. Sure, it's on at 5:30 a.m., but technically it's still considered a show. But, of course Morning Joe is what really changed things. I think Joe and Mika would tell you the same thing.
You married your middle school sweetheart at 28-- an age where many young people today may just be beginning to think about a serious relationship--How did that shape you?
Well my wife wouldn't tell you we got married young at 28 -- we'd been dating since we were 17 years old. I met Christina in Mr. Kaplan's homeroom at George Washington Middle School in Ridgewood, NJ. We broke up for a few years after college, moved to different cities and that was good for both of us.
We were shaped long before we got married. When you've known someone since you were 11 years old and she's seen you in non-ironic parachute pants, there really are no secrets.
People usually only ask women about work-life balance. You have two young children, how do you create balance and prevent your job from taking over?
The upside of a 3am wake-up is that, depending on the day, I'm often home sometime in the afternoon. I get to have time with my kids that a lot of dads miss: bath time, books and dinner as a family; I'm really blessed to have that time. We've also never known it any other way. My kids are three and 18-months, so I've had this job for their entire lives. With our mix of bizarre schedules, there's always someone awake in our house at any given time on the 24-hour clock. There are strange little people roaming the halls or having hushed conversations with stuffed animals. Or a strange dad dressing in the wee hours of the morning.

What's the hardest thing about being a father?
Right now the hardest thing is keeping my son, who has learned to open the front door to our apartment, from roaming the halls knocking on our neighbors' doors. And just in case they can't hear the knock on the door, he screams, "Knock! Knock!" for emphasis. Oh, and he occasionally climbs into the refrigerator too.
I guess there are hard things about being a father - like the part about you sacrificing your entire life for these strangers who are born and move into your house for all eternity -- but the tough parts really are rendered statistically insignificant by the good stuff.
We face so many challenges today in this country; how to remain economically competitive, lagging education, child bullying, predators over the Internet, what makes you most anxious for the future that your children will be inheriting?
Everyone worries about their kids, of course, but you can drive yourself nuts thinking about all the horrible things in the world -- and many, many people do. I believe life is to be lived and not survived. So we'll raise our kids to be smart, respectful, happy, and interested in the world, and we'll protect them as much as we can. The rest will be up to them.
America has an international fight on its hands right now, but I have every confidence that my children will live in a great country just like I do. And that country will be France. Just kidding.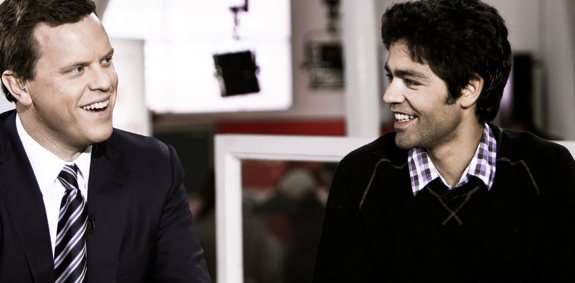 What do you do to kick back?
I try to catch an hour or so of peace in the afternoon after work. That usually entails reading the great works (I'm on Keith Richards' biography right now - with each turning page it becomes more amazing that he is still with us) or catching up on Tivo from, like, two months ago. I finally just got to the Seinfeld finale. What'd you guys think?
What's your favorite thing to do in New York City?
The answer to this question has changed quite a bit over the last few years. I don't get around to as much banquette-dancing in the VIP room of hot New York clubs as I used to. Now it's mostly time at the Hippo Playground in Riverside Park.
Honestly one of my favorite things to do is just to travel around the city, by foot or on the subway. You've gotta get out and feel the city every day. It's a privilege to live here.
My least favorite thing is to navigate around the Garbage Mountains that are ringed in grey slush and yellow snow these days.
Will Ferrell. Second choice is Kelly Ripa - if only there were an opening next to her.
Snooki or Kim Kardashian?
Snooki because I think she at least partially gets the joke. Kim Kardashian appears to think she's someone we actually should be paying attention to.
Who's crankier in the morning, Joe or Mika?
Definitely Joe, but in his defense, he's not the only one who's cranky at that obscene hour.
Photo credits, from top: Evelyn Laws, Evelyn Laws, Kofi Ankoma