Today, tens of thousands of Coloradans are garaging their car and hitting Colorado's bike trails to commute into work for Colorado's annual Bike to Work Day. Colorado Governor John Hickenlooper and Denver Mayor Michael B. Hancock pedaled the Cherry Creek Trail into the Denver Civic Center before 7:20 a.m. to greet other bike commuters for a celebration that included free bananas, consumer information, t-shirts and even Starbucks coffee.
Denver Bike to Work Day: June 25, 2014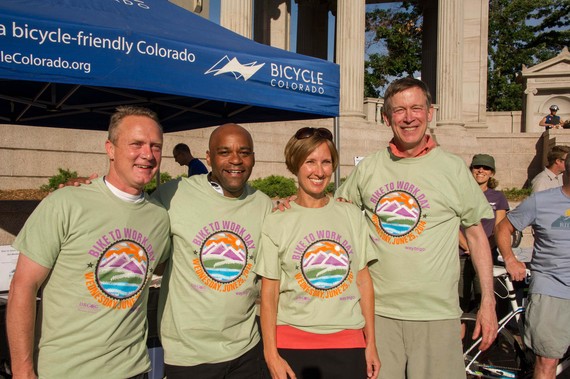 Photo: Denver City Council member Chris Nevitt, Denver Mayor Michael B. Hancock, unidentified woman, Colorado Governor John Hickenlooper.
Photo by: Marie Commiskey. AvalonPhotography.com
Mayor Hancock thanked City Council member Chris Nevitt "for his leadership on City Council to support our budgetary efforts to make this a better city for bicycles." The mayor called upon everyone to make biking a lifestyle rather than just a "one-day celebration."
Denver Mayor Michael B. Hancock Speaking at Denver's 2014 Bike to Work Day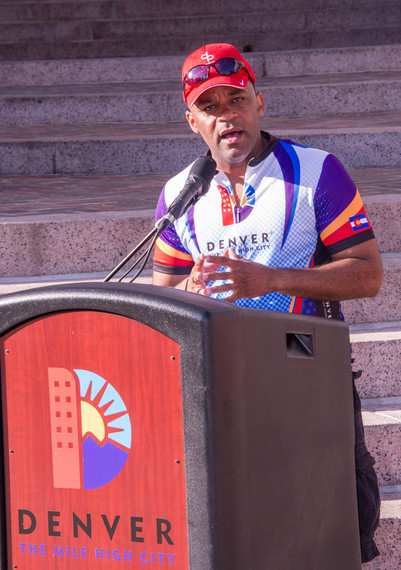 Photo by: Marie Commiskey. AvalonPhotography.com
Healthy Planet
According to the Colorado Energy Office, rush hour traffic congestion wastes nearly 3 billion gallons of gas per year in the United States. For every 1 mile pedaled rather than driven, about 1 pound of CO² is saved.
Healthy People
Health is another added benefit -- exercise promotes fitness. Countries, like The Netherlands and Germany, which promote bike-friendly policies enjoy lower rates of obesity and spend less on health care. Almost all of Netherlanders in Amsterdam commute by bike; The Netherlands spend 12% of GDP on health care - 6% less than the U.S. Germany's health expenditures are just 11.1% of GDP. The U.S., a car-centric nation, has the highest obesity rates in the Western World, at 1/3 of our population. Not surprisingly, our health care to GDP ratio is 18% -- over $3 trillion annually.
More Dough for Your Bucket List
One of the biggest upsides to biking, and other clean energy and conservation policies, is how empowering it is to the average person. The average American consumer spends $2,706 every year on gasoline, according to the Bureau of Labor Statistics. Imagine having an additional $2,706 in your budget to spend every year. Hello bucket list vacation spots!
Green Is Good
In my conversation with Governor Hickenlooper on June 21, 2014 at a CGI America event, he told me that his office is also also pushing to insulate homes using a combination of federal grants, philanthropic dollars and private enterprise. According to Governor Hickenlooper, "When you go into low-income communities and really improve the insulation in their homes, you're actually putting another $30-$40 bucks a month into their household budget... It's like teaching someone to fish instead of just giving them a fish." More than $60 million has been spent in Colorado since 2011 in weatherization and energy efficiency improvements in 10,000 low-income homes (source: Colorado State Energy Report 2014).
Colorado Governor John Hickenlooper Speaking at Denver's 2014 Bike to Work Day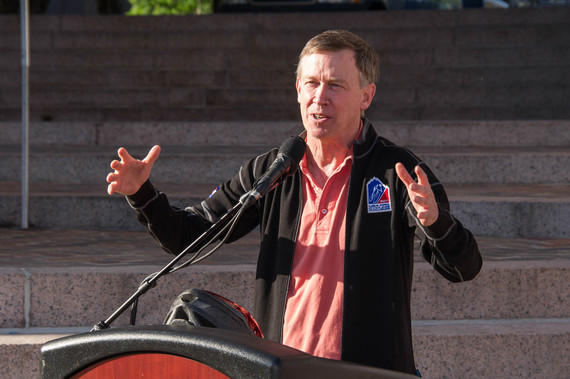 Photo by: Marie Commiskey. AvalonPhotography.com
All in all, Colorado has one of the most ambitious clean energy agendas in the United States. The state has a goal of 30 percent renewables in the urban energy grid by 2020, with 20 percent by 2020 in the rural community. To do this, they are galvanizing the energy generation community, moving away from coal into renewables and offering incentives for citizens to conserve energy. Colorado offers $8000 toward the purchase of an energy efficient home - in addition to federal dollars available. There are multi-use trails throughout the city, where bikers can safely commute away from the hazards of sharing the road with cars. And Denver B-Cycle makes it easy to grab a bike and go anywhere around the city for just $6.67/month (if you sign up for a year).
Governor Hickenlooper believes that forward-thinking policies, like commuting by bike and powering the grid with renewables, is good for the planet, good for the state's economy and attractive to the best and brightest Millennials in the world -- who can power Colorado's future. Colorado is green and sunny (up to 300 days a year of sunshine), with low unemployment (5.8 percent in May), and rich in craft breweries -- at 175. With leaders that walk the walk and bike the trails!
Check out WaytoGo.org for more information on biking to work in Denver and BikeLeague.org for information on promoting bike friendly policies in your own community.