This week, as the Islamic State of Iraq and Syria (ISIS) soldiers pushed into Iraq, seizing cities, U.S.-made war supplies, Central Bank cash and gold bouillon, oil prices jumped to almost $107/barrel. A year ago, a barrel of oil sold for $89. Pump prices are smacking historic highs, putting the squeeze on the consumer wallet.
In 2013, the U.S. got about 3% of the oil it imports daily from Iraq (Source: Energy Information Association. EIA.gov). However, since oil is such a basic daily need for U.S. citizens, and many developed world commuters around the world, as long as there is heightened alert in Iraq, oil prices could remain high.
Another concern is that ISIS has become one of the most well-funded insurgencies with the $429 million that was seized in the Central Bank of Mosul. This challenge could be more difficult to face than a less-organized, less-capitalized group.  Due to the sectarian rifts in Iraq, it's hard to know which soldiers will run, who will join up with the other side and who will actually fight - particularly when ISIS can offer compensation.
Persistently high oil prices are highly correlated with recessions.  According to Professor James D. Hamilton, the author of "Historical Oil Shocks," a NBER Working Paper Series, "All but one of the 11 postwar recessions were associated with an increase in the price of oil, the single exception being the recession of 1960. Likewise, all but one of the 12 oil price episodes listed in Table 1 were accompanied by U.S. recessions, the single exception being the 2003 oil price increase associated with the Venezuelan unrest and second Persian Gulf War." When U.S. citizens have to spend so much more just to get to work, they have to pull back on other spending, such as home improvements, home purchases, discretionary spending and more, or take on debt to maintain their life style. This kills the profits of business and stalls the consumer spending support that is needed to keep GDP growth alive.
Even before the current crisis, the 1st quarter 2014 GDP growth weighed in as a decline of 1%. Two quarters of negative growth equal a "recession." Recessions spook investors.  For this reason, the Iraq problem is an attack on the record high stock prices we've enjoyed this year.  In fact, the Dow Jones Industrial Average has already lost almost 200 points since last week, when this story broke.
Performance of the Dow Jones Industrial Average
June 9-13, 2014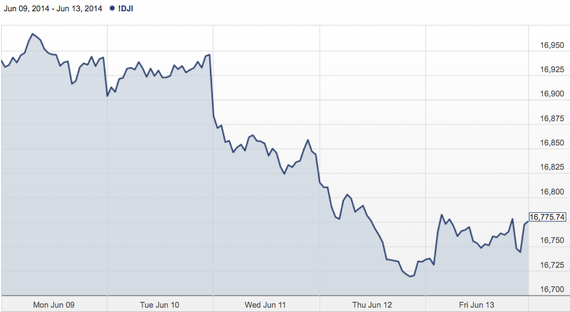 Graph by Money.MSN.com. (c) Microsoft. Used with permission.
How Can You Protect Yourself?
Get defensive. Keep a percentage equal to your age safe in your nest egg. Overweight a little more safe than normal until the crisis passes. Get diversified. Be sure that if you have gains, you capture at least some of them. Check out the sample pie charts listed below for an example of how to do this. Get financially literate so that you can place wisdom as the foundation of your future, instead of the Wall Street rollercoaster.