GATE 2: The Global Alliance for Transformational Entertainment attracted a sell-out crowd of spiritual fans to its second event, on Feb. 4, 2012.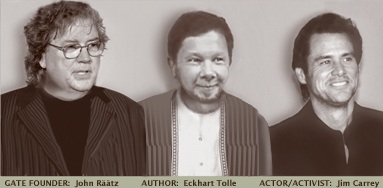 Photo courtesy of GateCommunity.org. Used with permission.
On Saturday night, Feb. 4, 2012, the luminaries of the spiritual movement, led by The Global Alliance for Transformational Entertainment founder John Raatz and his honorary co-founders Jim Carrey and Eckhart Tolle, lit up Saban Theatre in Beverly Hills, Calif., at GATE 2, with the aim to "transform the world by transforming entertainment and media." It was hard to imagine a more packed agenda, with an impressive list of 25 speakers (many A-list) and nine musical performances. And the sell-out crowd was as packed in as the bill.
If you've ever wanted to be lulled into a meditative state, but always find yourself distracted by bothersome things, like bills, try listening to 25 speakers! GATE attendees sat through a seven-hour-plus party (imagine a daylong book reading), waiting to be enlightened and entertained by headliners Eckhart Tolle and Jim Carrey, and respected favorites Jean Houston, Marianne Williamson and Don Miguel Ruiz. Some people gave up and left before the superstars took the stage, but those of us who braved the marathon are now meditation masters -- or at least intermediaries.
OK, some of us are just zoned out. And, I, for one, felt a little perplexed as to why so many of the epiphanies of the evening sailed over my head. Why was everyone clapping wildly over films like Groundhog Day? Why was there so much pooh-poohing of conflict and confrontation in story-telling, when the essence of art is rooted in the catharsis and awakenings elicited when we relive the shocking stories of others? Aren't Jesus, Yoda and even Maggie Fitzgerald and Christine Collins great role models? I found myself wanting to scream out, "I love Scorsese! I love Shakespeare!" Was I the only one sitting on my hands and biting my tongue?
I am no fan of gratuitous violence or killer video games, but... Perhaps I was missing the point... Perhaps I was just not as enlightened as everyone else in the room. I still drink wine and eat cookies with sugar, butter and flour in them, after all.
It was almost impossible for me to listen patiently and respectfully to a television producer who pulls headline tragedies from the front page and then airs mediocre made-for-TV movies talk about making "transformational" choices in film. (To have voiced my questions would have incited a torrent of tsks and glares, so I didn't dare.) Instead of showing the school children actually get mowed down by a mad gunman, the producers cut to an empty playground. Hmmm...
I did quite like the blessing that was sung by the Tibetan monk who studies with the Dalai Lama. It reminded me very much of the chants I've heard Native Americans sing, and I found my mind wandering back across time. It's stunning that a migration that occurred from Asia to the Americas tens of thousands of years ago is preserved so well in these ancient traditions, when the contact has been so limited for so long.
And that made me think something rather novel, "Where else could I be thinking that thought?" Certainly not in a movie theater. Certainly not in a museum. Only here, where the ambitious GATE founder -- John Raatz -- and two of his celebrity friends, Eckhart Tolle and Jim Carrey, decided to "plant a new seed to yield a new crop."
"Only a New Seed Will Yield a New Crop" (The Theme of Gate 2)
The Tibetan monk's chant was only one of many very impressive things about Gate 2. The sell-out crowd was no small feat. The headliners are rarely seen in such an intimate setting. Comedian Louie Anderson was hilarious, adding much needed comic relief. The artwork (which was on display in the lobby of the theater) was very noteworthy. Jim Carrey's "Hurray! We Are All Broken" exudes the passion, the pain and the awkward body contortions that live in the "truths" that Carrey portrays through his comedy. There were also some reasonably priced, limited edition John Lennon serigraphs, including one of my favorite sketches of the famous John and Yoko Amsterdam Hilton Honeymoon "Bed-In."
The aims of the GATE collective are admirable, and, honestly, though I've been forthright about the things that I didn't particularly care for (with the disclaimer that maybe "I'm broken" and not enlightened enough to appreciate them yet), who can fault anyone for giving it all they've got?
GATE 2 was John Raatz giving it all he's got. His friends were there right by his side cheering him on. (It's hard to imagine Jim Carrey and Eckhart Tolle waiting for hours after their call time to wow the crowd for anyone other than John Raatz.) The luminaries that we turn to in our most challenging moments for guidance -- Marianne Williamson, Jean Houston, Don Miguel Ruiz, Barbara Marx Hubbard -- were all there to support John in his grand commitment, pushing the first shoot of this new seed of transformative media through the ground.
If anything, GATE 2 gave us simply too much.
I still appreciate The Girl With the Dragon Tattoo more than Groundhog Day and Hamlet more than any made-for-TV movie that I've ever seen. But the seed of the centuries was indeed awakened in me. During a mystical chant. In a sell-out room. Where people are united in a noble dream -- to make tomorrow better for humanity and to continue to beautify this lovely, blue planet we call home.
Perhaps one day, I'll be better at listening. At least, for now, I'm better at meditating.
If you'd like to support John Raatz and honorary GATE founders Eckhart Tolle and Jim Carrey in taking the Global Alliance for Transformational Entertainment to even greater heights, visit GateCommunity.org.
About Natalie Pace:
Natalie Pace is the author of You Vs. Wall Street and Put Your Money Where Your Heart Is, and the founder and CEO of the Women's Investment Network, LLC. She is a blogger on HuffingtonPost.com and a repeat guest on national television and radio shows such as Good Morning America, Fox News, CNBC, ABC-TV, Forbes.com, NPR and more. As a strong believer in giving back, she has been instrumental in raising tens of millions for public schools, financial literacy, the arts and underserved women and girls worldwide. Follow her on Facebook.com/NWPace. For more information please visit NataliePace.com.