I was home alone one morning in March when my nurse called with devastating news: I had tuberculosis. I quickly sank to my knees. I couldn't believe it -- there had to be some sort of mistake. I exhaled slowly and my heart seemed to stop as thoughts raced through my mind. I had already been off work for over six months on medical leave as I was given one misdiagnosis after another. I thought about how I'd now lose my job. Even more, I thought about South Africa and wondered if I'd ever be able to go back. My life was on hold -- little did I know it would be for the next two years.
When I was a little girl, my Grams and I would look at maps and books together when she visited my family in Paris, Tennessee. Although I didn't remember, Grams told me at the age of five, I informed her that someday I was going to Africa. So in my late twenties, when I had an opportunity to take a mission trip to South Africa with my church, I knew I had to go. The trip was for two weeks, but I stayed for five months.
I volunteered as a physical therapist in a 22-bed hospital housing patients infected with TB and HIV. Some of the patients had trouble simply getting out of bed and moving around. As a physical therapist, I knew TB spread through the air, but I honestly didn't believe I was at risk, and I certainly didn't realize TB takes at least six months to treat under the best circumstances.
I was privileged to meet a young man named Munyaradzi. Every day we would go for a walk. He had multidrug-resistant tuberculosis (MDR-TB), which isn't curable with the normal treatment regimen. Munyaradzi was so joyful with round cheeks, a beautiful smile, and a contagious laugh.
One afternoon I asked him when he could go home. His response was chilling: "You see, when you look at me from the outside I am normal and healthy, but on the inside, I am a walking grave."
At that time, I didn't truly understand what he meant.
In late December of 2007, I returned to Tennessee from South Africa feeling great. Mid-February of 2008, I caught the worst flu I've ever had and missed a week of work. I recovered and felt fine until March, when I developed gastrointestinal symptoms. I waited until May to go to the doctor, where I was diagnosed with Crohn's disease and placed on steroids.
In August of 2008, I went to Vanderbilt in Nashville to get a second opinion and was diagnosed instead with a similar bowel disease called ulcerative colitis. Multiple new drugs were added to my treatment, and the symptoms became worse. I now required a leave of absence from work.
Since the treatment wasn't working, the doctor said my last option was to remove my colon, a life-changing surgery. I didn't feel at peace about this, and asked for another month before making a decision. Almost one week later I began having a new symptom -- chest heaviness. My immune system was so broken down from steroids that I caught everything going around. I went to my primary care physician, who diagnosed me with pneumonia. The medicine he put me on, which is also used to treat TB, lessened the chest heaviness, and surprisingly relieved some of the gastrointestinal problems as well. I was ecstatic and hopeful.
When I returned for a second X-Ray, the spot on my lung was not only still there, but now was more consolidated and visible. My doctor informed me it no longer looked like pneumonia.
It's common for TB to be misdiagnosed in the U.S. since it's fairly rare in most parts of the country. Many doctors don't think about TB because they hardly ever see it. However, Tuberculosis is still a problem in the United States, and nearly 11,000 people were diagnosed with TB in 2011.
For an entire year, I had been misdiagnosed and received inadequate treatments. However, at the end of March 2009, the fateful day finally came when I was given my true diagnosis: pulmonary TB.
A Drug-resistant Superbug
After the news sank in, I stepped back into reality. I told myself that I would be treated in isolation for two weeks then could be rehired at my job. I would go back to work and continue to take my medication as if nothing was wrong.
But that's not what happened.
I was in isolation for 12 weeks. As a people person, isolation was one of the hardest things I have ever experienced. For nearly 90 days, I couldn't see my friends. I couldn't go to my job or my church. I couldn't go anywhere. My parents were the only people I was allowed to see. I was infectious, and a threat to other people. I could only leave the house to go to the doctor, and I had to wear a mask to protect others. The average TB patient infects 10 other people while they're infectious.
After nearly three months, we discovered that the normal drug therapy I was taking wasn't working, and I actually had a drug-resistant form of TB. The doctors came up with a new, experimental cocktail of drugs. Every morning a healthcare worker would come to my house and give me three oral drugs, then I would make a 30-minute drive to Vanderbilt for a drug infusion, which took a couple of hours, then I would drive back home and take my second dose of oral medication. This became my life for the next two years.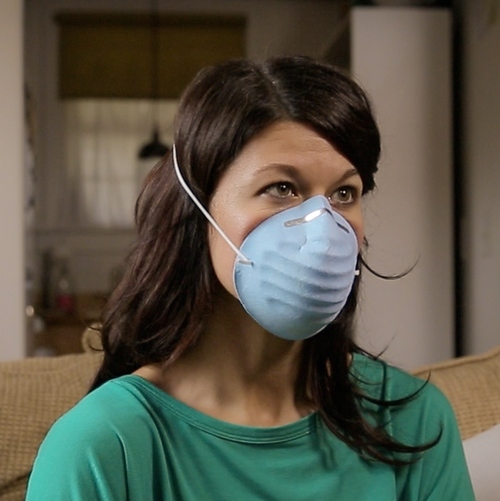 The drugs for MDR-TB had terrible side effects. I developed kidney stones in both kidneys, constantly dropped things, and had daily stomach aches. But the worst side effects were those that altered my mind. I felt like my personality completely changed. At times, I was emotionally unstable and socially awkward. I didn't feel like myself. My short-term memory became affected, which was the scariest side effect because I was afraid it would be permanent.
Four months before my last TB treatment, I met my husband, Brad. He was so supportive and encouraging, even when I repeated myself or didn't make sense due to short-term memory loss. He joked and made me laugh about it. He's an incredible blessing, and I was so grateful to have him with me during the end of my treatment, so he could not only see, but truly understand the impact tuberculosis had on my life during that time. As I continued to recover, Brad began to see a more energetic and playful side of me that didn't take life quite so seriously.
As I healed, the courage of Munyaradzi and countless other patients from South Africa were an inspiration to me. I too felt like a "walking grave," at times as I struggled to breathe deeply, climb stairs, walk, and even stand at times. But I knew if they could endure and make it, I could too. I told myself I had to.
During the two years of difficult treatment, I remember thinking, "Isn't there any other way? Aren't there better drugs that don't take as long? Isn't there something that could prevent this disease in the first place?"
That's why I decided to take part in the EXPOSED film series. I want people to know that we need new tools to fight this epidemic. I want what I experienced to help others and to support the development of vaccines to prevent more people from having to go through this. But this isn't just my story. It's also Munyaradzi's story, and the story of the nine million men, women and children who get tuberculosis each year. Not every story ends as happily as mine. We have to change that. It's been two years since I completed my treatment, and I finally feel like myself again. I know it sounds crazy, but I really believe that tuberculosis changed me for the better. I'm so grateful to be alive, and I want to give a voice to this disease -- for something beautiful to appear at the end of a really tough, long road.
EXPOSED: The Race Against Tuberculosis is a four-part series of short films that tells the story of the deadly global epidemic of tuberculosis. The series focuses on current efforts to halt this airborne disease, which is growing more difficult to address, as well as the urgent movement to develop new tools to prevent it. You can view the first film, which includes Natalie's story, at www.aeras.org/exposed.