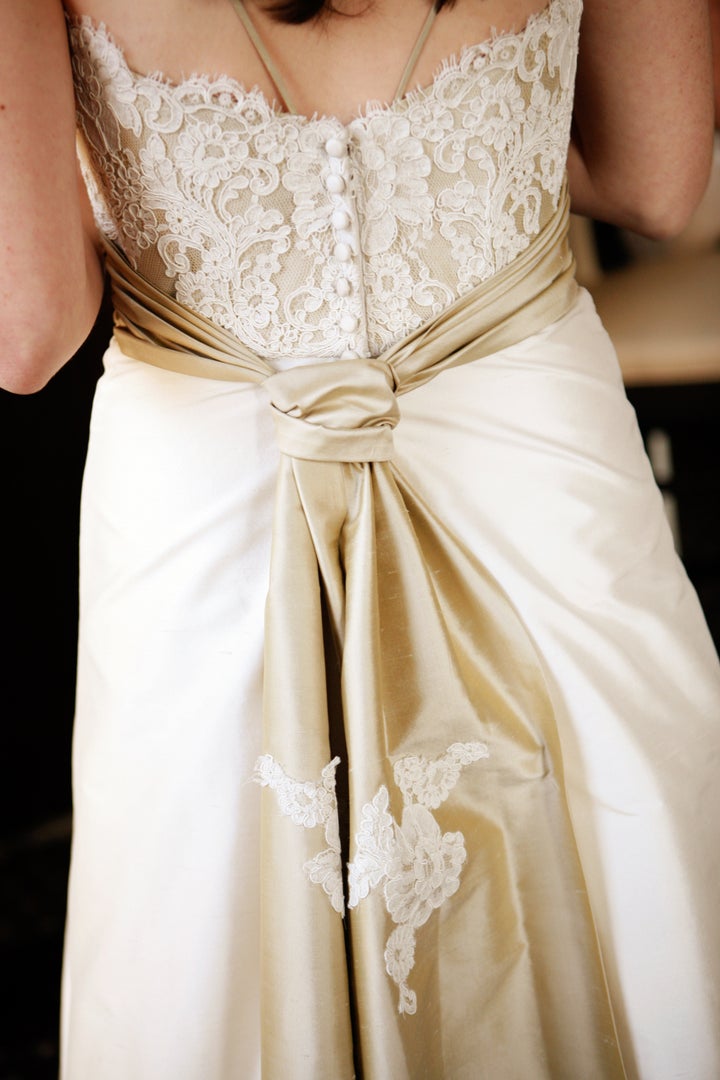 I sucked in as my friend yanked on the zipper of the wedding dress. It was a gorgeous satin A-line gown with embroidery all down the front. Here was the moment of truth. Slowly the zipper crept upwards.
"Done," she cried out. "Now let's take pictures!"
She was also in a wedding dress; it was cute and short with ruffled drape down the front.
No, we weren't in a bridal shop. It was just another day at the SimplyBridal office and some new samples had just arrived. She opened the closet door and we stepped out into the office. Our office has a huge walk-in closet. I've seen college dorm rooms smaller than it, and it is stuffed full of sample gowns. Think a glorious, organized chaos of ruffles and lace. Amidst the sea of ivory and white, there were colored wedding gowns of red, gunmetal grey, blue, purple, and pink. If you had asked me that day as I posed for the iPhone, I would have told you that satin is a definite part of my dream wedding dress.
Satin is undeniably luxurious. Silky smooth with a high sheen, it looks stunning under all lighting, even the harsh incandescent lights of the Closet. Gorgeous in ivory or white (or any color, really), it also brings out a boldness in red dresses that chiffon or organza just can't match. And if the dresses looked rumpled or if there was an unsightly bulge or two, it was a too-tight dress wrinkled from rough handling. Satin was never to blame.
So, how did I change from being fanatic to naysayer? A photo shoot.
Under its gorgeous exterior, satin is a high-maintenance sort of gal. Satin dresses took twice as long to steam and were unforgiving of even the barest sliver of extra fat. I should note that some satin dresses did fit the models like a smooth slinky glove, but satin throws a tantrum at anything less than a perfect fit. With other types of dresses, the models could carry their own train looped over an arm. But satin... satin would crease instantly, so the trains needed to be carried by one or even two assistants.
That afternoon I saw two models side by side: Nanda and Alessandra. Nanda was in an absolutely beautiful pink satin dress and Alessandra was in a big poufy taffeta ball gown. Alessandra was sitting down on a stool with her skirts around her, and Nanda looked so miserable and envious. An assistant hovered nearby to prevent her from sneak-sitting and wrinkling the back of her dress. She had already done it once before on a previous dress and it had left a big unsightly crease on her tush. I remember her looking at Alessandra and the assistant, and slightly rocking on her aching feet. And that was when I thought, "I am never wearing a satin wedding dress." Sitting down is just too important.
While I'm not making an equals sign between satin and complete misery, it did drive home my priorities on my wedding day. I should mention that if I were into ball gowns, I might still be a satin believer. The skirts are wide enough that you can sometimes sit without creasing the outer layer of fabric. But frankly, that's too much work for me. I want to be happy, comfortable, and able to focus on the people I love. Of course, I want to be beautiful but I don't want to worry about the dress creasing somewhere between the dry cleaner's and the wedding venue. I also do want to sit down at some point between putting on the dress and snapping the last photograph.
I still love the look of satin and satin wedding gowns, and I'm sure there are lots of ways to pull it off: namely shapewear, Photoshop, and a separate reception dress. As a veteran of four photo shoots, I know that satin dresses makes for truly knockout pictures. But I can say 100 percent, I am not wearing a satin dress and neither are my bridesmaids.
--
Natalie Tsang is a born and raised California girl and received her B.A. in English and History from UC Berkeley. She is the content manager at SimplyBridal, an online retailer of wedding gowns, bridesmaid dresses, and bridal accessories. She is also a contributor to Wedding Crowd and Polka Dot Bride.