They called me the "Funky Shoe Man." Perhaps, it was because I would wear my notorious soccer cleats to preschool, indoors and out. Lime-green laces lavishly complemented the multicolored exterior and, by the way I wore them, the soles seemed glued to the bottom of my feet. However, there was a method to my madness on a sunny summer day in the mid 1990s. It was my first soccer game and athletics competition of my life. My uniform had been lying next to my bed for two weeks in advance and I'll never forget how obsessed I was with it. Knee-high black socks gave way to mid-thigh black trunks, which housed the tail of a bright candy-apple red top. "Tornadoes" was sported proudly across my chest as I took the field. We lost and lost miserably. I didn't know or want to know how to handle defeat, so I just cried and cried some more.
I've been through a few more rodeos since then, and at the blossoming age of 21, I now know how to handle defeat on the outside. However, on the inside, it hurts just the same. I'll never understand why people in this world see failure as fate. Failure is merely feedback and fire for fighting. Failure motivates me to succeed, because without failure, success just wouldn't have the vice grip on my heart as it does now.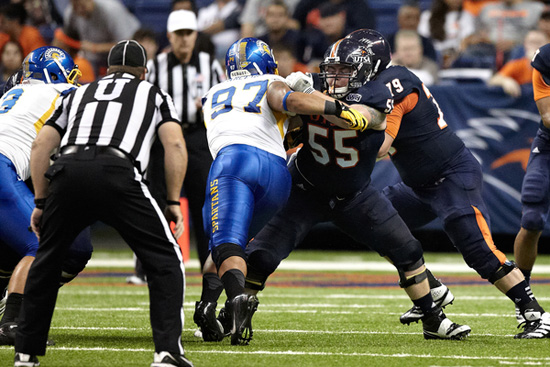 Jeff Huehn, UTSA Athletics
We lost this past Saturday and we lost miserably, but by God, we never quit throwing punches (metaphorically speaking, of course) and I couldn't have been prouder of my teammates for that. I'm really not one to exalt moral victories, but I can't ask for more than the guy next to me to be able to look me in the eyes and know, without question, that he fought alongside me until the bitter end. That's what a team is made of and that's what Roadrunners are made of.
Let me tell you what else this team is made of and what teams across the country are made of: second-teamers that are one play away from starting.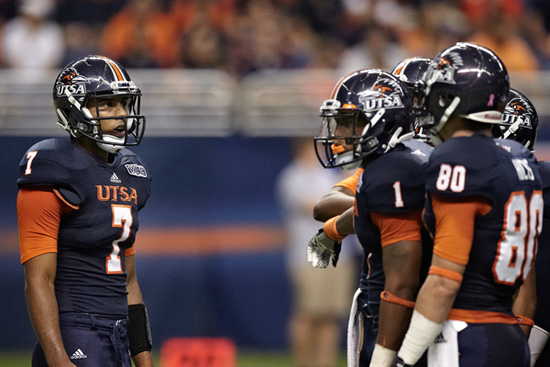 Jeff Huehn, UTSA Athletics
Ryan Polite, our backup quarterback, found that out first hand this week. He made me very proud and I made sure he knew before the game started that the "Hogs" had his back. We gave Ryan time to pass for a school-record 302 yards and two touchdowns while he made us look good with his feet, scrambling for 44 more. Although I am very excited that Ryan got a chance to live out his dream, seeing Eric Soza in a polo and jeans on the sidelines, on a game day, broke my heart.
Eric didn't know that I was watching him and that probably made it one of the most candid moments of my life. He was standing in the locker room just looking around at his team. He was rubbing his hands together, gave a couple of claps and then took some deep breaths. I could see it in his eyes that he was just dying on the inside. An intense competitor, leader and friend turned spectator just put my heart through the grinder and I had to look away. What Eric may not know is that he is always with us on that field whether he is suited up or not. Eric's competitive spirit has been instilled in us by his actions and it would take much more than a lot to relinquish that fact.
Watching Eric made me think of my own "Hogs." Not the starters, but the unsung heroes of the unsung heroes, the second string.
They grind out just as many reps as the ones do, watch just as much film as the ones do, work out just as much as the ones do, but on Saturdays, they receive absolutely no glory. Offensive linemen receiving no glory? Imagine that! Well, boys here are your well-deserved 15 minutes of fame.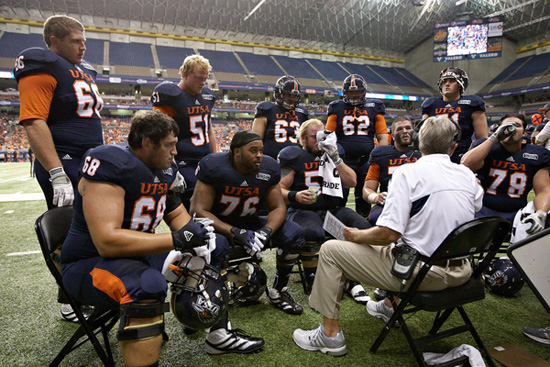 Jeff Huehn, UTSA Athletics
The second string has garnered the name "Dirty Mike and the Boyz," due to the aggressive play of the left tackle, "Dirty" Mike Roberson.
Mike is one of those guys who shows up every day and puts in good, hard day's work. I respect the man, not just because he brings his lunch pail to the field every day, but because of what he packs in that legendary lunch box of his. Rumor has it that "Dirty" downed a 10-patty Whataburger with 10 pieces of cheese, fully loaded. Again, the man has my respect.
He is accompanied at left guard by none other than Jamie "Stonewall" Bernal. Jamie earned his glorious nickname for a couple of reasons. One of them is that over Christmas break last year, Jamie gained something like 25-30 pounds and came back looking like a man. However, the buck doesn't stop there. The second reason is that during spring drills Coach Marshall threw him into the lion's den against the first defensive line in one-on-one pass rush. Jamie went four times and was victorious four times, not allowing any defensive lineman to get push or penetration. "Stonewall" was the least we could do.
This next guy is a little bit closer to me than the others due to the fact that he is my own personal backup. "Sir" William "Weight Room" Cavanaugh holds down the second string center position. We call him "Weight Room" because the piglet lifts more than some of the hogs do. The kid was born for the weight room and his passion for improvement resonates with the ones.
Payton "Payticus Rionus" Rion is the second right guard. We complimented Payton with this Greek God-like name because with his flowing blonde hair because all it would take is a laurel wreath for him to belong on Mount Olympus. Payton is just a great person. He lives his life like everyone should and I'm proud to call him a great friend. I have my own personal nickname for him that he absolutely loves (not). It's the "The Tooth Fairy," due to the fact that his teeth are clinic, which means perfect in the football biz.
Last but not least is Zach "Hulk" Hester. We call him "Hulk" because the kid is just downright intimidating to look at and he towers above most of the Hogs, especially me. He is also a presence in the weight room and has a very bright football career ahead of him.
I am blessed to be surrounded by people of great character on this football team, at this university and in this great city of San Antonio. Cut me open and I'll bleed blue and orange. My teammates and I sacrifice our bodies for Runner Nation and we strive every day to not let y'all down. We need you Runner Nation and we need you now more than ever. We take on the formidable Utah State Aggies at the Alamodome this Saturday and we hope to see everyone there because I can guarantee you that my Roadrunners are going to show up and fight for victory.