There is nothing that I hate more than losing. I wasn't raised to lose and, with the way in which I worship football, losing is like sinning. This Roadrunners football team doesn't run countless miles in sprints to lose. We don't rep hundreds of pounds in the weight room to lose. We don't spill blood in the boiling Texas heat to lose. Our fans don't pay their hard-earned money to watch us lose. The only positive that comes from failure is realizing that we are human and reminding us how much we crave success. Winning is what is righteous and holy and, forgive me, but those who say it isn't about winning and losing disgrace the game and everyone associated with it. Our coaches and countless others feed their families through our success. Therefore, winning isn't an option -- it's a necessity.
I always will give credit where credit is due, but I am going to be brief. The Rice Owls had our number this past Saturday and they are a much better team than their record shows. They are physical, disciplined and well-coached. I wish them the best this year and I look forward to battling again next year when we join them in Conference USA. Next year, Rice will have had a football program for 101 years. Ours will be in year three.
I have played way too many athletics contests to not know the bitter taste of defeat, yet I have experienced enough adversity to appreciate the triumph of overcoming it.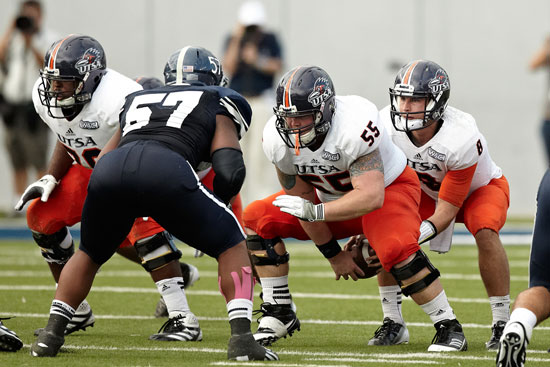 Jeff Huehn, UTSA Athletics
I hate hospitals. To me, hospitals are long corridors of dark rooms that temporarily house broken souls. Inside those rooms are people who are fighting for their lives and, just like football, some win and some lose. The "ding" of the elevator reminded me where I was and cleared the haze of distraction. Merely a week ago, my life had been normal and thriving, and yet now I was nervously waiting to visit my mother in a hospital bed. It was still so unreal to me and I kept telling myself that I would soon wake up from this horrendously vivid nightmare, but I never did.
Mom knew I was coming and so she had her hospital gown and bed perfectly assembled. She wanted so badly to appear strong, and to this day, I believe that is what gets to me the most. Her hair seemed to shine like a ruby against the off-white wall paint and her hands were crossed and resting on her stomach. Her pink fuzzy spa socks stuck out from under her blanket and her feet were moving around like an anxious child's. Her face was pale and her eyes seemed to sink more than usual, but she was still my beautiful mother, the most beautiful woman in the world. Those who knew her could tell you her smile could brighten the darkest of days, but this day just wasn't one of them.
She tried with all her strength to keep a smile, but as I walked in, all was lost. I just held her. My fingers were clenched so tightly around her because in that moment, I felt that I could hold on to her the rest of my life and by doing that, somehow save her, myself. She then looked at me with her tear-swollen eyes and I'll never forget what happened next. She told me that no matter what happened to her, she would always be right here, and she placed her hand on my heart. Mom was diagnosed with Stage IV Ovarian Cancer that day.
I feel like my life is full of defining moments and I am proud to say that those moments make me the person I am today. One of those moments came on a cool September night during my first varsity football season. I was a nervous puppy trying to play with the big boys and it was our home opener against Garland Sachse. The first half of football was like watching a gory horror flick. Defensively, we were being gashed and picked apart. Offensively, we were just spinning our tires. It was turning into a blowout and we went into the half down, 21-0. However, halftime locker rooms can be magical places.
Coach Mark Gibson is one of the most important and influential people in my life. As my high school offensive line coach, I usually spent more time with him during the season than I did with my own father. I was blessed to have a man of his caliber coach me and guide me through such a critical period in my life. He knew what he had to do in that locker room, so he took charge.
He looked us in the eyes, with an emphasis on mine, and I'll always remember what he told us. With passion in his voice and belief in his stare he said, "It doesn't matter if the world is crumbling down around your ears. It takes real men to keep standing and fighting." Those words struck a chord in me and that familiar lump began to form in my throat. He finished by stating that the outcome would depend the offensive line's performance, but that we were going to win, 26-21.
On a jail-break screen with 12 seconds left on the clock, each offensive lineman secured his block and we made an honest man out of Coach Gibson.
Bouncing back from adversity is simple, really. All it takes is a network of people who believe and support each other. A team. We take on the San Jose State Spartans this week in our Homecoming and Western Athletic Conference home opener. They better come prepared because I am part a team that believes. I hope you believe in us too, Runner Nation. Let's welcome these Spartans to Texas. See y'all at the Dome.