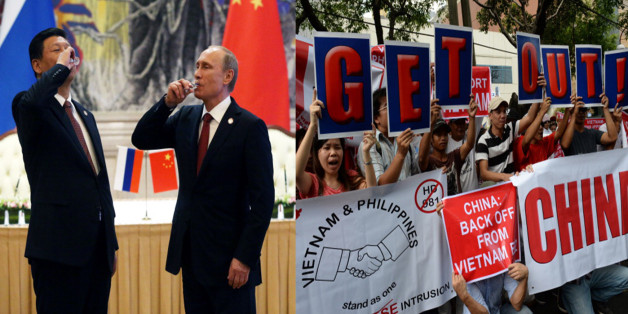 This week, watershed historical events have taken place in Asia. Narendra Modi and his modernizing Hindu nationalist party have swept to power in India. Scorned by the West over Crimea, Vladimir Putin has hastened to deepen Russia's energy and political ties with China. China seems to be creating as many enemies as friends with its new, boldly assertive posture. Appearing at a summit of non-Western nations in Asia after cementing the giant gas deal with Russia's Putin, President Xi appealed to his neighbors to keep the U.S. out of the region and leave Asia to Asians. Yet, this came on the heels of anti-China riots in Vietnam after China placed an oil rig in disputed waters. And it came just as the U.S. government indicted individual members of a People's Liberation Army cyber-espionage team for hacking into commercial secrets of American companies.
WorldPost contributing editor Nayan Chanda connects the dots, writing that China is seizing every opportunity it can to expand its dominance of East Asia as America is preoccupied at home and elsewhere while sending uncertain signals to its allies. Former CIA director and U.S. Defense Secretary Bob Gates agrees. As the WorldPost's Kathleen Miles reports, he believes that Russian and Chinese aggressiveness is directly related to their perception of America's lack of resolve. Brazilian journalist Pepe Escobar takes this development to its logical next step: the rise of a new Eurasian coalition led by China and Russia to fill the geopolitical power vacuum as America's global clout diminishes.
Looking at Asia from another angle, Zocalo Public Square's Andres Martinez writes that Singapore is the city-state most adapted to 21st century globalization. Keyu Jin of the London School of Economics examines the Chinese economic model and argues that more income must be shifted to the household if China's growth is going to be fairly shared.
Dileep Padgaonkar and Jehangir Pocha write from New Delhi about the "tectonic shift" in India as the statist, secular Congress Party and its patronage network that has dominated Indian political life since independence gives way to the new politics of Narendra Modi. That politics combines traditional Hinduism and assertive nationalism with free-market modernization. Brahma Chellaney compares Modi to Japan's Shinzo Abe -- also a nationalist and modernizer. Theologian Martin Marty expresses his concern for tolerance and minority rights under a regime guided by Hindu fundamentalism.
Turning to Europe, Huffington Post international edition editors from Germany, UK, Spain, France and Italy weigh in on why the European Parliamentary elections matter. Jacques Attali warns that if Marine Le Pen and her populist party got their way and France left the euro, it would fall into economic depression in short order. Nicolas Berggruen and Pierpaolo Barbieri make an all out case that "populism is against the interests of the people" and that only greater integration will enable Europe to prosper under globalization. On the European periphery, Turkish novelist Elif Shafak considers Prime Minister Recep Tayyip Erdogan's increasingly erratic and autocratic behavior as a "slap in the face of all Turks."
As the U.S. government dithers in the face of global warming, California Governor Jerry Brown is taking up the challenge on his own. "California is the epicenter of climate change," he says, and his state is at the forefront of responding and adapting. Finally, Fareed Zakaria extols the virtues of a liberal arts education in today's technologically-oriented society.
WHO WE ARE

EDITORS: Nathan Gardels, Senior Advisor to the Berggruen Institute on Governance and the long-time editor of NPQ and the Global Viewpoint Network of the Los Angeles Times Syndicate/Tribune Media, is the Editor-in-Chief of The WorldPost. Farah Mohamed is the Managing Editor of The WorldPost. Kathleen Miles is the Senior Editor of the WorldPost. Alex Gardels is the Associate Editor of The WorldPost. Nicholas Sabloff is the Executive International Editor at the Huffington Post, overseeing The WorldPost and HuffPost's 10 international editions. Cosima Ungaro is Deputy International Editor at the Huffington Post and Eline Gordts is HuffPost's World Editor.

CORRESPONDENTS: Max Rosenthal in Beirut; Sophia Jones in Cairo; Matt Sheehan in Beijing.

EDITORIAL BOARD: Nicolas Berggruen, Nathan Gardels, Arianna Huffington, Eric Schmidt (Google Inc.), Pierre Omidyar (First Look Media) Juan Luis Cebrian (El Pais/PRISA), Walter Isaacson (Aspen Institute/TIME-CNN), John Elkann (Corriere della Sera, La Stampa), Wadah Khanfar (Al Jazeera), Dileep Padgaonkar (Times of India) and Yoichi Funabashi (Asahi Shimbun).

CONTRIBUTING EDITORS: Moises Naim (former editor of Foreign Policy) and Nayan Chanda (Yale/Global; Far Eastern Economic Review). Katherine Keating (One-On-One) and Jehangir Pocha (NewsX India) .

The Asia Society and its ChinaFile, edited by Orville Schell, is our primary partner on Asia coverage. Eric X. Li and the Chunqiu Institute/Fudan University in Shanghai and Guancha.cn also provide first person voices from China. We also draw on the content of China Digital Times. Seung-yoon Lee is The WorldPost link in South Korea.

Jared Cohen of Google Ideas provides regular commentary from young thinkers, leaders and activists around the globe. Bruce Mau provides regular columns from MassiveChangeNetwork.com on the "whole mind" way of thinking. Patrick Soon-Shiong is Contributing Editor for Health and Medicine.

ADVISORY COUNCIL: Members of the Berggruen Institute's 21st Century Council and Council for the Future of Europe serve as the Advisory Council -- as well as regular contributors -- to the site. These include, Jacques Attali, Shaukat Aziz, Gordon Brown, Fernando Henrique Cardoso, Juan Luis Cebrian, Jack Dorsey, Mohamed El-Erian, Francis Fukuyama, Felipe Gonzalez, John Gray, Reid Hoffman, Fred Hu, Mo Ibrahim, Alexei Kudrin, Pascal Lamy, Kishore Mahbubani, Alain Minc, Dambisa Moyo, Laura Tyson, Elon Musk, Pierre Omidyar, Raghuram Rajan, Nouriel Roubini, Nicolas Sarkozy, Eric Schmidt, Gerhard Schroeder, Peter Schwartz, Amartya Sen, Jeff Skoll, Michael Spence, Joe Stiglitz, Larry Summers, Wu Jianmin, George Yeo, Fareed Zakaria, Ernesto Zedillo, Ahmed Zewail, and Zheng Bijian.

From the Europe group, these include: Marek Belka, Tony Blair, Jacques Delors, Niall Ferguson, Anthony Giddens, Otmar Issing, Mario Monti, Robert Mundell, Peter Sutherland and Guy Verhofstadt.
MISSION STATEMENT
The WorldPost is a global media bridge that seeks to connect the world and connect the dots. Gathering together top editors and first person contributors from all corners of the planet, we aspire to be the one publication where the whole world meets.
We not only deliver breaking news from the best sources with original reportage on the ground and user-generated content; we bring the best minds and most authoritative as well as fresh and new voices together to make sense of events from a global perspective looking around, not a national perspective looking out.