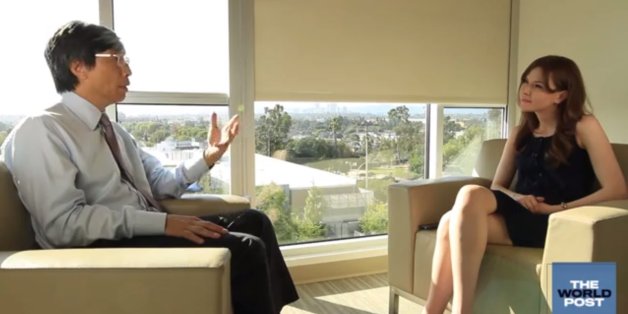 This week, The WorldPost features a conversation with bio-tech pioneer and entrepreneur Patrick Soon-Shiong on the "great convergence" he is forging in medical care by bringing together supercomputing, cloud computing and machine vision to create "amplified intelligence." Dr. Soon-Shiong is a WorldPost contributing editor for Medicine and Technology.
The results of European Parliament elections last weekend produced the expected surge of populist, anti-Brussels parties, most notably in France and Great Britain, where citizens expressed public discontent over immigration and unemployment. French philosopher Bernard Henri-Levy writes that, now, "France is in danger." HuffPost UK Political Director Mehdi Hasan, a British Muslim, worries what the rising anti-Muslim sentiment will mean personally for him and his family. Max Tholl of The European examines the EU elections from another angle, noting that, in the Ukraine elections, voters looked to join a Europe that its own voters are rejecting.
Lending further context to the European political drama, James Manyika and others from the McKinsey Global Institute report that Germany is now the "most connected" nation in the world. In a rebuttal to the Financial Times' critique of his book, "Capital In The 21st Century," Thomas Piketty defends his data that shows inequality is growing inexorably.
Former Vice Chair of the CIA's National Intelligence Council, Graham Fuller, remembers when U.S. spying was not about digital surveillance, but about on the ground understanding of the world beyond America's borders -- and the limits to U.S. power to control events. U.S. Ambassador to the United Nations, Samantha Power, argues that college graduates contemplating foreign service should be passionate about spreading democracy. Gareth Evans, who heads the International Crisis Group, dismisses what he sees as "alarmist" voices that worry war and chaos are imminent as U.S. power wanes and China and Russia assert themselves. Former Japanese Defense Minister Yuriko Koike argues that changing Japan's pacifist constitution to allow Japan's forces to operate outside its border to defend allies will be "conducive to peace" in a region where China is rising.
ChinaFile's Rebecca Liao reports on China's experiments with "deliberative democracy" -- active consultation of citizens on government policies , but without voting in an electoral system.
Finally, HuffPost Religion Editor Paul Brandeis Raushenbush lauds Pope Francis' ecumenical gestures in the Middle East and Al Gore remembers the American Nobel Laureate Maya Angelou.
WHO WE ARE

EDITORS: Nathan Gardels, Senior Advisor to the Berggruen Institute on Governance and the long-time editor of NPQ and the Global Viewpoint Network of the Los Angeles Times Syndicate/Tribune Media, is the Editor-in-Chief of The WorldPost. Farah Mohamed is the Managing Editor of The WorldPost. Kathleen Miles is the Senior Editor of the WorldPost. Alex Gardels is the Associate Editor of The WorldPost. Nicholas Sabloff is the Executive International Editor at the Huffington Post, overseeing The WorldPost and HuffPost's 10 international editions. Cosima Ungaro is Deputy International Editor at the Huffington Post and Eline Gordts is HuffPost's World Editor.

CORRESPONDENTS: Max Rosenthal in Beirut; Sophia Jones in Cairo; Matt Sheehan in Beijing.

EDITORIAL BOARD: Nicolas Berggruen, Nathan Gardels, Arianna Huffington, Eric Schmidt (Google Inc.), Pierre Omidyar (First Look Media) Juan Luis Cebrian (El Pais/PRISA), Walter Isaacson (Aspen Institute/TIME-CNN), John Elkann (Corriere della Sera, La Stampa), Wadah Khanfar (Al Jazeera), Dileep Padgaonkar (Times of India) and Yoichi Funabashi (Asahi Shimbun).

CONTRIBUTING EDITORS: Moises Naim (former editor of Foreign Policy) and Nayan Chanda (Yale/Global; Far Eastern Economic Review). Katherine Keating (One-On-One) and Jehangir Pocha (NewsX India) .

The Asia Society and its ChinaFile, edited by Orville Schell, is our primary partner on Asia coverage. Eric X. Li and the Chunqiu Institute/Fudan University in Shanghai and Guancha.cn also provide first person voices from China. We also draw on the content of China Digital Times. Seung-yoon Lee is The WorldPost link in South Korea.

Jared Cohen of Google Ideas provides regular commentary from young thinkers, leaders and activists around the globe. Bruce Mau provides regular columns from MassiveChangeNetwork.com on the "whole mind" way of thinking. Patrick Soon-Shiong is Contributing Editor for Health and Medicine.

ADVISORY COUNCIL: Members of the Berggruen Institute's 21st Century Council and Council for the Future of Europe serve as the Advisory Council -- as well as regular contributors -- to the site. These include, Jacques Attali, Shaukat Aziz, Gordon Brown, Fernando Henrique Cardoso, Juan Luis Cebrian, Jack Dorsey, Mohamed El-Erian, Francis Fukuyama, Felipe Gonzalez, John Gray, Reid Hoffman, Fred Hu, Mo Ibrahim, Alexei Kudrin, Pascal Lamy, Kishore Mahbubani, Alain Minc, Dambisa Moyo, Laura Tyson, Elon Musk, Pierre Omidyar, Raghuram Rajan, Nouriel Roubini, Nicolas Sarkozy, Eric Schmidt, Gerhard Schroeder, Peter Schwartz, Amartya Sen, Jeff Skoll, Michael Spence, Joe Stiglitz, Larry Summers, Wu Jianmin, George Yeo, Fareed Zakaria, Ernesto Zedillo, Ahmed Zewail, and Zheng Bijian.

From the Europe group, these include: Marek Belka, Tony Blair, Jacques Delors, Niall Ferguson, Anthony Giddens, Otmar Issing, Mario Monti, Robert Mundell, Peter Sutherland and Guy Verhofstadt.
MISSION STATEMENT
The WorldPost is a global media bridge that seeks to connect the world and connect the dots. Gathering together top editors and first person contributors from all corners of the planet, we aspire to be the one publication where the whole world meets.
We not only deliver breaking news from the best sources with original reportage on the ground and user-generated content; we bring the best minds and most authoritative as well as fresh and new voices together to make sense of events from a global perspective looking around, not a national perspective looking out.