The I'm From Driftwood crew is in California for the 11th annual AIDS/LifeCycle, a bike ride from San Francisco to Los Angeles raising money for HIV/AIDS. IFD founder Nathan Manske and guest videographer and editor Matthew Ladensack will be sharing daily video stories from some of the 2,700 participants who are embarking on the seven-day, 545-mile trek. You can follow IFD's daily adventures on Facebook and Twitter.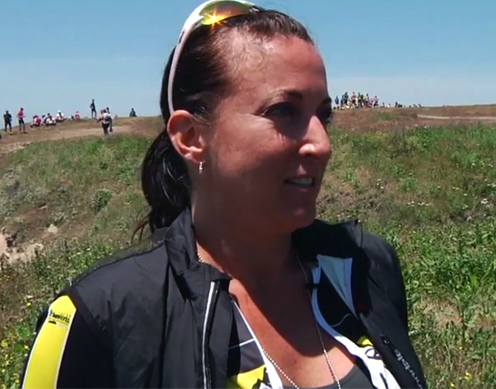 Kari -- Photo: I'mFromDriftwood.org
Tackling the common misconception that HIV/AIDS is a disease that only affects gay men and drug users, Kari Samuels talks about her straight, housewife mother who nearly died of AIDS:
Back in 1994, I remember sitting down in our Poconos house with my sister and my mother and my mother's husband at the time. She told us she's been living with HIV for over 10 years and she now had full-blown AIDS and had to tell us because she was getting ready to die.
Kari had previously never known anyone who was infected by HIV/AIDS, or anyone who was gay, but quickly became an advocate for both:
I remember when I was fundraising, I was at a bar and I asked everybody in the bar for $1, just going around. I said, "I'm riding 500 miles for an AIDS vaccine and charities and can you give me a dollar?" And everybody was like, "Sure, yeah, cool." And this one guy was like, "The only way I would ride 500 miles is if someone with AIDS was chasing me." So I gave him a few words. And tried to educate him.
For surviving HIV and AIDS all these years, Kari's mother has become her hero: "She's awesome. She's my hero. She's the toughest woman I know. And I want to be like her when I grow up."
WATCH:
Submit your own story at ImFromDriftwood.com.