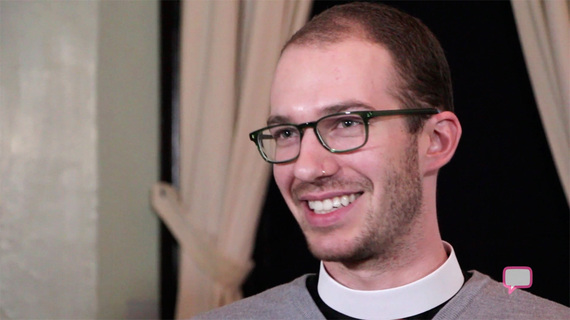 I'm From Driftwood is a 501(c)(3) nonprofit archive for lesbian, gay, bisexual, transgender, and queer stories. New stories are posted on the site every Wednesday.
John Russell Stanger is the first openly gay Presbyterian minister ordained in Texas. And his path toward being ordained began very, well, gay:
[O]ne of the things that I remember doing when I was about 10 was putting on my own church service in our living room. ... I had a music stand as a pulpit that I put in the center of our living room, and I laid out on the coffee table Bibles from around our house and some hymnals, and I wrote out an order of service, and so we started with a call to worship, and we sang hymns, and then I asked my parents to read from scripture, and then I'm sure I preached to them as a 10-year-old, and they were really great at humoring me.
After learning that his religion was anti-LGBTQ, John stayed in the closet even while earning his B.A. in religion. It was in seminary that John figured out that Jesus would in fact be very accepting and loving toward LGBTQ people:
[I]t wasn't until being in seminary in that first year and kind of learning that this religious tradition that I had been told doesn't support gay people actually has all of this beautiful tradition that does celebrate people who are on the margins, people who are different, and we follow this guy named Jesus who hung out with people that society rejected, and that started to click for me, and so I ended up coming out at the end of my first year.
John hopes his story will help LGBTQ youth know that they are welcome, even by Christians:
I hope that those kids know that there are pastors and that there are gay communities, there are churches, who will embrace them fully as who they are and make it clear to them that Jesus loves them as an LGBT youth or young adult.
WATCH:
For more stories, visit I'm From Driftwood, the LGBTQ Story Archive.
The I'm From Driftwood Resource Partner for LGBTQ Christians is Presbyterian Welcome.