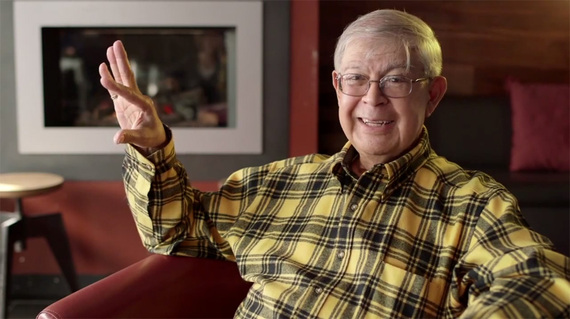 I'm From Driftwood is a 501(c)(3) nonprofit archive for lesbian, gay, bisexual, transgender, and queer stories. New stories are posted on the site every Wednesday.
The idea of a polyamorous relationship is probably shocking to a lot of people, but for Bob Lanning and his partner Don, who was often away for his job as an airline pilot, it was just the right thing to do:
In 1971, when I was managing a bar in San Diego, Keith came in -- his ship was stationed down there -- and he came in in uniform, and when I saw him walk through that door in his Dixie cup and white uniform, I said, "Oh, my god, I'm having that sailor." ... I asked Keith if he would be willing to try a threesome, and when Keith said yes, he would be willing, then we went to Don, and the three of us sat down and discussed if this might be a possibility, and Don said yes as well....
The three were able to live happily together for many years, each filling a different role within the home:
Don was the better cook of the three of us, though we all three cook. I like to clean, and I'm kind of anal about "Everything has to be neat, and everything has to be in order." Keith would do the dishes after a dinner party, and I would set the table and put the flowers and invite the guests. We liked to dance, and we went to many clubs, we bowled, we traveled all over the United States, we had several trips to Europe. Don was at his best when we were out dining where he had a bottle of wine. That's when he would start telling us stories, and even if we'd heard them before, we were drinking and eating too, so they held us ... rapt.
Unfortunately, the relationship came to an end when Don was diagnosed with and eventually died from cancer, leaving Bob and Keith behind. Bob and Keith have continued their relationship since Don's passing and now live together as a married couple:
We since then sold our house, and we got married, finally, because it was just the two of us. Having this relationship for all these years, both of the guys have taught me to accept more people for the way they are. We miss Don a lot to this very day. After 46 years it was like a lifetime, so we go on.
WATCH:
For more stories, visit I'm From Driftwood, the LGBTQ Story Archive.