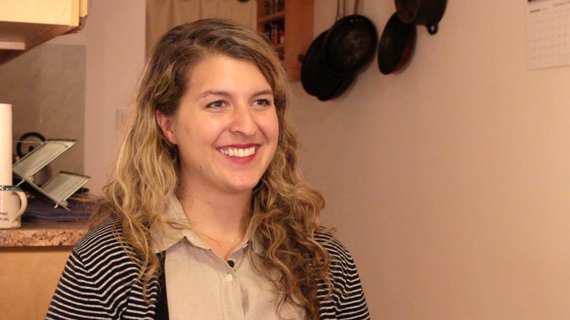 I'm From Driftwood is a 501(c)(3) nonprofit archive for lesbian, gay, bisexual, transgender, and queer stories. New stories are posted on the site every Wednesday.
Abby Fink has always been close to her 90-year-old grandpa. As she began to get older, he started to become a bit more inquisitive about her personal life, making it slightly uncomfortable, since she wasn't out to him. Abby recalls:
I'm pretty close with him. I call him every couple of weeks. Usually we have a phone conversation and he asks how New York is, or school, or wherever we are. And in every single conversation he's like, "Do you have a boyfriend? Do you have a boyfriend yet? Where's your boyfriend?"
Abby took her girlfriend home to Minneapolis over Labor Day weekend, and, at the insistence of her father, her girlfriend joined them for the family lunch with Grandpa. After an awkward beginning, with Grandpa not knowing who Abby's surprise guest was, Abby's dad stepped in and began the conversation:
[M]y dad is like, "This is actually Abby's girlfriend." And she and I kind of both made eye contact at the same time, and we're both like, "Surprise!" at the same time -- like, simultaneously. And everyone kind of chuckled, and then there was this long pause. We were all kind of, like, waiting for him to respond. And he just goes, "I love it!" And that was kind of it, and that started off the lunch, and we kind of got it out in the air, and we sat down and had sushi and talked with my grandfather, and they got along really well.
If you're not yet out to your grandparents, Abby encourages you to take the opportunity:
I would definitely recommend that people should trust themselves. And people have the opportunity to get closer with their grandparents and be honest and sort of create that relationship with them, and I think that they should take it rather than wait. I would do it again in a heartbeat. I wish I would have done it sooner, for sure.
WATCH:
For more stories, visit I'm From Driftwood, the LGBTQ Story Archive.