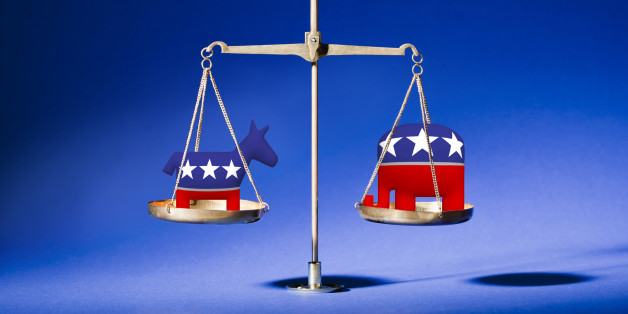 At first glance, the 2014 midterm elections appear to have been an overwhelming success story for the Republican Party. Among Republican trophies, some commentators have highlighted how the GOP appears to have made significant "inroads" with Latino voters in this election cycle -- see articles in the New York Times, the Washington Post, and elsewhere.
This apparent increase in the GOP's share of Latino voters in 2014, however, does not hold up under close examination. Any Republican "inroads" cited by the media are based on flawed exit polling. If the supposed successes of 2014 cause the GOP to become complacent in its Latino outreach, Republicans will fail to recapture the White House in 2016, and possibly lose the Senate as well.
Let's consider the numbers. The nation's preeminent Hispanic polling firm, Latino Decisions, has pointed out that most exit polls use a flawed methodology when it comes to Hispanic voters, leading to an oversampling of Republican Latino voters that inflates the Republican share of the Hispanic vote. Latino Decisions' own election eve poll of Latino voters -- conducted in collaboration with NCLR (National Council of La Raza) and other partners -- gives a more accurate portrait of Latino voters in 2014. According to that poll, the GOP did capture a moderately larger share of the Hispanic vote in 2014 versus 2010, but nowhere near the margins suggested by the exit polls. And the reason the GOP moderately increased its share likely has more to do with which Latino voters turned out in a very low turnout election, with fewer Democrat-leaning Latino voters showing up on Election Day.
The fact remains that the overwhelming majority of Latino voters still do not trust the Republican party to deliver on Hispanic priorities. Latino Decisions' election eve poll shows only 22 percent of Latino voters who turned out on Election Day believe the Republican Party truly cares about the Hispanic community. For registered Hispanics who stayed home, that figure is an abysmal 12 percent. If these numbers represent "inroads" with Latino voters, the GOP must have been starting from an incredibly low baseline.
When Latino turnout inevitably increases in the 2016 elections, such low levels of Hispanic support will not be enough for the GOP to take back the White House -- and perhaps not even to hold on to their majority in the Senate, considering that Senate contests in 2016 will take place in states with large Latino populations such as Arizona, California, Colorado, Florida, Illinois, and Nevada. To win in the 2016 electoral landscape, Republicans must field candidates who bring strong support for Latino priorities and who will therefore be competitive in these races; anti-immigrant positioning will inevitably drive Hispanics away from the party.
Unfortunately, it seems that the GOP is set on taking exactly that course of action. Barely a week after their sweeping victory in the midterm elections, some Republican lawmakers were once again proving their readiness to further alienate Latino voters by threatening to shut down the government if President Obama takes executive action on immigration -- despite polling showing that 61 percent of Latino voters would be less enthusiastic for the Republican Party if it attempts to block administrative action on immigration. Last week, 59 House Republicans signed onto a letter drafted by Representative Matt Salmon (R-AZ) demanding that House leadership refuse to fund any administrative immigration fixes, potentially setting up a shutdown like we witnessed in the fall of 2013. Although GOP leaders such as Mitch McConnell are insistent that another government shutdown is off the table, Speaker Boehner has repeatedly warned President Obama that taking executive action on immigration will "get [Obama] burned" by killing any remaining chance of Congress working with the president on immigration reform or other issues.
Until the Republican Party abandons this rhetoric, fields candidates who show strong support for the issues that Latino voters care about, and disavows the extreme elements of its party who are willing to shut down the government rather than see our broken immigration system fixed, they cannot be said to have made any real inroads with the Hispanic community. President Obama's historic 71 percent share of the Latino vote in the 2012 elections wasn't due to his personality or his party affiliation. He won Hispanic voters because he pledged to deliver on the issues that they cared about -- while his opponent Mitt Romney endorsed the callous and unworkable policy of "self-deportation" as the solution for our broken immigration system.
Millions of Latino voters have parents, siblings, and friends who would benefit from administrative relief. Yet at this moment, elements of the GOP are threatening that they will shut down the government if President Obama takes action to put an end to senseless deportations.
If only 22 percent of Latino voters who participated in these midterm elections trust the GOP to deliver on Hispanic priorities, what new lows of Latino support will Republicans see in 2016 if they choose to block President Obama from granting relief to millions of immigrant families?