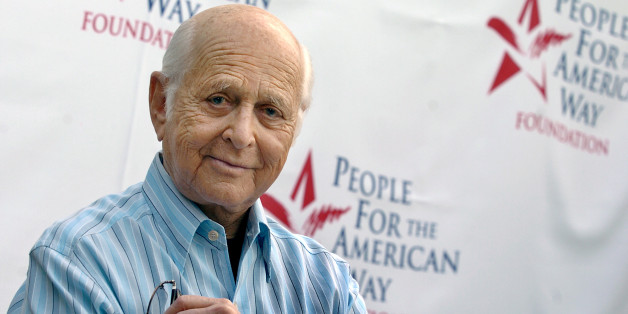 Last Tuesday, Republicans wrested control of the U.S. Senate. Prelude to a 2016 White House smackdown? Bad news for the Left? Maybe. But this coming Tuesday, Veteran's Day, liberal ninja Norman Lear will be celebrated for a lifetime of battling for liberty.
Lear, who fought swarms of Nazi planes as a World War II B-17 gunner on bombing runs over Germany only to later fight for the rights of American Nazis to march in Skokie, revolutionized free speech on television, put his mojo behind People For the American Way and bought an original copy of the U.S. Constitution to send on tour for school children to see, Tuesday in Los Angeles will receive the Lifetime Achievement Award of PEN USA, the writers' humanitarian organization, for expanding and protecting free speech through both his art and his activism.
"In many ways," says A. Scott Berg, the Pulitzer Prize-winning biographer, "Norman's progressive agenda is as accomplished and influential as those of Woodrow Wilson, LBJ, and Archie Bunker's bête noire, 'Franklin Delano Rooosevelt' himself."
"Outside of myself," says Mel Brooks, "Norman Lear is one of the most creative and talented writers in show business."
How did Lear do it?
Bill Moyers, the public television producer, set out to find out around 1980. Interviewing artists and performers about creative expression led him to Lear, who had changed forever America's discourse using television.
Filming his new PBS series "Creativity," Moyers, a fan of "All in the Family," wanted to know how Lear "had been able to translate into realspeak the deep biases in our culture towards race, gender, and ethnicity, and have them go down with the very people who held those biases; (how) he could make them laugh and learn at the same time."
A revelation ensued. "It was as if two long-separated brothers had been reunited," Moyers says. "We discovered a mutual concern about the rise of the fundamentalist religious right and its coupling with the partisan political right."
Soon Lear was in Moyers' New York office discussing ads to educate the public about the religious right. Lear invited Moyers, a Peace Corps founding organizer, to his Vermont retreat to discuss organizing People for the American Way, a bipartisan activist group to counter the religious right.
"'People For'," says Moyers, "became a skilled combatant in the trenches of our cultural warfare. It held the line against encroaching religious mendacity and intolerance, and helped rally counterforces in the body politic. We would have a different political landscape today without it."
And for many years, Lear has quietly helped fund the investigative journalism of ProPublica, The Nation and Mother Jones.
Lear has, says Moyers, worked to check, or correct, the worst deficiencies of our civilization.
***
Already one of Hollywood's highest-paid writers, Lear first became a societal force by introducing Archie Bunker.
"In 1960s America," relates Robert J. Thompson, the Syracuse University pop culture historian, "with the Viet Nam war raging, with a civil rights movement resulting in riots and demonstrations, and a nation redefining itself in terms of gender and race, TV was giving us talking horses, flying nuns, genies who lived with men they called 'Master.' 'Gomer Pyle,' set in the Marine Corps, never mentioned the Tet Offensive or Southeast Asia." CBS axed the topically satirical Smothers Brothers.
"It was as if all the things we heard on the television news didn't even exist in prime time," Thompson says.
Then, during "All in the Family's" 1971 premiere, "kike," "spade" and "spic," spilled from Archie Bunker's mouth. Characters argued over the war, bigotry, the sexual revolution, gays, divorce, impotence, rape, menopause, abortion, and what it meant to be an American.
"He opened up the most popular medium in history to a range of topics, and to a kind of discourse, that had never been part of that mass culture," says Marty Kaplan, USC's Lear Center for Media and Society director. "It is without question the most influential entertainment program in the history of American television."
"I was very happy to be doing 'Get Smart' with Buck Henry," Mel Brooks recalls, "when Norman comes along and does these profound comedy shows with something to say about the nature of humanity. It's very nice when you can say something about the structure of society and still get plenty of laughs. And the first one to do that was Norman."
Lear also changed reality.
His shows sensitized journalists' story choices and what their audiences sought. "Norman wasn't in the newsroom, but you could argue that he was," says Ken Auletta, who has specialized in covering the media and entertainment [industries]. "Maybe it increased their appetite for stories about... how people of color may have suffered or how a woman who stood up for her rights was not some flaming bitch."
Adds Richard Reeves, the former New York Times chief political correspondent, "I've heard people tell about sitting and watching those shows who now have a voice in the public dialogue."
***
Succeeding at comedy that deals with divisive topics, says Lear, requires "knowing that laughter and its opposite are separated by a thin line."
He wove that line through spinoffs revolving around strong women and, for the first time, black characters with real families ("Maude," "The Jeffersons," "Good Times"). Lear introduced minorities as three-dimensional, sympathetic characters equally entitled to the pursuit of happiness, notes Berg: "He embraced the unembraced."
Soon Lear had nine shows on the air, dominating the ratings, drawing as many as 120 million viewers a week. Even Republicans: Over a lunch to which Lear had invited presidential candidate Ronald Reagan, to pitch Reagan on a Panama Canal Treaty TV debate with Walter Mondale, Reagan confessed that Nancy Reagan had been hoping Lear would offer a spot on "All in the Family."
"Norman's extraordinary gift to all of us," says Steven Bochco, the writer-producer, "maybe to me in particular, is that he showed us that selling soap and beer and art were not mutually exclusive."
And Lear wouldn't back down. When the networks created a "Family Hour," banishing "AIl in the Family" and its like until 9 p.m., Lear sued and won.
"He took what was a business decision by a network," says USC's Kaplan, "and reframed it as a free speech question about artists, which hadn't been done before in entertainment TV."
"He did it so artfully and fearlessly," Bochco says, "that it gave permission to a whole new generation of writers and directors and producers to say, 'Not only do we have a right, but we have a responsibility to reflect the world in which we live.' "NYPD Blue's" Andy Sipowicz couldn't have existed without Archie Bunker. If it hadn't been for Norman, I don't know that a show like 'Hill Street Blues' could have existed."
And without Sipowicz, no Tony Soprano, says Syracuse's Thompson. "South Park" owes its unabashedly anti-Semitic Cartman character to Archie as well, co-creator Trey Parker has said. Indeed, Lear has consulted on "South Park," even lending his voice to Benjamin Franklin, in apparent homage to Lear's advice to Parker and co-creator Matt Stone in their battles with censors. Lear has also mentored "Family Guy's" Seth MacFarlane. "Many of the Aaron Sorkins of the world are really his godchildren," says Reeves.
Emmys, the National Medal of the Arts, a Peabody award, a place on President Richard Nixon's "Enemies List," the honor of being an initial inductee into the Television Hall of Fame, alongside Edward R. Murrow -- all these flowed to Lear. Moyers dedicated not one but two installments of "Creativity" to his interview with Lear.
After "Creativity," Lear sought out Moyers' own creativity to combat the civil liberties restrictions pushed by the religious right. Lear had been president of the ACLU of Southern California.
He first became concerned about civil liberties when, as a 9-year-old scratching a needle across the crystal in his new radio set at bedtime, he chanced across Father Coughlin's anti-Semitic tirades. Now he was worried about fundamentalists and right-wing Republicans, which is why he invited Moyers to his PFAW conclave.
In the 32 years since, PFAW has fought censors in schools, libraries, and museums. It has lobbied, litigated, marched, and pushed public debate to protect free expression; and it has fought cutbacks at the National Endowment for the Arts. In a defining battle over the U.S. Supreme Court nomination of Judge Robert Bork, the group played a central role in changing the terms of debate about judges' qualifications. It now claims about 300,000 members.
And annually since, Moyers says, "we have spent a long weekend with the same group of kindred spirits" on Lear's Vermont farm, once owned by Robert Frost.
When Frost moved to town, he wrote of having taken the road "less traveled by/ And that has made all the difference."