Outrage is growing online after Inside Edition used the deaths of three North Carolina students to give advice on parking.
The host, Deborah Norville, gave a seemingly quick 20 second voice over, giving bare-bones background information on their murder to segue a segment on how to find parking quicker in the mall while avoiding disputes.
As Norville said, "finding a parking space is one of those things that can push some people over the edge, but there is always a way to find a spot at the mall."
The victims, identified as 23-year-old Deah Shaddy Barakat, his 21-year-old wife, Yusor Mohammad Abu-Salha, and her sister 19-year-old Razan Mohammad Abu-Salha, were shot to death at a residential complex of the University of North Carolina at Chapel Hill.
The 46-year-old suspect, Craig Stephen Hicks, was arrested and charged with killing the three Muslim students.
Police believe the killing may have been motivated by a neighbor's long-simmering anger over parking, but hate crime has not been ruled out.
Hicks describes himself on social media as a supporter of "Atheists for Equality" and as a "gun- toting" atheist, expressing hate towards all faiths. The whole notion of three people being shot repeatedly in the head has been downplayed to sensitivities over parking. He may not have been a religious fanatic, but he had an ideology. Should we all ignore that he appears to be an anti-religious fanatic? Has the word terrorism by definition now changed to only include Muslims committing heinous crimes?
Whatever your answers may be, one thing's for sure, equating the deaths of three young students to trying to find a parking spot faster at the mall is simply tasteless. Would Inside Edition have presented the story in this manner if the roles were reversed? What if a "gun-toting" Muslim with open hatred towards secularism killed an innocent family of three atheists...?
Excerpt from Inside Edition:
"A tragic shooting over, of all things, police say, a parking space. Three college students in North Carolina are dead. Their neighbor has been charged. Initially, some said it was a hate crime because the victims were Muslim. The cops say they believe the dispute was over parking at an apartment complex. Now, finding a parking space is one of those things that can push some people over the edge, but there is always a way to find a spot at the mall. Jim Moret helps you break the code."
Having news networks publicly apologize can help others see their faulty tactics. Please sign: https://t.co/ou21CJWTrq

— Mariam Sarwari (@maroo_ess) February 13, 2015
SHAME ON YOU. @InsideEdition Does Really Bad Segue from Chapel Hill Shooting to Parking Tips http://t.co/7WlBNFb6f3 via @mediaite

— Bryan Loukseth (@Left2016action) February 13, 2015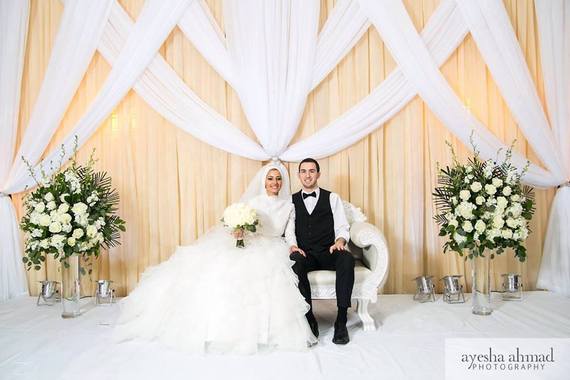 Newlyweds Yusor Mohammad Abu-Salha and Deah Barakat. Source: Facebook page called "Our Three Winners"