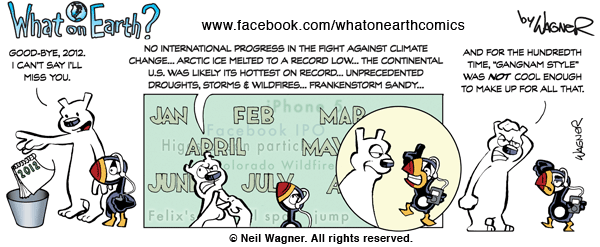 While Bebbo is unconvinced that the pop culture prowess of "Gangnam Style" can make us forget our climate is in crisis, that doesn't mean 2012 provided no hope for our fight against global warming. It appears the U.S. -- Earth's second-biggest greenhouse gas emitter -- has treated this year's extreme weather (most notably Hurricane Sandy) as a wake-up call.
A recent Associated Press-GfK poll found that Americans' concern about our climate is increasing. Four out of five polled believe global temperatures are rising and that the U.S. needs to take action. Even the percentage of folks in that poll who don't trust scientists (about a third of those questioned) have an increased belief that temperatures have risen over the last century.
New York City Mayor Michael Bloomberg cited climate change leadership as a reason behind his endorsement of President Obama. And speaking of his second term, the president told TIME magazine that climate change would be one of his top three priorities.
So a major contributor to climate change is now vocal in its concern about the issue and the need for action. Let's toast 2012 for setting up 2013 to be a big year in our fight against climate change... as long as we don't blow it. Given the less-than-exhilarating results of the recent U.N. Doha Climate Change summit, a lack of follow-through is certainly a possibility.
In case living through 2012's climate wasn't enough for you, there are some good "year-in-review" recaps at LiveScience, ClimateDesk, Climate Central, The Guardian, and The Energy Tribune.
Check out What on Earth at Science Friday
Like "What on Earth?" on Facebook.
Become a Fan here at The Huffington Post.